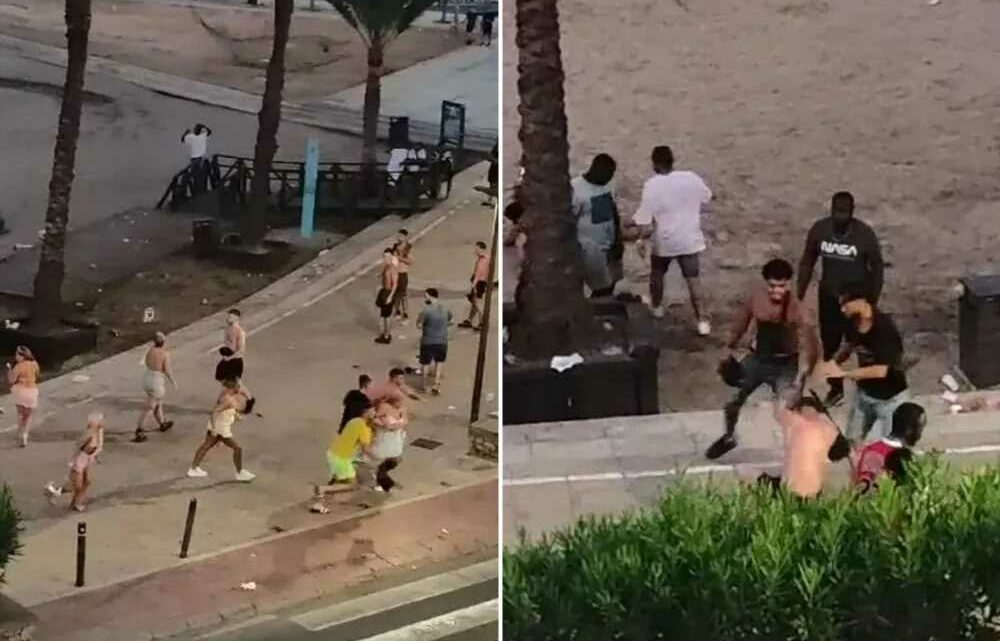 Shocking moment Brits brawl with Ibiza street sellers who viciously punch and stomp on holidaymakers before fleeing | The Sun
August 2, 2023
THIS is the shocking moment a violent mass brawl erupted between a group of Brit tourists and street sellers in Ibiza.
Footage showed the holidaymakers suffering a barrage of kicks and punches in the popular party resort of San Antonio – leaving several injured.
Video showed a group of men laying into a bare-chested rival – who was described as being British by locals.
They were filmed smashing him in the head and kicking him to the ground as he tried to get up.
One of his pals then sprinted across to the street to help and tried to land a punch on one of the aggressors before running away.
Moments earlier, a group of young men and women – believed to be from the UK – were seen fleeing the area.
Read more on Ibiza
I went to Ibiza on my own after my pals pulled out – it was a trip of a lifetime
Brit, 19, 'dies in hospital after collapsing at Ibiza nightclub at 5am'
And an unidentified man also appeared to be laying unconscious on the beach near where the violence was taking place.
It wasn't immediately clear if the man was with the Brit tourists or the street sellers – and whether it was related to the vicious brawl.
San Antonio officials confirmed the clash happened around 6.30am on Sunday near the resort's main beach called S'Arenal.
Although there were reports of injuries, the two groups were said to have fled before police reached the scene of the scuffle.
Most read in The Sun
I was stabbed by drunken dad in stomach & hospitalised, says Anton Du Beke
This Morning star gives birth to baby girl after secret pregnancy
Poor holiday park lighting meant we didn't see drowning son, say parents
Woke charity asked me to change name of my pub – I thought it was a joke
Cops are now scouring CCTV footage to try to identify those involved.
It's not yet clear what sparked the violence.
San Antonio is packed with Brits in the peak summer season.
And last month it emerged police in the resort were hunting a British woman over a horror bottle attack on a hotel boss.
The holidaymaker – who hasn't been identified – allegedly used the bottle to slash her victim's throat after refusing to pay a drinks bill.
The deputy director of the hotel in San Antonio reportedly stepped in after the assault.
The attacker fled the scene after leaving the female staff member with serious injuries.
She is still believed to be on the run.
It comes after a mass brawl erupted on a Spanish road aptly dubbed Sin Street in Catalonia.
Footage showed drinkers smashing chairs over each other's heads and hurling glass bottles in the beach town of Sitges.
It is understood the fight started between a bouncer and a passerby at a venue on Primer de Maig Street – one of the town's main nightlife strips – in the early hours of July 23.
But the scrap quickly escalated into a wild brawl involving around 40 people.
Dramatic footage shows drinkers battering each other with chairs, tables, glass bottles, stools, and metal bars.
During the scuffle, two cops suffered dislocated joints, while another officer was left covered in cuts after being hit by a flying glass bottle.
Read More on The Sun
Love Island star sparks feud rumours as she snubs ALL of her co-stars
I found a surprising British seaside town for my perfect family holidays this summer
No arrests were made and no suspects have been identified, as those involved in the skirmish quickly dispersed from the scene.
Source: Read Full Article