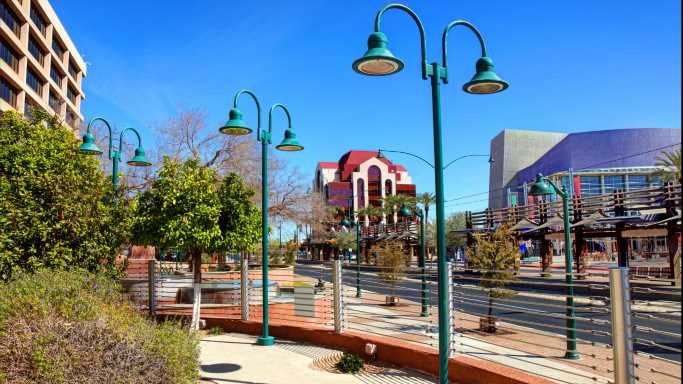 Mesa, Arizona, Has the Most Hazardous Waste Sites in the Nation
January 22, 2023
America has been burying some of its most dangerous waste for decades. The worst of these are the 1,329 Superfund sites, designated as such by the Comprehensive Environmental Response, Compensation, and Liability Act of 1980. These sites are defined by the federal government as places of "national priority among the known releases or threatened releases of hazardous substances, pollutants, or contaminants throughout the United States and its territories."
While these Superfund sites are spread across the U.S., the city with the most such sites is Mesa, Arizona, according to 2010 waste site data from Hazardous Waste Site Polygon Data.
The reason Mesa carries this designation is that 57.3 square miles – a stunning 41.1% of the city's land area – are covered by hazardous waste sites considered for cleanup. Only two sites make up the hazardous areas in the city. The larger of the two is known as the Mesa Area Groundwater Contamination. (Also see, you won't believe how long it takes for these popular items to decompose.)
Mesa shares the same contamination issues as nearby Chandler, Arizona. These include past activities from the former Fort Williams Air Force Base, a site that is now occupied by Phoenix-Mesa Gateway Airport and Arizona State University Polytechnic Campus. Pollutants include perfluorooctane sulfonate (PFOS) and perfluorooctanoic acid (PFOA), chemicals found in firefighting foam that the EPA links to cancer and birth defects. (These are U.S. airports polluting the air with dangerous toxins.)
These critical sites are partly evaluated by how many people live near them, and Mesa is home to 508,000 people. Those who live and work within or in close proximity to one of these polluted zones may not be aware of the detrimental health impact coming from the air, water, or soil. It has been shown that populations living near contaminated areas are more likely to be exposed to toxins that can cause birth defects or chip away at life expectancy through increases in the likelihood of chronic diseases and cancer.
See 24/7 Wall St.'s list of cities with the most land flagged for hazardous waste cleanup.
Sponsored: Find a Qualified Financial Advisor
Finding a qualified financial advisor doesn't have to be hard. SmartAsset's free tool matches you with up to 3 fiduciary financial advisors in your area in 5 minutes. Each advisor has been vetted by SmartAsset and is held to a fiduciary standard to act in your best interests. If you're ready to be matched with local advisors that can help you achieve your financial goals, get started now.
Source: Read Full Article