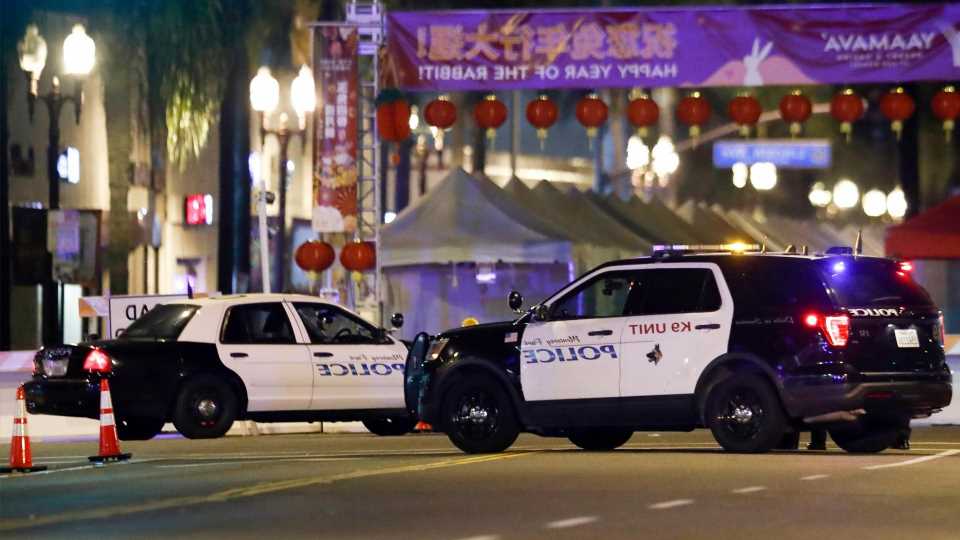 Monterey Park mass shooting latest — Police and FBI hunt for suspect after 10 killed in California city | The Sun
January 22, 2023
AT least 10 people have died and at least 10 more are hospitalized after a mass shooting in Monterey Park, California on Saturday night.
The suspect remains at large, according to the Los Angeles County Sheriff's Department.
The shooting reportedly occurred at a dance club as people celebrated the Lunar New Year.
A Sunday event has been canceled following the shooting.
Read our Monterey mass shooting blog for the latest news and updates…
Jennifer Korn




Motivation unclear

Monterey Park is a city of about 60,000 people with a large Asian population that's about 10 miles from downtown Los Angeles.

It's unclear if the shooting was racially motivated, but California has seen an increase in anti-Asian crime, with hate crimes against Asians jumping 177 percent in 2021.

Jennifer Korn




Kenneth Mejia tweets

Los Angeles city controller Kenneth Mejia, the first Asian American to hold citywide office in the city., tweeted:

"Our hearts go out to those who lost loved ones tonight in our neighboring city, Monterey Park, where a mass shooting just occurred."

Jennifer Korn




Dance club was holding an event

The name of the dance club where the shooting unfolded has been named on social media: Star Ballroom Dance Studio.

An event called "Star Night" had been advertised on their website, and took place from 8pm to 11:30pm – but it remains unclear if this is exactly where the shooting took place.
Jennifer Korn




Nearby resident went to the scene

John, 27, who declined to give his last name, lives near the shooting site and told the LA Times he heard gunshots after arriving home at 10pm.

He said he went downstairs at around 11:20 p.m. to see if the shooting occurred at the Lunar New Year festival.

John said: "My first concern was I know they're having a Lunar New Year celebration."

He went to the scene of the shooting and saw one person being put on a stretcher, with another having a bandaged arm.

Jennifer Korn




People ran to restaurant

Restaurant owner Seung Won Choi was across from where the shooting happened when three people rushed into his restaurant and told him to lock the door.

They mentioned a man with a machine gun, who had multiple rounds of ammunition.

Jennifer Korn




Witness describes horror

Wong Wei, who lives nearby, told the LA Times his friend was at the dance club when the shooter entered with a semiautomatic gun and began firing indiscriminately.

When she came out, Wong's friend saw a gunman and three bodies – two women and one person who he said was the boss of the club.

Jennifer Korn




10 victims hospitalized

Shots rang out at 10:22pm in Monterey Park, California, an area with a large Chinese population.

Reports of at least 10 additional victims with various conditions was released by police, but are receiving treatment at hospitals.

Jennifer Korn




10 people killed in California mass shooting

Ten people have died after a mass shooting in southern California, police have said.

The horror unfolded last night when a gunman, reportedly with a semi-automatic weapon, opened fire at a dance club as people were celebrating Lunar New Year.
Source: Read Full Article