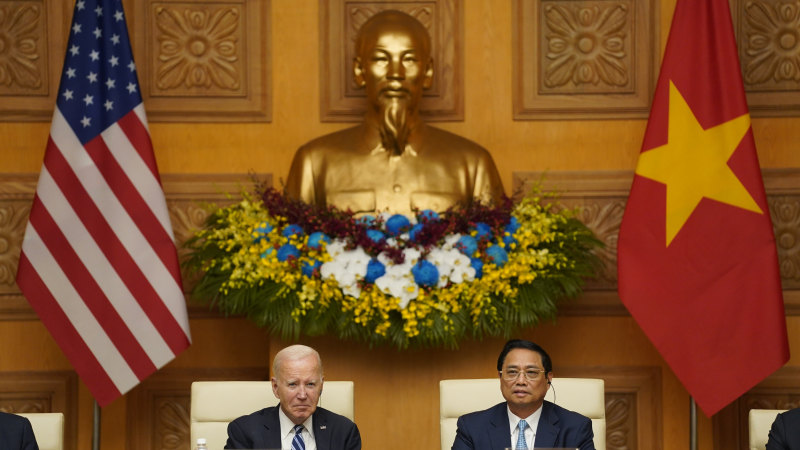 Weakened China too poor to consider attacking Taiwan, Biden says
September 11, 2023
Save articles for later
Add articles to your saved list and come back to them any time.
Hanoi: Joe Biden said China was becoming too weak to invade Taiwan, blaming the slowing economy on helping to reduce the threat of a full-scale attack.
Despite Beijing's bellicose rhetoric and manoeuvres in the South China Sea, Biden said the slowdown would affect Beijing's ability to seize control of Taiwan over which it has claimed sovereignty for decades.
"I don't think this is going to cause China to invade Taiwan," Biden said in Hanoi on the second stop of his trip to Asia.
"As a matter of fact, the opposite. It probably doesn't have the same capacity that it had before."
US President Joe Biden and Vietnam's Prime Minister Pham Minh Chinh attend a business roundtable meeting in Hanoi, Vietnam, on Monday.Credit: AP
However, in a move to curb Chinese influence in the region, the US and Vietnam agreed a "strategic pact", strengthening links between the two countries.
Biden, who signed the agreement with Vietnam's leader Nguyen Phu Trong, said the deal signalled the US was a Pacific nation and "not going anywhere".
He added: "This is a new, elevated status that will be a force for prosperity and security in one of the most consequential regions in the world."
A key element of the agreement will boost Vietnam as a production hub for semiconductors – thus weakening Beijing's domination of the sector.
Vietnam, which already has strategic partnerships with Russia and China, said the agreement was seen as part of its "bamboo diplomacy" of carefully balancing its links with all major powers.
Relations between Washington and Beijing have been tense in recent years with the US administration cancelling Secretary of State Antony Blinken's visit to China in February amid a row over the appearance of surveillance balloons over the US.
There have also been tensions over trade, especially in technology.
Joe Biden waves to children after a military welcome ceremony at the Presidential Palace in Hanoi, Vietnam, on Sunday.Credit: AP
The approach, however, has softened recently with senior administration figures including Blinken and Commerce Secretary Gina Raimondo visiting China.
But Biden sought to explain the shifting strategy when he spoke to reporters in Hanoi.
"Really what this trip is about, it's less about containing China. I don't want to contain China. I just want to make sure that we have a relationship with China that is on the up and up, squared away, everybody knows what it's all about," he said.
"We're not looking to hurt China. Sincerely, we're all better off if China does well by the international rules."
Biden added that he expected to meet Chinese President Xi Jinping "sooner rather than later". The Chinese leader did not attend the G20 summit in New Delhi.
Biden played down the threat posed by China, arguing that the country faced significant economic challenges, despite earlier this year referring to the Chinese economy as a "ticking time bomb".
Republicans have attacked Biden over its China policy. In June, they condemned the president's decision to send Blinken to China, accusing the administration of undermining US national security.
On Sunday, Republican presidential candidate, Nikki Haley, stepped up the attack on Biden's approach to Beijing, which she accused of killing Americans with Fentanyl.
"For Biden to realise, you don't send cabinet members over to China to appease them," she said on CNN's State of The Union.
"You start getting serious with China and say we're not going to put up with it. They keep sending different cabinet officials over…and it's embarrassing.
"They are putting a Chinese spy base up in… Cuba, off the coast of Florida and don't wait for the fact that they are going to be sending Chinese military troopers there. What are we doing appeasing China instead?"
In Washington, there have been bipartisan calls for new laws to prevent China from buying farmland near military installations.
Tired: Joe Biden's four-day Asia trip made him quip at a news conference: "I don't know about you, but I'm going to bed".Credit: AP
And Haley, who was the US ambassador to the United Nations in the Trump administration, demanded the country take back land which it had already bought.
Biden's packed schedule in Asia and jet lag appeared to take a toll on the 80-year-old president, who wrapped up his news conference saying "I'm going to go to bed," AP reported.
The Telegraph, London
Get a note directly from our foreign correspondents on what's making headlines around the world. Sign up for the weekly What in the World newsletter here.
Most Viewed in World
From our partners
Source: Read Full Article