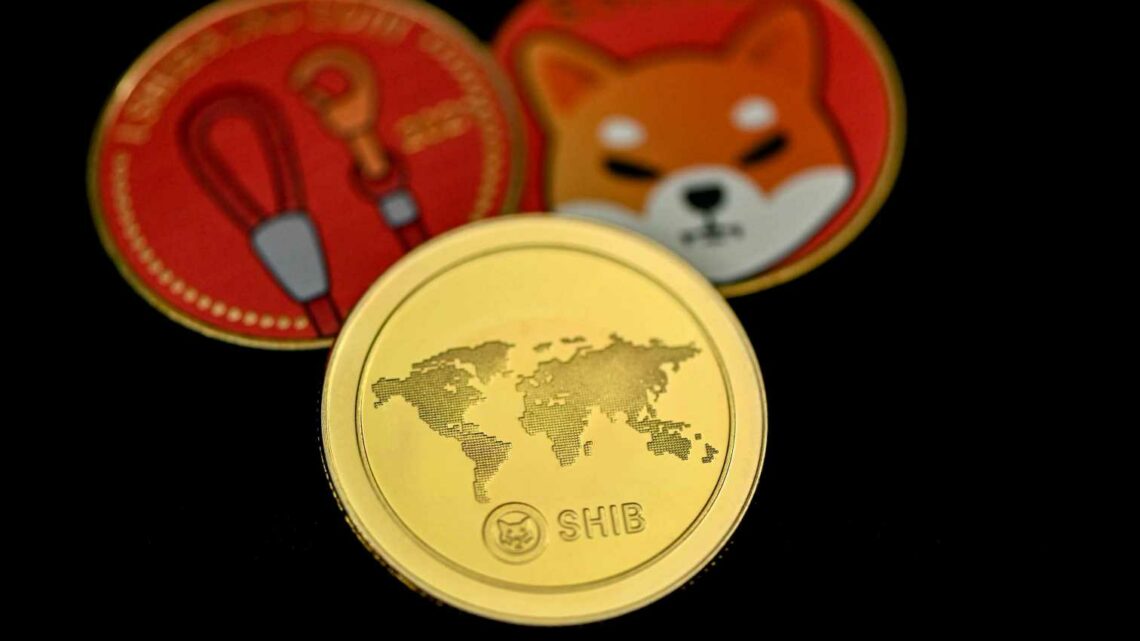 Shiba Inu Community Sounds Warning Alarm As Scammers Siege Shibarium
September 11, 2023
In a recent development, the Shiba Inu community has warned of a "scam" project that may be responsible for some of the FUD attacks that have plagued the Shibarium network since it launched on August 16. 
Shibarium Admin Warns Of Scam Project
In a tweet on the X (formerly Twitter) platform, a member of the Shibarium tech team (known as Digarch) shared a screenshot of the admin warning of a scam project set to be deployed on the layer-2 network. According to the Shibarium tech admin named DaVinci, "Pawswap" is the scam project responsible for funding attacks on Shibarium. 
Besides funding these attacks, Pawswap allegedly uses its community to spread fear, uncertainty, and doubt (FUD) about the network. DaVinci said the project and its team had infiltrated the Shibarmy by passing off as Pawzone, a credible project set to launch on the Shibarium network.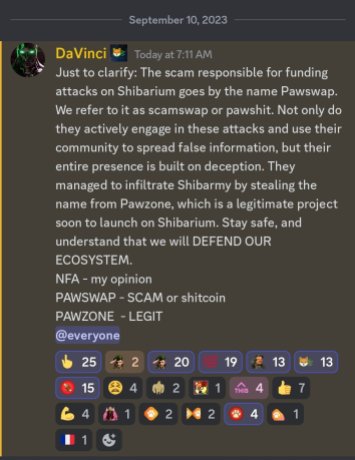 Community member warns community of scam making the rounds | Source: X
As a result of this, he urged the Shib community to stay safe from Pawswap, which he called a "Scam or Shitcoin," and that they defend the ecosystem from such projects. 
Meanwhile, Digarch, who shared the screenshot, clarified that Pawzone was different from Pawswap, which DaVinci had mentioned, and stated that Pawzone was the team behind the NFT marketplace Pawzaar, which will be one of the NFT marketplaces that will be launching on Shibarium soon. 
Pawswap Legit Or Not?
Following Digarch's tweet, another user on the X platform said that Pawswap wasn't a scam and pointed out that the project was certified by Certik, a leading blockchain security firm, and certification always inspires confidence in the minds of the public about a particular project.
Upon further investigation, this user's assertion is correct, as Certik awarded a silver KYC badge to the project on September 3, according to data from their website. As part of the verification process, Certik also verified 8 of the project's core team members and reviewed its token contract. 
It is also worth mentioning that the project plans to launch its decentralized exchange (DEX) on the Shibarium network. As such, one might wonder why the Pawswap team would be looking to cause Shibarium to fail when it does not benefit the team. The project also seems to have a significant following, with over 13,000 followers on its X platform. 
While there are no assurances that Pawswap is legit or a scam like DaVinci has asserted, it is important for the community to always do their research. 
This is something that Shibarium's lead developer, Shytoshi Kusama, has always emphasized in the network's updates as he mentioned the influx of tokens and projects into the Shibarium ecosystem.
Source: Read Full Article