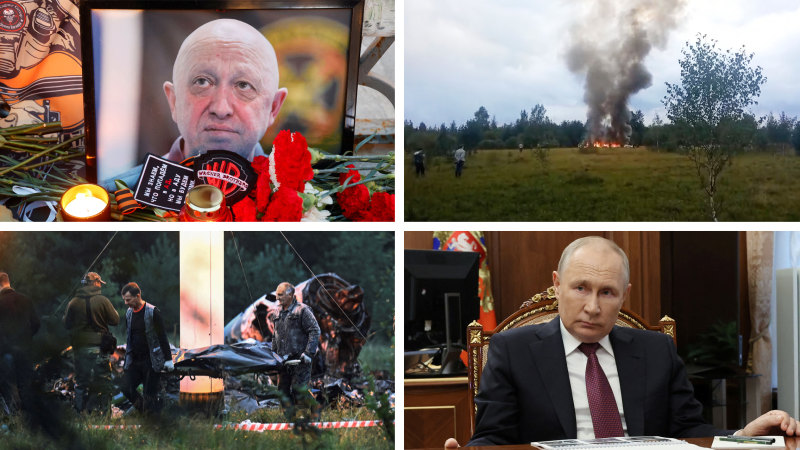 Putin says Prigozhin 'made some serious mistakes in life' in tribute to Wagner boss
August 26, 2023
Save articles for later
Add articles to your saved list and come back to them any time.
London: Vladimir Putin has paid tribute to Russian warlord and rebellion leader Yevgeny Prigozhin, while western officials investigating the circumstances of his demise say the Wagner paramilitary group most likely fell victim to an assassination plot.
The Russian president offered his condolences to the families of the victims for the first time on Thursday since the plane crash, praising Prigozhin's accomplishments, while saying the Wagner chief had committed some serious mistakes.
Russian President Vladimir Putin has paid tribute to Wagner chief Yevgeny Prigozhin.Credit: Reuters
Prigozhin's private jet – an Embraer Legacy that he had recently used to travel between Moscow, Belarus, his hometown of St Petersburg, and to parts of Africa where Wagner operates – crashed in the Tver region north-west of Moscow.
The incident occurred two months to the day Wagner mercenaries marched towards Moscow in a short-lived attempt to overthrow the Putin regime.
Although there has been no official confirmation that Prigozhin and his offsiders, including notorious extremist Dmitry Utkin, were dead, Putin referred to him in the past tense.
"I want to note that these are the people who significantly contributed to our common cause of fighting the neo-Nazi regime in Ukraine," Putin said in a televised meeting. "We remember it, we know it, and we will not forget it."
"He made some serious mistakes in life, but he also achieved necessary results."
The preliminary US intelligence assessments, which officials stressed are incomplete, suggest that a bomb exploded on the aircraft or that some other form of sabotage caused the crash north-west of Moscow. They believe it is unlikely the plane was shot down by a surface-to-air missile.
The founder of the Wagner military company and six other passengers were on a private jet that crashed on Wednesday soon after taking off from Moscow with a crew of three, according to Russia's civil aviation authority. Rescuers found 10 bodies, and Russian media cited anonymous sources in Wagner who said Prigozhin was dead. But there has been no official confirmation.
The Russian government has said it is investigating the cause of the crash, but hasn't offered an explanation. Social-media channels close to Prigozhin's Wagner have claimed that the aircraft was downed by a Russian military antiaircraft missile.
Emergency specialists carry a body bag near the wreckage of the private jet linked to Wagner mercenary chief Yevgeny Prigozhin.Credit: Reuters
Russia's Investigative Committee launched a criminal probe into alleged violations of air-safety rules.
Both US and western officials believe an explosion on board the private jet was the leading theory behind the crash, with the blast potentially caused by a bomb or other device planted on the aircraft.
But some have stressed other possibilities, like adulterated fuel, were also being explored.
US intelligence has not confirmed Prigozhin's death, though multiple officials said it appears likely he was killed in the plane crash.
Putin said Prigozhin was a "talented businessman not just in our country, but he got results in Africa, where he was into oil, gas, precious stones, and metals." He said Prigozhin had "just got back from Africa yesterday, as far as I know, and met here with certain officials," without elaborating.
Who else is believed dead in Wagner plane crash
Dmitry Utkin, 53, a former special forces intelligence lieutenant who helped found Wagner with Prigozhin and lead forces in Syria, Ukraine in 2014 and elsewhere.
Valeriy Yevgenyevich Chekalov, 47, a business tycoon in the upper ranks of Prigozhin's empire and reportedly his other right-hand man who helped move weapons and run Wagner operations around the world.
Evgeniy Makaryan, a reported long-time Wagner fighter and former police officer.
Sergey Propustin, another mercenary who reportedly served among Prigozhin's personal guards.
Little information is available about the remaining crash victims, named as Alexander Totmin and Nikolai Matuseyev. The crew members were identified as Captain Alexei Levshin, co-pilot Rustam Karimov and flight attendant Kristina Raspopova. – The Telegraph, London
The Russian President said he had known Prigozhin for "a long time, from the early 1990s", revealing that their relationship had started earlier than previously thought. Prigozhin once said in an interview the pair had met in 2000.
"He had a difficult path and made serious mistakes in his life. But he got results — for himself, and for the common cause when I asked him, like in the last few months," Putin said.
Prigozhin and his group are accused of numerous brutal war crimes in Ukraine and also in parts of the Middle East and Africa where they have operated. But the warlord was popular with some in Russia for his battlefield successes in Ukraine and his straight-talking critique of the army leadership.
Roman Saponkov, a Russian war-blogger and invasion cheerleader who is also considered close to the Wagner group, said the assassination of Prigozhin would have "disastrous consequences".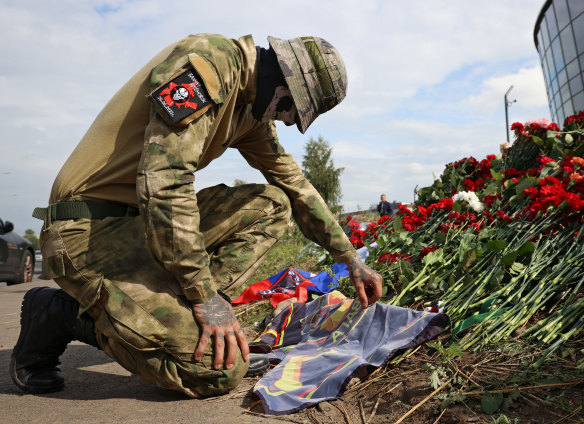 A fighter of the Wagner private mercenary group visits a makeshift memorial in Saint Petersburg, Russia.Credit: Reuters
"The people who gave the order do not understand the mood in the army and morale at all," he said.
Several Telegram channels affiliated to Wagner Group posted a video showing a fighter in Wagner uniform kneeling and crying before a makeshift shrine outside a former Wagner office in Novosibirsk, a city in southern Russia.
"All of us are emotional now, but we have to hold ourselves together," Grey Zone, a channel close to Wagner, wrote. "Don't do anything stupid."
A former adviser to the Kremlin told BBC Radio that Prigozhin "had many enemies," and "many people in various parts of the world might have had a sigh of relief" over his reported death
When asked whether he believed Prigozhin may have been assassinated under orders from the Kremlin, Andrey Kortunov said: "Putin made a very clear promise not to go after Prigozhin and definitely defenders of Mr Putin would say he usually stands by the personal promises that he makes."
French Foreign Minister Catherine Colonna reacted with irony on Thursday to Prigozhin's alleged death, saying "the death rate among those close to Putin is particularly high."
"It's a risky business," she told the AFP news agency, declining to comment further.
Get a note directly from our foreign correspondents on what's making headlines around the world. Sign up for the weekly What in the World newsletter here.
Most Viewed in World
From our partners
Source: Read Full Article