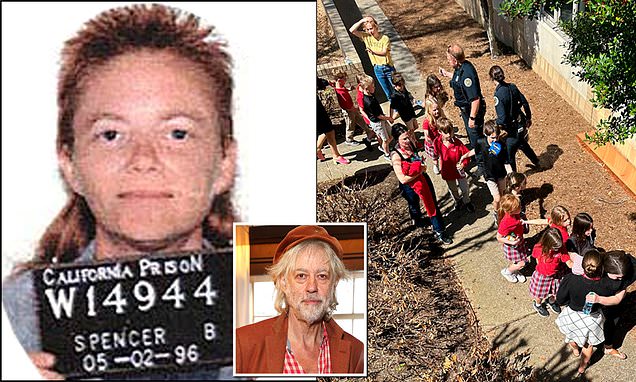 Female school shooter in Nashville is just the FIFTH in history
March 27, 2023
Female school shooter in Nashville is just the FIFTH in history: Incredibly rare attacks date back to 1979 when teen girl said she killed because 'I don't like Mondays' inspiring Bob Geldof's hit record
The 28-year-old woman who opened fire at a private school in Nashville, Tennessee is just the fifth female school shooter in history
The woman killed three kids and three adults before being shot dead by police
But females make up just about 2 percent of both mass shootings and school shootings in the United States, according to The Violence Project
The 28-year-old woman who allegedly opened fire at a private school in Nashville, Tennessee is just the fifth female school mass shooter in history.
Police say the killer – who has not yet been named – killed three kids and three adults before she was shot dead by police. 
Females make up just about 2 percent of both mass shootings and school shootings in the United States, according to data compiled by The Violence Project, which maintains a database of school shootings in which more than one person was shot or a person came to school heavily armed with the intent of firing indiscriminately.
It found that females committed just four school shootings out of 147 recorded.
The first took place in 1979 when 16-year-old Brenda Spencer shot dead her principal and another member of the staff at Cleveland Elementary School in San Diego.
Asked why she killed, Spencer infamously told a reporter: 'I don't like Mondays. This livens up the day,' which inspired Bob Geldof to write the BoomTown Rats hit record.
The first of these female shooters carried out her attack that year, claiming she just does not like Mondays. Brenda Spencer, a 16-year-old who carried out an attack on Cleveland Elementary School in San Diego. She killed the school's principal and a custodian, and wounded eight children and a police officer
Students are evacuated from The Covenant School in Nashville, Tennessee, on Monday after a female shooter killed three kids and two adults 
The attack also left eight children and a police officer injured. 
Spencer infamously told a reporter: 'I don't like Mondays. This livens up the day,' which inspired Bob Geldof to write the BoomTown Rats hit record
Authorities said at the time she 'fired shots from her house across the street from the school'.
Spencer pleaded guilty to two counts of murder and assault with a deadly weapon, and was sentenced to life in prison with a chance of parole after 25 years.
Other female school shooters include Teah Wimberly, who was just 15-years-old when she fatally shot Amanda Collette, also 15, at Dillard High School in Fort Lauderdale, Florida in 2008, and Latina Williams, 23, who killed two students in a Louisiana Technical College classroom before killing herself.
Baton Rouge police said in the aftermath that Williams had been exhibiting signs of 'paranoia and losing touch with reality,' according to FOX News. 
More recently, a sixth-grade girl opened fire at an Idaho middle school in 2021. 
A father carries his son out of The Covenant School in Nashville after a shooter killed three students and two staff members before being shot dead
School buses filled with children arrived at Woodmont Baptist Church to be reunited with their families following the shooting at The Covenant School
Researchers have found that shooters who target bigger groups or schools tend to study past perpetrators, who are more likely to be male.
'They see themselves in some of these other shooters,' said Violence Project President Jillian Peterson, a forensic psychologist and professor at Hamline University in Minnesota.
Boys in general tend to externalize anger and sadness against other people, whereas girls are more likely to internalize those emotions and have higher rates of depression and anxiety, Peterson said.
Two recent studies by the U.S. Secret Service's National Threat Assessment Center also offer insight into common characteristics between many kids who plan or carry out school shootings. 
The students were often badly bullied, suffered from depression with stress at home and exhibited behavior that worried others. 
They were also often absent from school before the attack.
Source: Read Full Article