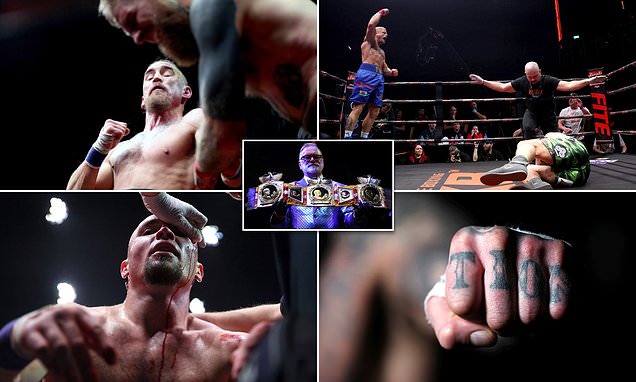 Bare-knuckle boxers fight at brutal event in London's O2 arena
March 27, 2023
The real life fight club: Bare-knuckle boxers take to the ring at London's O2 arena at brutal event where gloves are banned
BKB 31, run by Bare Knuckle Boxing, returned to the O2's Indigo arena last night
Fighters sustained gruesome cuts, swollen eyelids and heavy facial bruising 
Fearsome pictures have been released showing the bloody aftermath of the bare-knuckle boxing event at London's O2 arena on the weekend. 
BKB 31 is run by Bare Knuckle Boxing, the first legal fighting company of its kind. 
The event made its return to the O2's Indigo arena last night and featured notorious fighters such as 
The sport gruesomely bans opponents wearing any form of padding on the hands.
Fighters sustained some seriously painful injuries including bruised faces, swollen eyelids and bloody wounds.
Martin Reffell and Jonny Lawson in action during BKB 31 at Indigo at The O2 Arena in London
Daniel Lerwell celebrates victory after his bare knuckle contest
Jordan Tompkins receives treatment from a medic as blood pours from his left eye
Many of the fighters have trademark tattoos and other distinguishing features alongside their signature names.
Jack McLean stood out with his bright blue hair as he fought George Hillyard.
Paul Hilz showcased some impressive ink work across the torso of his body. 
Corey Healey was also seen with a viscous bloody cut underneath one of his eyes during his fight. 
Jonny Jones also looked jubiliant as he celebrated his bruising victory.
Paul Hilz shows his unique tattoos on his knuckles for a photographer during BKB 31
Hilz has some amazing tattoos across his body that make him look even more fearsome
Hilz can be seen here grappling with one of the other fighters
An official poses with the BKB Police Gazette British Belt during the event
Harvey Dossett and Danny Fletcher in action
ack McLean and George Hillyard trade vicious blows
McLean takes a particularly hard blow to the face from Hillyard
A brutal uppercut sends the sweat from McLean's face into the air 
McLean responded well, however, and looked to be fighting back
The fighting legal is the first legal bare knuckle boxing league in the world
McLean at another boxing event from before the fight 
Corey Healey can be seen with blood smeared across his face during his fight
The fighter pictured with one of his belts from a post on his Instagram page
Jonny Lawson winces in pain as he receives a blow
Jonny Jones celebrates victory during his fight
Jones showed photographers some of the injuries he sustained after his fight, including a cut above his left eye
The bloody hands of professional bareknuckle boxer Callan Harley
James Connelly and Marley Churcher in action on the night
Martin Reffell is another one of the fighters who features stunning ink work
Reffell poses for a photo on his Instagram page
Tito Martins has his eye examined by a medic following his fight
Luke Smith sticks his tongue out cheekily at BKB 31
Source: Read Full Article