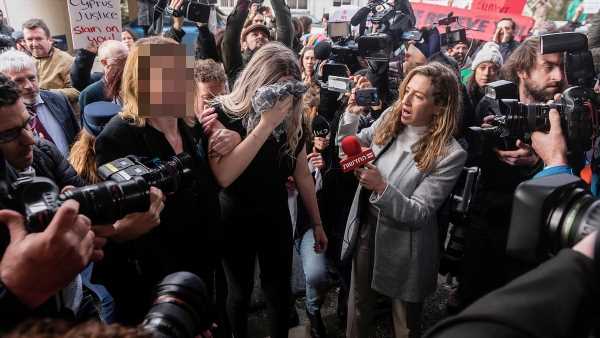 Brit cleared of false rape claim in Cyprus weighs in on copycat case
September 7, 2023
EXCLUSIVE: British woman cleared of making up claims she was gang-raped in Cyprus backs latest victim – as father of Israeli 'sex attacker' accuses her of 'making up her story'
The 20-year-old woman has accused a group of Israeli men of rape in Ayia Napa
Case draws similarities to 2019 incident that captured global attention in which a British woman claimed she was raped by twelve young Israeli men
A British woman cleared of making up claims she was gang raped in Cyprus by a group of young Israeli men after a lengthy court fight has given her backing to the latest victim allegedly attacked in a copycat case.
The now 22-year-old had reported to police in 2019 that she had been targeted by a group of Israeli men while on holiday at the popular resort of Ayia Napa.
But within hours she went from victim to defendant after being accused of fabricating a story, and she went through a gruelling five-month trial before being convicted and given a 16 week suspended sentence.
That was eventually overturned by the Cyprus Supreme court two years later on the ground she did not receive a fair trial, and after her defence team argued her human rights had been violated in a case that sparked headlines around the world. 
She has accused Cypriot officials of forcing her to retract her statement, and her case is set to be heard before the European Court of Human Rights. The twelve male Israeli tourists have never been charged.
Now, in another incident on Sunday that mirrors the one four years ago, a 20-year-old woman has complained she was gang raped by a group of Israelis while at a pool party at the same Ayia Napa resort – and has already been accused of lying by the father of one of the young men involved.
A British woman (pictured January 2020) who was cleared of making up claims she was gang raped in Cyprus by a group of young Israeli men after a lengthy court fight has given her backing to the latest victim allegedly attacked in a copycat case
This picture taken on July 29, 2019 shows a British teenager who accused seven Israelis of gang rape arriving at the Famagusta District Court in Paralimni in eastern Cyprus, to face charges of making a false allegation
Speaking exclusively to MailOnline, the 2019 victim and her family, who are from Derbyshire, said: 'We send our heartfelt support to the young woman at the centre of these reports.
'We hope that the Cypriot authorities don't add the insult to injury of victim-blaming that lead to pre-trial imprisonment and the wrongful prosecution that was successfully appealed at great emotional and financial cost.'
'This was achieved with support from UK media, politicians and with funds raised through GoFundMe and from individual donors for which we remain especially grateful.'
The woman's words of support came as a father of one of the suspects in the latest case shamelessly accused her of making up the attack for an 'insurance scam' in an interview with Israeli media.
He said: 'This is the same case like in 2019 when the British tourist made up a story about a group of Israelis.
'There is no rape here, they didn't drag her out of the pool and there was nothing.'
Then referencing CCTV which police have seized from the three star Fedrania Gardens Hotel where the attack is said to have taken place, he added: 'You see her going up to the room with one of the guys.
'We are talking about five guys who went on vacation before starting university studies. There are cameras in the hotel that record the girl hugging only one of them and going up to the room with him.
'At the police station, I met detainees from all over Europe who are alleged to have committed criminal acts against British people.
'I would be happy if we saw intervention from the Israeli embassy here (in Cyprus) or from the Foreign Ministry. I hope it will be ok.'
In a leaked report, the woman claims she was at the party with friends when she was 'approached' by some of the men 'who started flirting with me'.
The five suspects, all aged 19-20, are from the northern town of Majd al-Krum and at least two of them are said to have gone to a room with her.
There, they claim she had consensual sex with them.
The case bears a harrowing similarity to one in the same report in 2019 and also involving a British girl who was gang raped by a group of Israelis. Pictured: Some of the accused Israeli men arrive to appear before Famagusta District Court in Paralimni, Cyprus, 26 July 2019
She later reported what happened to hotel security and police were called and the men arrested. The leaked report details how the woman had 'injuries and scratches' consistent with an attack.
Although only two are said to have been involved, the others were held as a precaution as potential witnesses and to prevent them from fleeing, with the 2019 case being at the forefront in the minds of the Cyprus authorities.
Lewis Power KC, who was involved in the court battle involving the 2019 victim, told MailOnline: 'It was only one year ago when the Supreme Court quashed the conviction of the young girl who was brutally gang raped by a number of Israeli youths in Cyprus and who was subjected to the most brutal and harrowing of experiences through the courts.
'That fight still carries on to the doors of the European Court of Human Rights where it will be argued that her rights were violated, that the case was mishandled and that there was a wholescale failure in the investigatory process.
'Now history having repeated itself with an almost blue print copy crime, the world will be watching even closer to see how justice will be acted out, how this new investigation will unfold and whether any lessons will be learned and indeed whether the integrity of the court process will be upheld.
'This time we are told that the suspects will be held to facilitate their investigation and that the arrests came after police secured witness testimony to support the allegation.
'Justice must take its course. We only hope this time that the mistakes of the past do not return. Let's hope the authorities are wiser than their last mistake.'
Lawyer Michael Polak, background, is seen as protesters hold banners in support of a British woman, outside of Cyprus' Supreme Court in the capital Nicosia on  Jan. 31, 2022. The 2019 case sparked many to show their support with the #IBelieveHer hashtag, including in Israel
Mr Power of Church Court Chambers spoke out as investigators revealed room 59 of the Federania Gardens hotel in Ayia Napa where the latest alleged attack happened was 'awash with alcohol'.
Police believe the woman was unable to give her consent because she was too drunk and are probing whether she was made to 'drink to excess' before being attacked.
She told officers she 'screamed' and ran out of the room and alerted hotel security who in turn called the police and the men were held shortly after the attack.
Police sources say the woman has given a 'clear and concise' account of what happened, and also has injuries compatible with an attack, including 'grip marks'.
DNA samples have been taken from the victim, her alleged attackers and sheets in the room have also been taken away for examination and CCTV is being scanned.
Cyprus police also dismissed reports they were hunting for more suspects and said they were not looking for anyone else in connection with the incident.
They clarified that a sixth person who was initially held was released after it emerged he was not at the scene, but Israeli media have spoken to him as he is a friend of the five young men involved.
Lawyer Nir Yazlovitzh, who is representing two of those being held, told MailOnline: 'I'm confident DNA tests will clear the two men who have asked me to help.
'The police have to be seen to be doing their job which is to be expected and my two clients have told me they were not in the room when the alleged attack took place.
'They said they remained at the pool and the first they knew of anything was when the police arrived at the hotel.
'I understand that although arrested on suspicion of rape, three of the group, deny having sex and the other two say they did but it was consensual. I remain confident that the two I represent will be cleared once the DNA results come back.'
The lawyer involved in the original British case – Michael Polak of Justice Abroad – is also supporting the latest victim.
The British lawyer involved in the original British case – Michael Polak of Justice Abroad (seen speaking in September 2021) – is also supporting the latest victim. 
He said: 'We represent the young woman in the new Ayia Napa rape case. Our client in this case is determined to see that justice is done.
'She has been assisting the Cypriot Police with their investigations of this case and will continue to do so until she obtains justice.
'This is obviously a very difficult time for our client and her family, and she asks that her privacy is respected during the criminal proceedings.'
The men are due in court again next week.
Source: Read Full Article