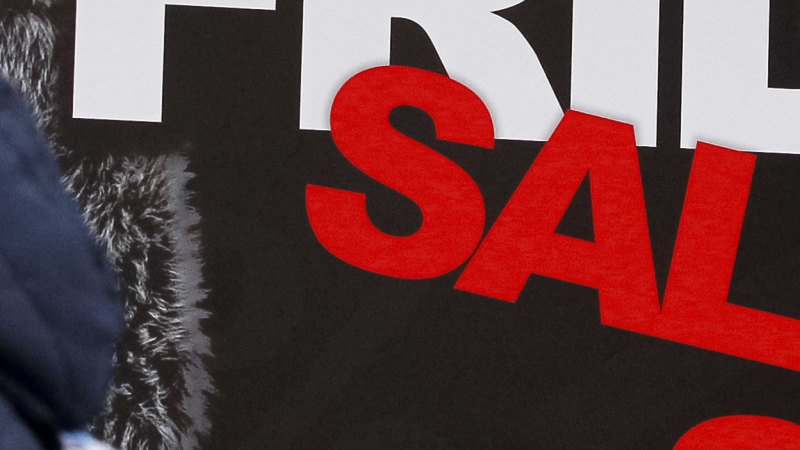 Black Friday buyers warned to watch out for scams
November 22, 2022
Black Friday, which falls at the end of this week, has grown during the pandemic to eclipse even Boxing Day for end-of-year sales events. And while shoppers can grab some bargains, cybersecurity experts have warned scammers will also be on the prowl.
Ajay Unni, founder of security firm StickmanCyber, says the Black Friday weekend is an "extremely lucrative" period for cybercriminals who take advantage of the large number of transactions and increased communications sent out by online retailers.
Black Friday has become bigger during the pandemic, but consumers should not be blinded by the bargains into over-spending and be alert to scamsCredit:SOPA
"Consumers need to be extra vigilant, reviewing every marketing email they receive to ensure it is from a legitimate source," Unni says.
"Medibank and Optus victims are likely to receive an increased amount of spam and phishing attempts in their inboxes.
"Outside a spike in malicious emails in a victim's inbox, cybercriminals are likely to use the customer data leaked to create more personalised, convincing and effective phishing schemes that can ultimately lead to identity theft and credit card fraud."
Data from major bank ANZ shows that Black Friday overtook other key end-of-year trading days during the pandemic in terms of spending. Card and merchant transactions from the bank reveal spending on Black Friday in 2021 was 125 per cent higher than the average daily spending from the start of November up to the Wednesday before Black Friday.
Across the broader sales period in 2021, from the Thursday before Black Friday to Cyber Monday, the Monday after Black Friday, average daily spending was 70 per cent higher than the average daily spending during the earlier part of November.
Garrett O'Hara, APAC chief field technologist for cybersecurity company Mimecast, agrees everyone should be on high alert for scams this Black Friday; particularly those who have had their personal data compromised or leaked in previous hacks.
Armed with a shopper's personal data, cybercriminals can target them with more precision during a period when they are expecting to receive offers from legitimate retailers, he says.
As well as targeting individuals, he is seeing more "brand jacking" by cybercriminals, who copy the colour scheme and logos of well-known and trusted brands to create fake websites.
The warnings come as hundreds of scams are being reported to the Australian Competition and Consumer Commission (ACCC) in the weeks following the recent high-profile data hacks.
These are not only sales-related scams, but impersonations of government departments and businesses, says Delia Rickard, the deputy chair of the ACCC.
"Cybercriminals have capitalised on the data breach by impersonating government departments and businesses to carry out identity theft and remote access scams," she says. "Scammers evolve quickly, and their tactics are becoming increasingly sophisticated and unscrupulous."
Jacqueline Jayne, security awareness advocate at KnowBe4, a cybersecurity company, recommends only buying on official websites from authorised sellers or reputable sources, especially for high-value items, and to ignore anything that comes to you via email, SMS or a pop-up ad.
Retailers are expecting strong demand from shoppers during the sales period, with many having stocked up on items that they were unable to get hold of last year due to the pandemic, border closures and supply chain disruptions.
However, while the hype in the build-up to Black Friday this year will likely be bigger than in previous years, consumers should be careful not to overspend, says Angel Zhong, associate professor of finance at RMIT.
"While Black Friday can lure consumers with eye-catching bargains and deals…businesses strategically advertise their sales to exploit potential buyers' limited attention and capacity to process information," Dr Zhong says.
Consumers tend to be attracted to deals offering huge discounts, but can ignore other aspects of the deals, such as the original price or terms and conditions of the sale such as returns and refunds, says Zhong. Fear of missing out, or FOMO, can also be at play, as consumers succumb to the hype.
"It's incredibly important to plan ahead and work out what you need to buy and how much you can afford as your financial situation can become very stressful when credit card bills are due after the sale," Zhong says.
Advice given in this article is general in nature and is not intended to influence readers' decisions about investing or financial products. Investors should always seek their own professional advice that takes into account their own personal circumstances before making any financial decisions.
---
---
More from Money: How to make, save and invest
Diversifying your investment portfolio, or just starting one, requires the first step. Jess Irvine and Dominic Powell show you how to set your goals and actually buy shares in the It All Adds Up podcast. IRL.
When you separate from a partner emotions – and finances – almost always suffer. How do you protect your finances, and maybe even grow them, when you decide to go it alone?
Can you really live without a credit card? Alex Kingsmill has never used one. This is how – and why – she lives credit card debt-free.
Most Viewed in Money
From our partners
Source: Read Full Article