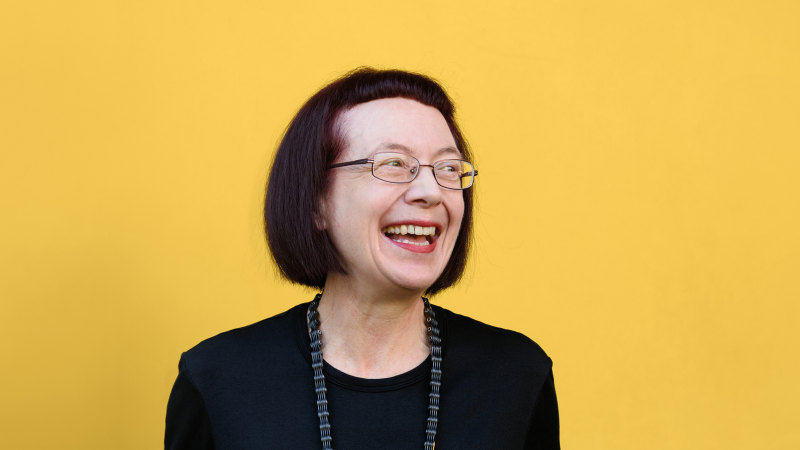 Bike chains and the rising appeal of contemporary jewellery
January 20, 2023
A gold ring with sparking diamonds might excite some, but for those who wear and collect contemporary jewellery, there's hardly a blink of an eye if a diamond ring is flashed before them.
It's more likely that the idea and the way a piece of contemporary jewellery is executed will make them reach for their credit card. For Susan Taylor and her husband Peter Jones, who own the Canberra boutique Department of the Exterior and who collect contemporary jewellery and contemporary art, it's not the use of expensive materials that matters.
Susan Taylor wearing a 'Bureaucracy' necklace by Blanche Tilden.Credit:Marcus Scholz
"Wearing a certain piece is reflective of the way that I feel. I'm often drawn to a certain toughness in a design, whether it takes the form of a pendant, a brooch or a pair of earrings," says Taylor, who has a vast number of contemporary jewellers in her collection, including Australian designers such as Susan Cohn and Blanche Tilden; Warwick Freeman from New Zealand; and Otto Kunzli, a German designer who is based in Switzerland.
One of Taylor's most expensive purchases was from an exhibition of Susan Cohn's work at the Anna Schwartz Gallery in Melbourne's Flinders Lane in 2015 titled Uncommon Moments, which comprises a series of pendants. This work is displayed on a wall in the couple's home.
"I'll often wear individual pendants from this work but Peter and I receive as much pleasure seeing this work displayed on our wall," says Taylor, who also has a number of pieces by Blanche Tilden who was recently given a survey show at the Geelong Gallery.
"Peter (who also wears some contemporary jewellery) and I look at jewellery as we do with art, with some works not always being that easy to 'read' or understand from first viewing," says Taylor.
While the word contemporary sounds as though it was just invented yesterday for one's pleasure today, it can be traced back to the 1950s to jeweller Hermann Junger, who according to Katie Scott – director of Funaki in Melbourne – "was one of the first to value the artistic ideas of jewellery more than the precious materials it was made from".
"Junger rejected the 'guild' mentality and approached jewellery like a painting or a work of art," says Scott, whose gallery was established by the late Mari Funaki (twice the recipient of the Herbert Hofmann prize) in 1995.
"Mari was instrumental in bringing some leading contemporary jewellers to Melbourne from Europe, Asia, New Zealand and from across Australia."
Otto Kunzli's 'Gold Macht Blind' bracelet.Credit:Funaki
Today, Funaki represents some of the world's most talented contemporary jewellers, including Karl Fritz and Otto Kunzli, Helen Britton, Marian Hosking, Blanche Tilden, Carlier Makigawa from Australia as well as Swiss-based jeweller David Bielander. Lisa Walker from New Zealand is also represented.
"I'm always drawn to the ideas of each piece and something that I haven't seen before. And while some pieces might include gold or silver, many of the designs are made from plastic, wood, ceramic, titanium or glass," says Scott, whose prices start at around $100 for a necklace or a lapel pin and can go up to several thousand dollars.
Scott liaised with a museum for its purchase of a brooch by Otto Kunzli from the early 1990s for over $20,000. While this may appear to be a staggering price, works by New Zealand jeweller Warwick (not represented at Funaki) often come with a price tag in the five figures. A brooch by Belgian designer Lore Langendries, made of fur (from discarded venison or wild boar), varies in price between $300 and $1,500 dollars.
And while some contemporary jewellery doesn't increase in value, some, such as Otto Kunzli's 'Gold Mach Blind' (German for gold makes blind) – a rubber bracelet with an embedded gold ball – has seen a substantial increase, from $600 in 1997 to now retailing at Funaki for $2,200.
Tilden, who established a name with her industrial bracelets and necklaces evocative of bicycle chains which are made from titanium and glass, sees contemporary jewellery creating sentiment as much as ideas. And while her major pieces can command in excess of $10,000, her bicycle chain rings start at an affordable $90.
"Contemporary jewellery is a way of communicating to others, saying something about yourself and falling in love with it," says Tilden.
Stephen Crafti is a specialist in contemporary design, including architecture, furniture, fashion and decorative arts.
A cultural guide to going out and loving your city. Sign up to our Culture Fix newsletter here.
Most Viewed in Money
From our partners
Source: Read Full Article