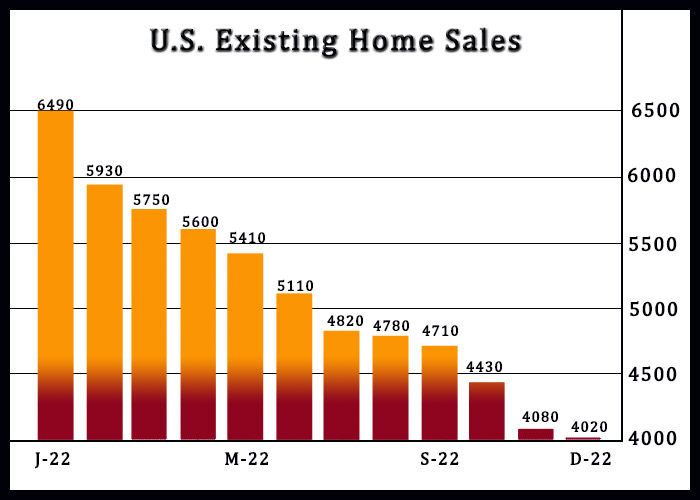 U.S. Existing Home Sales Slump Much Less Than Expected In December
January 20, 2023
The National Association of Realtors released a report on Friday showing a continued decline in U.S. existing home sales in the month of December, although the decrease was much smaller than economists had expected.
NAR said existing home sales slumped by 1.5 percent to an annual rate of 4.02 million in December after plunging by 7.9 percent to a revised rate of 4.08 million in November.
Economists had expected existing home sales to tumble by 3.4 percent to an annual rate of 3.95 million from the 4.09 million originally reported for the previous month.
Existing home sales retreated for the eleventh consecutive month and are down by 34.0 percent compared to the same month a year ago.
"December was another difficult month for buyers, who continue to face limited inventory and high mortgage rates," said NAR Chief Economist Lawrence Yun.
He added, "However, expect sales to pick up again soon since mortgage rates have markedly declined after peaking late last year."
The report said housing inventory totaled 970,000 units at the end of December, down 13.4 percent from 1.12 million units in November but up 10.2 percent from 880,000 a year ago.
The unsold inventory represents 2.9 months of supply at the current sales pace, down from 3.3 months in November but up from 1.7 months in December 2021.
The median existing home price fell 1.5 percent to $366,900 in December from $372,600 in November but was up 2.3 percent year-over-year.
"Home prices nationwide are still positive, though mildly," Yun said. "Markets in roughly half of the country are likely to offer potential buyers discounted prices compared to last year."
Next Thursday, the Commerce Department is scheduled to release a separate report on new home sales in the month of December.
Economists currently expect new home sales to plunge by 3.4 percent to an annual rate of 618,000 in December after surging by 5.8 percent to an annual rate of 640,000 in November.
Source: Read Full Article