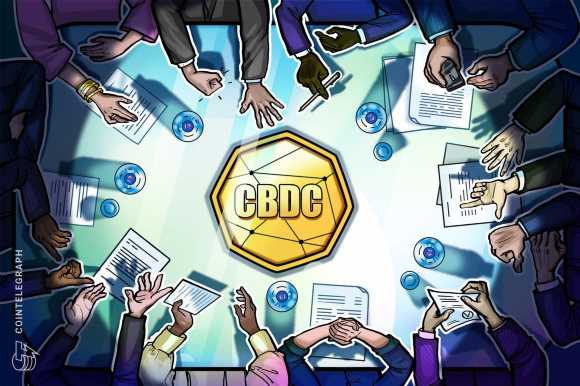 House Financial Services Comm. witnesses air multiple anti-CBDC arguments
September 14, 2023
A chorus of disapproval rang out from the halls of the United States Congress on Sept. 14 as a House of Representatives subcommittee held a hearing on the "digital dollar dilemma." Five expert witnesses were scheduled to testify at the hearing, and all of them argued against creating a U.S. central bank digital currency (CBDC), otherwise known as a digital dollar.
Partisan divisions were on full display as the hearing opened, with subcommittee chair French Hill saying, "There is no support for a CBDC in Congress except from those on the fringes." Rep. Tom Emmer called CBDCs "a tool the Communists have." 
Subcommittee ranking member Stephen Lynch announced the creation of a congressional Digital Dollar Caucus.
The five witnesses slated to speak at the hearing — held by the Financial Services Subcommittee on Digital Assets, Financial Technology and Inclusion — were Digital Asset CEO Yuval Rooz, senior vice president of the Bank Policy Institute Paige Paridon, the University of Pennsylvania's Christina Parajon Skinner, Norbert Michel from the Cato Institute and Columbia University lecturer Raúl Carrillo. 
The hearing was explicitly dedicated to private sector alternatives to CBDCs, but only Rooz was directly affiliated with a business. 
Digital Asset is the creator of the Daml smart contract language and the Canton blockchain, which is backed by companies such as Microsoft, Goldman Sachs and Deloitte. In his prepared testimony, Rooz urged that any form of digital dollar should leverage existing technologies in the private sector.
Paridon spoke about claims made by digital dollar supporters with counterarguments. She concentrated on issues that could arise within the banking system. Based on the list of potential risks, she concluded, "A CBDC could undermine the commercial banking system in the United States and severely constrict the availability of credit to the economy."
Skinner set CBDC largely in a historical context, beginning with the apparent intentions of the founding fathers. She concluded:
"Introducing CBDC is likely to have certain costs to individual economic liberty by providing the State with more tools — and hence greater temptation — to establish command-and-control style public policy."
The Cato Institute has a well-established record as an opponent of CBDCs. Michel addressed technical and political issues and saw no good coming from a U.S. CBDC.
Related: House committee will reopen discussions on digital dollar in Sept. 14 hearing
Carrillo stated his support for a digital dollar technology in general and opposition specifically to a CBDC. A major objection put forward by Carrillo was the concentration of responsibilities in the Federal Reserve, since the Treasury Department has many roles in monetary creation and implementation of financial technology as well.
In his analysis, Carrillo stated, "There is a profoundly mistaken assumption that we do not already live in a financial surveillance state." He continued:
"Although counterintuitive to some CBDC critics, substantively reigning in government financial surveillance means limiting public-private partnerships, as direct relationships between the government and members of the public are more likely to engender constitutional protections, including protection under the Fourth Amendment."
Blockchain technology is not a decisive factor in ensuring privacy, Carrillo argued:
"Aspirationally, blockchain hides sensitive data about users, but in practice, blockchain systems necessarily interface with the surveilled infrastructure of the rest of the internet."
Carrillo endorsed the Electronic Currency and Secure Hardware Act. It was re-introduced on Sept. 14 by Lynch and was not being examined by the subcommittee.
Carrillo concluded that "DFC [digital fiat currency] discourse in the United States is comparatively impoverished and unimaginative. […] Policymakers should support an array of Digital Dollar pilot programs and develop a steady rhythm of innovation, aiming to build a safe and secure financial system for all."
The Fed's well-known mantra of no CBDC without congressional authorization is well known. H.R. 3402, one of the bills under discussion at the hearing, would explicitly require congressional authorization prior to the introduction of a CBDC. H.R. 3712, also under consideration, would largely ban CBDC research. Emmer referred to research by the Boston Fed as "sketchy" during the opening of the hearing. Emmer's recently re-introduced CBDC Anti-Surveillance State Act was also on the hearing agenda.
The president's March 2022 executive order on digital assets mandated CBDC research. The Digital Dollar Project, a think tank co-founded by former U.S. Commodity Futures Trading Commission head Christopher Giancarlo, has also contributed significantly to CBDC research.
Magazine: China's Digital Yuan Is an Economic Cyberweapon, and the US Is Disarming
Source: Read Full Article