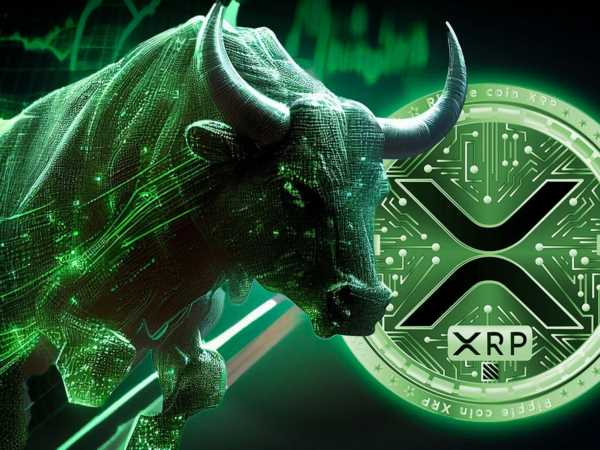 Analyst's Ultra Bullish Prediction Puts XRP Price At $10,000, But When?
September 14, 2023
Amid the bullish predictions that have popped up over the last few weeks for the XRP price, the most recent one stands out. The forecast which was presented by pseudonymous crypto analyst and XRP maxi known as Lord XRP, will put the altcoin on par with cryptocurrencies such as Bitcoin and Ethereum if it becomes a reality.
Analyst Puts XRP Price At $10,000
In a post shared on the X (formerly Twitter) platform, the crypto analyst presents a situation that could see the XRP price rise as high as $10,000. The visual shared puts the XRP market cap in contrast to mainstream payment processing companies dominating the traditional finance sphere.
Such comparisons are not new given that Ripple, the company behind the XRP token, is looking to disrupt the payments sector using blockchain technology. The company is expecting to facilitate faster and cheaper transactions, something that has been repeatedly presented as a bull case for the XRP price.
$10'000 per #XRP is possible✅✅ pic.twitter.com/aJ8FxrHBIz
— Lord XRP (@Bitforcoinz) September 10, 2023
The chart shows the all-time high market cap of XRP which was $30 billion in 2018 compared to the transactions carried out by payments giants such as Western Union ($80 billion) and SWIFT ($5 trillion). It also highlights the $577 billion in non-cash transactions carried out globally each year.
If Ripple is able to capture a good chunk of this payments market share, then the analyst believes that it is possible for the XRP price to rise as high as $10,000 per token.
Lord XRP is not the only one who has made ultra-bullish predictions for the altcoin, although it is certainly the highest by a mile. Wells Fargo Manager Shannon Thorp has also predicted that the XRP price could reach as high as $500 as Ripple begins to capture more market share in the cross-border payments space.
From the 2023 New Value Report by #Ripple
$250T is expected by 2027 just in cross-border payments!
A $500 XRP price just doesn't seem like enough to facilitate that amount. 😉 $xrp #xrpisnotasecurity pic.twitter.com/HvIIp0vIiD
— Shannon Thorp (@thorpshannon87) September 11, 2023
Is Such A Price Point Possible?
While investors could be giddy to see such price predictions, it does not make them feasible and the evidence lies in the supply of XRP. With a 100 billion total supply, a $10,000 price point would put the market cap of XRP at over $100 trillion, which is actually impossible given that the total crypto market cap is sitting at only $1 trillion.
To put this in perspective, the gold market cap, which happens to be a rather unlimited resource, was only at a $12.7 trillion market cap at the end of 2021. Bitcoin which is the pioneer cryptocurrency, topped out at a $1.27 trillion market cap during the 2021 bull market.
If there was a burn mechanism that drastically reduced the XRP supply over the next few years, then a $10,000 price point could be possible. However, with no burn mechanism and such a large supply still being available, a double-digit price point would be a call for celebration among the community.
Source: Read Full Article