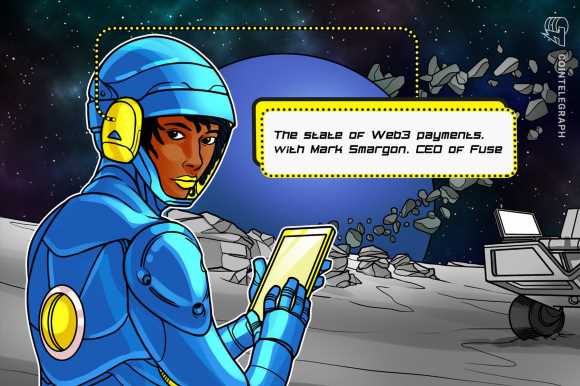 Fuse CEO Mark Smargon says blockchain payments apps will rival Visa, not Ethereum
August 17, 2023
Episode 16 of Hashing It Out explores one of the most popular cryptocurrency use cases: payments. Mark Smargon, CEO of Fuse, joins host Elisha Owusu Akyaw to discuss various Web3 payment solutions and how Fuse contributes to businesses' adoption of cryptocurrency payments. 
Smargon explained that the payment network's strategy involves looking beyond investments to focus on everyday use cases like payments, which will likely bring more sustainable adoption. Despite the goal, Smargon recounted the difficulty in convincing people and investors that businesses would adopt blockchain payments when starting Fuse in 2019.
Smargon further explained that Fuse is not competing with Ethereum but with Visa and Stripe, and that it's intended to be the main payment layer for global transactions. On whether the battle of adoption will be won by a few blockchain networks, Smargon mentioned that Fuse has never held a maximalist mindset:
"We really believe that in the future, there is going to be many blockchains. There is not going to be one blockchain that will hold the entire human knowledge. We were never maximalists in that approach."
Smargon believes that Web3 payments have come a long way in the last two years as things like nonfungible tokens and digital collectibles have become more popular. What's more, the increase in freelancers from developing markets who are paid in cryptocurrency and the use of cryptocurrencies for cross-border payments have been among other catalysts spearheading Web3 payment adoption.
Related: Should we ban ransomware payments? It's an attractive but dangerous idea
Owusu Akyaw asked about the impact of regulations on Web3 payments and adoption in the future. Smargon called it a rollercoaster ride, due to the unstable nature of regulations across the globe. He also added that blockchain technology may need to evolve by adding new features and taking away some existing features to fit regulations and create a better connection with traditional finance.
Listen to the latest episode of Hashing It Out with Fuse CEO Smargon on Spotify, Apple Podcasts, Google Podcasts or TuneIn. You can also explore Cointelegraph's complete catalog of informative podcasts on the Cointelegraph Podcasts page.
This article is for general information purposes and is not intended to be and should not be taken as legal or investment advice. The views, thoughts, and opinions expressed here are the author's alone and do not necessarily reflect or represent the views and opinions of Cointelegraph.
Source: Read Full Article