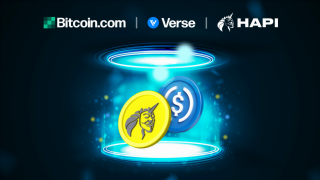 Bitcoin․com Partners with HAPI to Launch High-Yield Farm on Verse DEX and Enhance Wallet and DEX Security – Press release Bitcoin News
March 29, 2023
Bitcoin.com, a global leader in accessible cryptocurrency products and education, has taken another step forward in enhancing user experience by integrating HAPI's service into the self-custodial Bitcoin.com Wallet and onboarding the HAPI token on its Verse DEX with a USDC/HAPI trading pair. Bitcoin.com and HAPI are now offering highly attractive yield on the USDC/HAPI Farm. Users can stake their liquidity pool tokens to earn these attractive rewards.
This exciting partnership with HAPI Protocol, an innovative cybersecurity and anti-money laundering solution, aims to improve the security of the multichain Bitcoin.com Wallet and Verse DEX. The launch of a high-yield HAPI Farm on Verse DEX also supports the growth of the decentralized trading platform.
HAPI Protocol enables users of the Bitcoin.com Wallet, where over 38 million self-custody crypto wallets have been created, to be warned if an address they interact with has been associated with any suspicious activity. This essential feature is invaluable in an industry where user safety is of utmost importance. Since integrating HAPI's service into the Bitcoin.com Wallet in October 2022, the system has provided automated warnings to over 11,000 users, helping them avoid high-risk transactions. Bitcoin.com also plans to integrate HAPI to Verse DEX in order to provide additional security for DEX users.
As a decentralized solution, HAPI aggregates data from several trustworthy sources, including Chainalysis. It facilitates and rewards user engagement by allowing address submissions for HAPI token stakers, and is publicly available for anyone to view and use its database.
"The partnership between Bitcoin.com and HAPI highlights the power of collaboration in pursuing the creation of economic freedom. By joining forces, Bitcoin.com and HAPI bring users of Bitcoin.com's products the benefits of enhanced security and access to financial opportunities", said HAPI CEO Eugen Pshenychkin.
The combination of the Bitcoin.com Wallet, the Verse DEX, VERSE token, and HAPI's cybersecurity solution all work together to enable users to safely take advantage of the growing decentralized finance ecosystem in the pursuit of economic freedom.
Dennis Jarvis, Bitcoin.com CEO, emphasizes the importance of this partnership: "Our collaboration with HAPI Protocol not only enhances the security features of the Bitcoin.com Wallet but also provides our users with new opportunities to earn rewards through the Verse DEX. By taking the actions needed to earn these rewards, users are actively contributing to the growth of crucial decentralized infrastructure. This partnership is a testament to our commitment to promoting economic freedom and expanding access to decentralized finance."
As part of its mission to create economic freedom, Bitcoin.com is also inviting other projects to partner with them and launch partner farms on Verse DEX. Interested parties can apply here.
Start earning high APY on the Verse DEX here. To learn more about Verse Farms, and for step-by-step instructions, start here.
About HAPI Protocol
HAPI is a decentralized security protocol designed to combat malicious activity in the blockchain space. By integrating crypto intelligence data from various sources, HAPI provides accurate information on compromised wallets and malicious actors. The protocol offers a reporting and alert system, address checking functionality, and smart contracts for DEX and DeFi protocols.
About Bitcoin.com
Bitcoin.com is building products that give everyday people access to a vast world of opportunities to generate personal prosperity without limits. Since 2015, Bitcoin.com has been a global leader in introducing newcomers to cryptocurrency, featuring accessible educational materials, timely and objective news, and easy-to-use fully self-custodial products for buying, spending, trading, investing, and earning with crypto.
About Verse VERSE is the rewards and utility token for users who contribute to and participate in the Bitcoin.com ecosystem. Launched in December 2022, the VERSE token is designed to expand access to decentralized finance and help unlock the economic freedom it provides.
Source: Read Full Article