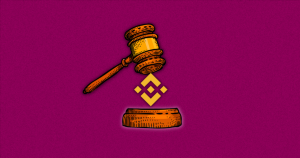 Binance Under Investigation: CFTC, SEC, DOJ, IRS Digging Deeper – Coinpedia Fintech News
April 1, 2023
The world's largest cryptocurrency exchange, Binance, is under fire from the Commodity Futures Trading Commission (CFTC), which has filed a lawsuit against the company, its CEO Changpeng Zhao, and other employees. The CFTC's accusations involve a series of alleged violations of trading and derivatives rules, including a lack of proper registration and inadequate anti-money laundering and know-your-customer controls.
The Accusations
The CFTC alleges that Binance solicited U.S. customers and deliberately ignored rules designed to block Americans from using its services to trade unregistered crypto derivatives products. In a statement, the Commission said, "Binance has taken a calculated, phased approach to increase its United States presence despite publicly stating its purported intent to 'block' or 'restrict' customers located in the United States from accessing its platform."
Key Players in the Legal Drama
Not only does the lawsuit target Binance as a company, but it also points fingers at CEO Changpeng Zhao and former chief compliance officer Samuel Lim. The CFTC claims that Binance hasn't taken compliance seriously, accusing it of multiple trading derivatives violations, such as not being properly registered to offer derivatives to American clients and insufficient supervision of activity on its exchange.
Insider Trading Allegations
The lawsuit goes further, suggesting that Binance knowingly evaded or assisted U.S. clients in dodging regulators and even traded against its own customers. The CFTC claims that Zhao used his own companies to engage in proprietary trading activity on Binance through 300 "house accounts" without disclosure. The regulator has been investigating Binance since early 2021, with the probe expanding to include allegations of insider trading by September 2021.
Potential Consequences
If the CFTC's penalties hold, legal experts predict that this case could have a significant impact on Binance's business in the U.S. and potentially even globally. The regulator is seeking not only to impose fines on the defendants but also to ban them from trading altogether.
Zhao's Response
In the face of the lawsuit, Zhao has taken to Twitter to share his thoughts on the 74-page complaint, suggesting that the CFTC's action is merely an attempt to spread "FUD" (fear, uncertainty, and doubt) among the crypto community.
As the legal drama unfolds, Binance, Zhao, and other implicated employees face an uphill battle to defend their positions and maintain their standing in the cryptocurrency world.
Long-Running Department of Justice and IRS Cases
Officials from the Department of Justice have been investigating Binance since 2018, focusing on Binance's compliance with anti-money laundering laws and sanctions, as well as potential tax offenses. The investigation involves the IRS. In December, news dropped that Justice Department prosecutors were weighing up whether to aggressively go after the exchange or take time to review more evidence.
Back in 2020, the Malaysia Securities Commission blacklisted Binance, advising investors not to use the platform, and ordered the exchange to shutter its services in 2021.
SEC Investigation
The US Securities and Exchange Commission (SEC) has also had its eye on Binance for some time, requesting a list of information from its US affiliate in 2021 on how it relates to the global organization. Last year, the SEC looked into the connection between Binance US and two trading firms linked to Zhao, Sigma Chain AG, and Merit Peak Ltd.
As regulatory pressure mounts on Binance, it remains to be seen how this will impact the company's operations and reputation in the crypto industry. It's a clear signal to other crypto exchanges to take compliance seriously, and regulators will not hesitate to take legal action if necessary.
Source: Read Full Article