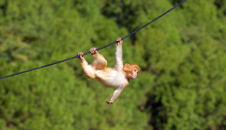 Apecoin Shatters Key Level – Should Investors Get Worried?
August 25, 2023
Apecoin (APE) finds itself in turbulent waters as the once-promising gaming token experiences a precipitous decline, marking a 30% drop in the last 30 days, despite the efforts of bullish investors to shore up its value,
APE has plummeted well below the $1.70 support level, raising concerns of a potential free-fall that could see its value revisit the abyss of $1. Currently trading at $1.41, according to CoinGecko, APE has faced a 6% decline in the past 24 hours and a 7.2% loss over the last seven days. 

APE price action today. Source: Coingecko
This pivot may be contingent on Bitcoin's performance, particularly its ability to reclaim the price range between $28,000 and $30,000 in the long term.
Challenges Ahead: Bearish Momentum Grips Apecoin
Without a swift change in sentiment, Apecoin holders might find themselves trapped in a downward spiral with no visible bottom. The Relative Strength Index (RSI), a key indicator of market momentum, recently attempted a reversal but was quickly thwarted, driving the index back into the oversold zone. This retreat underscored the persistent selling pressure that has hindered APE's attempts at a price recovery.
Since April 2023, the market has been dominated by bears, as each attempt by buyers to establish a support level has been met with subsequent losses. The sustained downward pressure has curtailed any bullish initiatives, leaving APE's future uncertain.
APEUSD trading at $1.41 today. Chart: TradingView.com
Whale Activity Raises Questions Amid Bleak Outlook
Amid the prevailing bearish sentiment, a notable development has emerged in the Apecoin (APE) ecosystem. A report citing data from LookOnChain reveals substantial activity from a significant APE whale, Machi Big Brother, starting from August.
The whale, making purchases totaling 1.51 million APE tokens, equivalent to a staggering $3.09 million, executed these transactions on Binance.
Machi Big Brother's substantial investments might indicate confidence in Apecoin's future prospects. However, the larger sentiment surrounding APE tells a different story. As of August 17, prevailing sentiment remains bearish, with analysts projecting a potential decline in APE's value to $1.36 by September.

Apecoin MVRV down for the month. Source: Santiment
Meanwhile, Santiment's data revealed an interesting statistic. Apecoin investors have suffered significant losses, with the Market Value to Realized Value (MVRV) ratio falling by -15.90% and -25.49% for monthly and quarterly holders, respectively.
Apecoin finds itself at a critical juncture, grappling with intense bearish pressures that have led to a significant erosion of its value. As market sentiment remains uncertain, all eyes are on both Bitcoin's performance and APE's ability to shake off the shackles of bear dominance and regain its foothold in the volatile cryptocurrency landscape.
(This site's content should not be construed as investment advice. Investing involves risk. When you invest, your capital is subject to risk).
Featured image from UnSplash
Source: Read Full Article