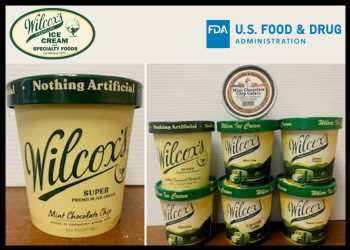 Wilcox Ice Cream Recalls Multiple Ice Cream Products
November 20, 2023
East Arlington, Vermont- based Wilcox Ice Cream is recalling multiple brands of ice cream, yogurt, ice cream bars and gelato in a variety of flavors, citing Listeria monocytogenes concerns, the U.S. Food and Drug Administration announced.
The recall involves all flavors of Wilcox brand ice cream, yogurt, and ice cream bars, as well as Leonardo's brand gelato.
In addition to Super Premium Mint Chip flavor, the company is calling back all other products manufactured at its facility during the same time period. These include all flavors and all sizes of Wilcox Premium Product Line with Best By/Sell By dates of 9/14/24 to 11/14/24; as well as Wilcox SUPER PREMIUM Product Line with Best By/Sell By dates 9/13/24 to 11/14/24.
Further, the recall includes Wilcox's Premium Yogurt Line with Best By/Sell By 10/5/24, 10/6/24, 10/26/24, 10/27/24; Wilcox Ice Cream 802 Ice Cream Bars with Best By/Sell By: 9/15/24 through 11/14/24; and Leonardo's Gelato Pints and 4 oz cups with Best By/Sell By Dates: 8/28/24 to 11/14/24.
The impacted products were distributed in retail stores and Co-Ops located in VT, NH, MA, and NY.
The recall was initiated after the company was notified by the Vermont Department of Agriculture on November 14 that one lot of the Super Premium Mint Chip manufactured that day may be contaminated with Listeria monocytogenes.
The Vermont Department of Agriculture was notified by the New Hampshire Department of Health that a routine sample collected by that agency of Super Premium Mint Chocolate Chip manufactured on 9/15/23 tested positive for Listeria monocytogenes.
As per the investigation, preliminary testing showed that the ice cream mix purchased to make these products may contain Listeria monocytogenes.
It is an organism that can cause serious and sometimes fatal infections in young children, frail or elderly people, and others with weakened immune systems. Healthy individuals may suffer only short-term symptoms such as high fever, severe headache, stiffness, nausea, abdominal pain and diarrhea. Meanwhile, Listeria infection can cause miscarriages and stillbirths among pregnant women.
However, the company has not received any reports of illnesses related to the recalled product to date.
Customers are urged to not consume these products and contact the firm.
In similar recalls related to Listeria Monocytogenes, Rosemead, California-based Phu Huong Food Co. in mid-October called back around 602 pounds of ready-to-eat or RTE beef and chicken meatball products. Dallas, Texas-based Don Miguel Foods earlier in October recalled 10,642 pounds of frozen RTE carne asada burrito products for the same concern.
Meanwhile, the U.S. Department of Agriculture's Food Safety and Inspection Service or FSIS in early October issued warning against Manteca, Califorina-based Sunnyvalley Smoked Meats' ham products under Costco's in-house brand Kirkland Signature for Listeria concern.
For More Such Health News, visit rttnews.com
Source: Read Full Article