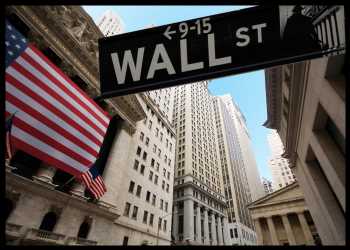 U.S. Stocks Move Mostly Lower Amid Concerns About Economy, Interest Rates
September 13, 2023
Stocks have moved mostly lower during trading on Wednesday, adding to the losses posted in the previous session. The major averages have all moved to the downside, the tech-heavy Nasdaq showing a notable decline.
In recent trading, the major averages have fallen to new lows for the session. The Nasdaq is down 156.92 points or 1.1 percent at 13,864.04, the S&P 500 is down 36.80 points or 0.8 percent at 4,460.03 and the Dow is down 185.58 points or 0.5 percent at 34,456.39.
The continued weakness on Wall Street partly reflects ongoing concerns about the outlook for the global economy following the recent release of disappointing data from overseas.
A recent surge in oil prices has added to the negative sentiment amid worries higher oil prices could keep inflation at elevated levels.
The price of crude oil reached its highest levels since last November on Tuesday after Saudi Arabia and Russia extended supply cuts until the end of the year.
Stocks saw further downside following the release of a report from the Institute for Supply Management showing an unexpected acceleration in the pace of U.S. service sector growth in the month of August.
The ISM said its services PMI rose to 54.5 in August from 52.7 in July, with a reading above 50 indicating growth in the sector. The increase surprised economists, who had expected the index to edge down to 52.5.
The data may have added to recent concerns about the outlook for interest rates, as the report also showed an acceleration in the pace of price growth.
Natural gas stocks are seeing significant weakness amid a steep drop by the price of the commodity, resulting in a 1.4 percent decline by the NYSE Arca Natural Gas Index.
Considerable weakness is also visible among computer hardware stocks, as reflected by the 1.2 percent loss being posted by the NYSE Arca Computer Hardware Index.
Banking, semiconductor and pharmaceutical stocks are also seeing notable weakness, moving lower along with most of the other major sectors.
In overseas trading, stock markets across the Asia-Pacific region turned in a mixed performance during trading on Wednesday. Japan's Nikkei 225 Index climbed by 0.6 percent, while South Korea's Kospi slid by 0.7 percent.
Meanwhile, the major European markets have all moved to the downside on the day. While the French CAC 40 Index is down by 0.8 percent, the U.K.'s FTSE 100 Index and the German DAX Index are both down by 0.1 percent.
In the bond market, treasuries have moved lower over the course of the session after seeing initial strength. Subsequently, the yield on the benchmark ten-year note, which moves opposite of its price, is up by 2.0 basis points at 4.288 percent.
Source: Read Full Article