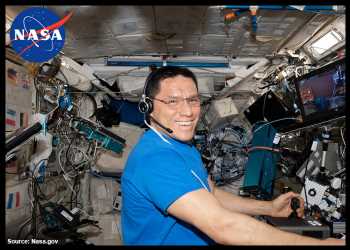 Frank Rubio Breaks US Record For Longest Single Spaceflight
September 13, 2023
U.S. astronaut Frank Rubio has broken the record for the longest single spaceflight by an American.
Rubio, who is serving on a year-long mission aboard the orbiting laboratory at the International Space Station, surpassed NASA astronaut Mark Vande Hei's U.S. record of completing 355 continuous days in space on March 30, 2022.
When he lands on Earth at the end of this month, Rubio will have spent 371 days in space at a stretch, and is set to mark another record – becoming the first American to live more than one calendar year in microgravity.
He is scheduled to return on September 27.
In fact, Rubio is breaking the record by accident.
Rubio left for the space station along with his two Russian colleagues aboard a Russian Soyuz capsule on September 21, 2022 to carry out a six-month mission. But the crew were unable to return as planned due to a coolant leak in their spacecraft in December.
While aboard the International Space Station, Rubio has worked on several experiments involving robotics, space physics, and biology, and he participated in three spacewalks.
For more than 22 years, astronauts have continuously lived and worked aboard the space station, testing technologies, performing science, and developing the skills needed to explore farther from Earth.
In a space-to-ground conversation, Vande Hei congratulated Rubio for his record-breaking mission.
During an Earth-to-Space call at 12:05 p.m. ET Wednesday, NASA Administrator Bill Nelson and Deputy Administrator Pam Melroy will speak with Rubio about his record-breaking mission.
NASA said the call will air live on NASA TV, the NASA App, and the U.S. space agency's website.
Source: Read Full Article