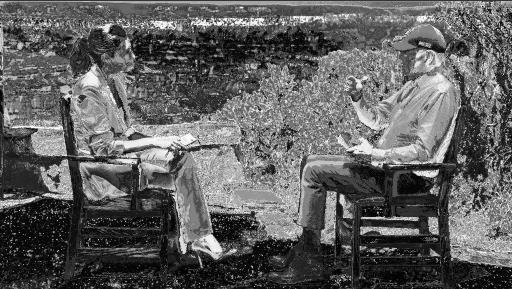 The Weather Channel Lands Sit Down Interview With Joe Biden To Talk Climate Change
August 8, 2023
Joe Biden sat down with The Weather Channel's Stephanie Abrams for an interview.
The topic was climate change and extreme weather as Biden visited the Grand Canyon on Tuesday.
The Weather Channel said that the full interview will air on the network on Wednesday starting at 6 a.m. ET on America's Morning Headquarters. It will be replayed throughout the day on the channel's streaming app.
The White House has been focusing in part on Biden appearances in non-traditional media, in as much as The Weather Channel is an alternative to Beltway media. Last month, Biden sat for an interview for Jay Shetty's On Purpose podcast.
Related Stories
Breaking News
"It Was Compelling": Joe Biden Offers His Take After Seeing 'Oppenheimer'
Breaking News
Oliver Stone Regrets Voting For Biden, Fears He Might Start World War III
Ali Zaidi, Biden's national climate adviser, was asked by a reporter on Monday about a Washington Post poll that showed most people — 57% — disapprove of the president's handling of climate change. That is despite the passage last year of the Inflation Reduction Act, which included one of the largest federal outlays to tackle the climate crisis.
"I think the signal we're getting is that the American people — and frankly, people all around the world — want everybody to go as fast as they can, faster and faster, picking up the pace of climate action," Zaidi said. "That's what the president has been focused on, right? And it's looking for opportunity in places we haven't seen it before."
In a statement, Byron Allen, the chairman and CEO of Weather Channel parent Allen Media Group, said, "Understanding the effects of climate change and the actions necessary to combat it can help save lives. Saving lives and protecting property is the core mission of The Weather Channel. We are proud to be leading the climate conversation with the president of the United States and other world leaders."
Must Read Stories
Q2 Beats Street Estimates; Ari Emanuel On Strikes; Update On WWE-UFC Merger
Alexa Davalos Not Returning For Season 5 Of CBS' 'FBI: Most Wanted'
Hallmark Media Chief Wonya Lucas Sets Exit; EMEA Boss Priya Dogra Leaving WBD
AMC Rides Box Office Revival To Top Q2 Forecasts; Fox Corp. Hits Target Despite Ad Dip
Read More About:
Source: Read Full Article