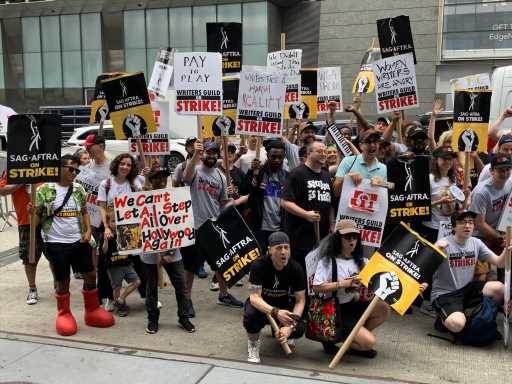 Dispatches From The Picket Lines: Union-Seeking Fiction Podcasters Make Their Case At Amazon In NYC
August 8, 2023
With "Mics up!" as their rallying cry, fiction podcasters walked a Writers Guild picket line Tuesday outside Amazon's offices in New York City to spotlight their efforts to unionize.
Although podcasting has the ear of millions of Americans and listenership has boomed since the 2014 true-crime podcast Serial became a phenomenon, writers at the rally said that in their growing corner of the industry — scripted fictional podcasting — workplace protections and guarantees are negligible.
"Because like our colleagues in film and TV, we in podcasting are part of a system that is exploiting us," podcast EP and writer-director Jenny Turner Hall said in a speech to several dozen rallygoers.
Related Stories
Breaking News
Karsen Liotta To Headline Indie Anthology Pic Handed SAG-AFTRA Interim Agreement
Breaking News
DGA Pension & Health Plans Approve New Medical Plan To Help Members Impacted By Ongoing Strikes
Turner Hall described "a system that's owned by a handful of greedy people at the top that are more than willing to ask everything from us — not just writing but directing, sound editing, producing — and not even offer us health insurance in return, let alone give us meaningful residuals, writers rooms, guarantees our work won't just become fodder for AI."
Turner Hall won a podcasting Peabody for the fictional kids mystery The Unexplainable Disappearance of Mars Patel. She was able to join the WGA through a side-letter agreement to the guild's minimum basic agreement, and she encouraged other audio writers to look for opportunities to do the same.
In the past several months, workers at two podcast networks, Crooked Media and Audacy-owned Pineapple Street Studios have unionized under the Writers Guild of America East.
The WGA Audio Alliance, which sponsored Tuesday's rally, wants podcast platforms such as Spotify and Amazon-owned Audible to enter into negotiations with podcast writers.
"We need these corporate monoliths like Amazon [with] oversized influence in our business to meet our WGA brothers and sisters at the table and to form an audio collective bargaining agreement with the WGA," Turner Hall said to cheers. "So mics up, audio writers!"
The Audio Alliance consists of about 500 podcast industry writers — primarily freelancers who work on high-budget scripted fiction podcasts but don't yet have collective bargaining power.
"There's no standard contract, there's no standard pay, there's nothing that's standardized about working on podcasts," James Folta, a freelance podcast writer and Audio Alliance organizing committee member, told Deadline.
The Writers Guild has previously organized workers at nonfiction podcast companies, including Gimlet, The Ringer and Parcast. The Audio Alliance was launched in October 2020 in response to the growth of scripted audio dramas and comedies such as Mars Patel, which also employ guild members who write for film and television.
Sasha Stewart, a WGA East council member and alumna of The Nightly Show with Larry Wilmore, told picketers that she was hired to write a fiction podcast in 2020.
"I was paid 10 percent of what I get paid in television. Ten percent," Stewart said. "And we're on strike for film and television right now — I tell you what, getting paid 10 percent of what we usually make? Come on. It is not enough. And I got no health insurance. It was just like the smallest gig in the world.
"And yet I found this incredible group of people, a wonderful community of people who create entire worlds between our ears," she continued.
"This has been a really hard year in audio," Stewart said, citing layoffs at Spotify and Audible. "But this has also been an incredible year for organizing. Welcome to Crooked Media. Welcome to Pineapple Street. … Next we just need to get places like Audible to pay us our worth."
Must Read Stories
Endeavor Shrugs Off Strike Hit In Q2 To Beat Street, Updates WWE-UFC Merger
AMC Rides Box Office Revival To Top Q2 Forecasts; Fox Corp. Hits Target Despite Ad Dip
Hallmark Media Chief Wonya Lucas Sets Exit; EMEA Boss Priya Dogra Leaving WBD
'Gran Turismo' Is Fresh & Provocative Racecar Drama That's Different From The Others
Writers Guild Strike
WGA Introduces New Health Care Demands That Could Prolong Strike
WGA & AMPTP Can't Agree To Resume Negotiations; Strike To Go On Indefinitely
Read More About:
Source: Read Full Article