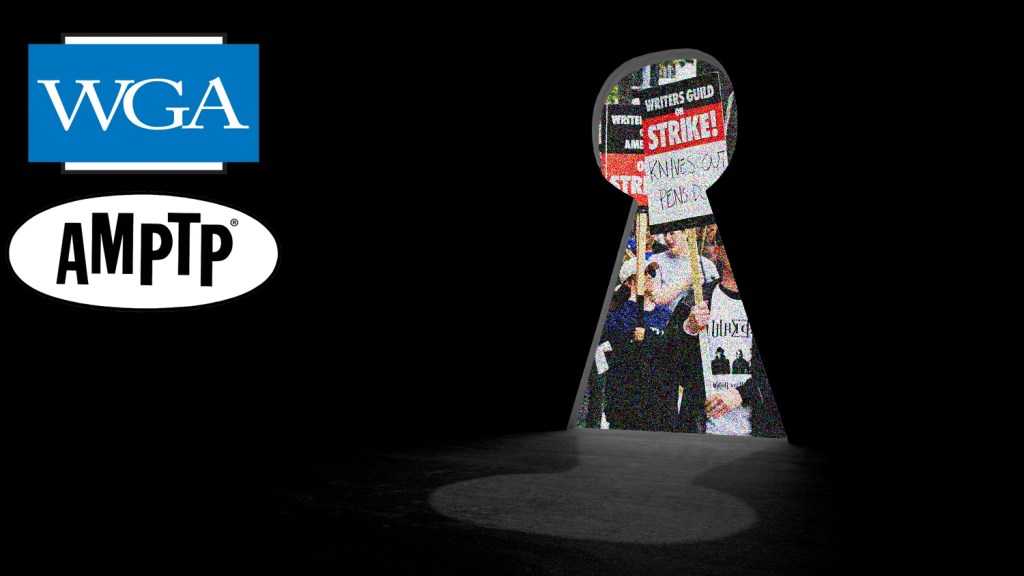 As Writers Strike Nears Day 100, WGA & AMPTP Seek Path Back Toward Negotiating Table
August 2, 2023
EXCLUSIVE: The writers strike is heading towards its 100th day, but there's a new sense of guarded optimism that both parties – the WGA and the studios, represented by the AMPTP – are on the verge of a making a breakthrough.
The scribes and the studios are discussing a move that would bring them back to the negotiating table to hammer out a deal that could end at least one of the strikes that is currently taking over Hollywood, we hear.
Related Stories
WGA Says Studios Are Locked In "Mutual Suicide Pact" As Their Negotiating Strategy Has Resulted In "Spectacular Failure"
Hollywood Studios' WGA Strike Endgame Is To Let Writers Go Broke Before Resuming Talks In Fall
It marks the first significant step towards progress since the writers strike began May 2, and is the first time in three months insiders have felt cautiously optimistic that official talks can resume.
"The discussions are centered on creating committees to examine the issues," one source told Deadline.
The topics at the top of the agenda include minimum staffing, duration of employment, a viewership-based streaming residual, and AI. There's hope that they can find a compromise on the latter, at least. However, multiple sources contend the situation is in the early stages and still quite fluid.
Some of the studio bosses, including Netflix's Ted Sarandos, as well as the likes of Disney's Dana Walden and Alan Bergman, weighed in on the matter with the Alliance of Motion Picture and Television Producers on Friday. Discussing both the SAG-AFTRA and WGA labor actions, the gathering of execs was intended in no small part to "bring the temperature down," according to one well-positioned source.
Sources told Deadline that the real work is now being done by the attorneys, part of a classic playbook of establishing harmonious labor relations. Lawyers, including outside counsel, as well as in-house labor-relations experts and business-affairs chiefs are now looking to establish communication – essentially opening the door for both sides to head back to Sherman Oaks.
"It's headed in that direction," said one insider. "It's on the precipice of happening and they're gearing up for it."
We're hearing there's a drive, particularly from the legacy media companies, to get this done sooner rather than later. August 9 would mark Day 100 of the strike.
It has, however, not yet reached the level of AMPTP president Carol Lombardini and Ellen Stutzman, Chief Negotiator for the WGA and Assistant Executive Director, Writers Guild of America, West.
Chris Keyser, WGA Negotiating Committee Co-Chair, is thought to be involved.
Last week, Keyser, in a video message to members, urged the studios to "envision a solution." "This isn't a war we're in, it's a negotiation," he said, adding that "either together or separately, as their divergent interests might suggest, they will come back to us."
Intriguingly, given the bitter battle lines drawn up in early May and studio aims to break the WGA by letting the strike continue deep into the fall, the tone of the topic of returning to the table has shifted slightly recently. Many of the high-ranking WGA members, such as Keyser and his WGA Negotiating Committee Co-Chair David Goodman as well as others, have long said they're willing to get back to the table as soon as they hear from the AMPTP.
When asked by Deadline on picket lines at NBCUniversal today whether there was movement on talks, Michele Mulroney, VP, WGA West, said, "When the guild's ready to say anything, we'll obviously officially come to our members and talk at the appropriate moment, but we're hopeful that they're starting to perhaps see sense in engaging with these two unions on strike and that without us, they don't have any product and their pipeline is drying up. We hope that the pressure that we've been applying is going to bear fruit; we believe that it will and we believe we're going to win."
"We remain committed to finding a path to mutually beneficial deals with both unions," an AMPTP spokesman said today when asked about the latest developments. The WGA West had no comment when contacted by Deadline.
The last time the WGA went on strike in 2007-2008, the labor action lasted exactly 100 days. In that very different pre-streaming era, one of the big topics on the table was residuals from what was then termed "new media." Fifteen years ago, no one was talking about AI.
Rosy Cordero contributed to this story.
Must Read Stories
Read Today's Four-Count Indictment Regarding Efforts To Overturn 2020 Election
Sean Penn Walks Burbank Picket Line; Fran Drescher Rips Studios In NYC
'Watch Out For The Big Grrrls' Contestants Sue Lizzo For Assault & Sexual Harassment
Lionsgate Closing In On eOne Acquisition As Hasbro Q2 Earnings Call Nears
Writers Guild Strike
New York City Council's Labor Committee Approves Resolution Supporting SAG-AFTRA & WGA Strikes
Lisa Takeuchi Cullen To Be Next President Of WGA East As Michael Winship Departs
Read More About:
Source: Read Full Article