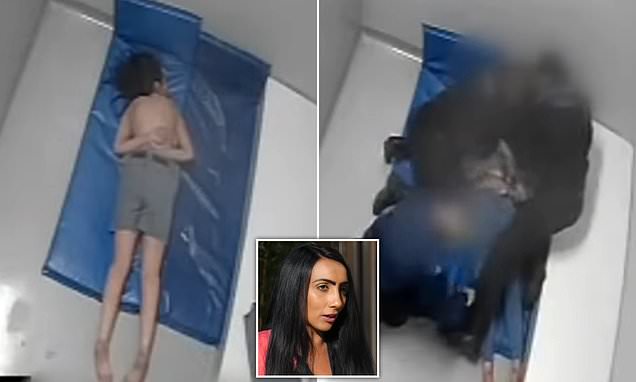 Woman claims she was 'stripped, drugged and sexually assaulted'
August 4, 2023
Police watchdog launches probe into woman's claims she was 'stripped, drugged and sexually assaulted in custody by Greater Manchester Police officers
Zayna Iman, 38, is one of three women to accuse GMP of unjustified strip search
The police watchdog has launched a probe into a woman's claims she was stripped, drugged and sexually assaulted while in police custody. 
Zayna Iman, 38, said the incident happened while she was held by officers from Greater Manchester Police (GMP). 
The Independent Office for Police Conduct (IOPC) said it received two referrals from GMP linked to complaints made by Ms Iman regarding her detention at Pendleton police station in February 2021.
Sky News reported the 38-year-old was held for 40 hours in custody, but it was claimed three hours of footage taken of her was missing and medical records showed evidence of sexual injuries.
Ms Iman was reportedly arrested at home in the early hours of February 5, 2021 after she knocked the glasses off a female officer's face during a police welfare callout over a woman reportedly high on cocaine.
Zayna Iman, 38, (pictured) alleges she was stripped, drugged and sexually assaulted while being held in custody for 40 hours 
Video footage obtained by Ms Iman shows her in the custody cell 
The complainant is one of three women who have accused GMP of unjustified strip searches after being arrested.
GMP previously denied any wrongdoing by its staff.
The IOPC said they initially received a re-referral of matters received in May 2022 which they instructed GMP to investigate locally, while the other referral contained new allegations regarding the woman's treatment in custody that had not previously been brought to their attention.
IOPC regional director Catherine Bates said: 'These very serious allegations will have undoubtedly unsettled the local community and the wider public.
'Their severity raises understandable concern and has the potential to undermine confidence in policing.
'In light of the new information we recently received and the significant media attention generated, as well as a request from GMP, we have taken the decision that an independent investigation is required into the allegations.
CCTV footage shows three female officers taking off Ms Iman's clothes and leaving her topless in a cell, face-down on a mattress 
'We are aware of footage of the woman's detention, which has been widely shared, and will be requesting a copy of all available video evidence to assist with our inquiries.
'Our investigation, which will be thorough and independent of the police, will look at the nature of the interaction the woman had with police while in custody and allow us to understand what happened on the night in question.
'We have made contact with the woman to explain our role and we will update her as our inquiries progress.'
Last month another woman, Sinead Foley, claimed she was strip-searched by 'savage' police in Birmingham and left naked in a cell for 16 hours, reports emerged.
The 37-year-old told Sky News she 'felt totally violated' after she was 'forcibly' undressed and left on the holding cell floor with only a mattress as cover following her arrest in November last year.
Source: Read Full Article