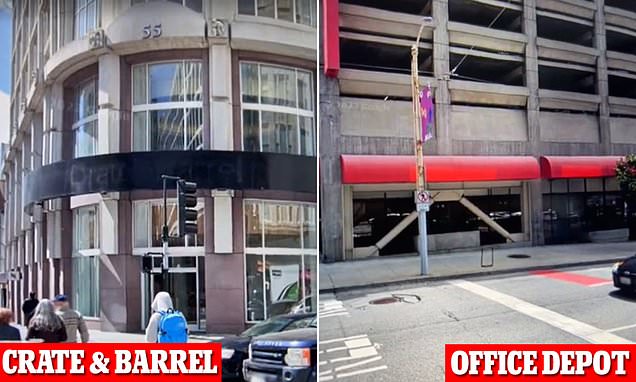 Video shows before and after of San Francisco brand exodus
August 13, 2023
San Francisco is dying': Before and after video shows the mass exodus of huge brands like Crate & Barrel, CVS and Office Depot from the crime-ridden city caught in a 'doom loop'
The clip made up of Google screen grabs shows just how large of an exodus there has been in the city 
Big brand names have been frequently leaving the city due to a drop in footfall and widespread crime
An employee at a Target location said earlier this year it was being robbed as often as 'every ten minutes.' 
Before and after pictures have laid bare the mass exodus of huge brands from the city of San Francisco. 
The video, made up of Google Maps screen grabs, shows large chain stores like Target and CVS before and after they moved out of the city. 
Hordes of brand names including the likes of Whole Food and Nordstrom have recently moved out of the California city amid widespread crime and plummeting footfall. 
The city has also struggled for years with rampant fentanyl use and fatal overdoses, and is on pace for its deadliest year yet.
In the first five months of 2023, preliminary reports show there were 346 overdose deaths in the city – an increase of more than 40 percent from the same period in 2022.
This CVS pharmacy has been left vacant after the company decided to pull its stores in the city
Big box retailer Office Depot also closed this location, leaving just one remaining open in the city
In the video, derelict shopfronts are shown for CBS, Target, Office Depot and Walgreens. 
The Office Depot store pictured in the clip closed down in April of this year, while the Crate & Barrel store that was pictured closed in February of last year.
High theft has proved a problem in the area recently, with a Walgreens in the city center resolving to chaining their freezers to stop shoplifters.  
Over the past few months, dozens of retailers announced they would be vacating the downtown area of the city.
Retail stalwart Old Navy announced they would be shuttering their flagship store in the area last month, becoming the latest chain to exit the city.
It comes after retail giant Nordstrom announced they would be closing all of their locations in the city.
The company said that due to the 'changing dynamics' of San Francisco it would be shuttering all remaining stores in the next few months.
In April, Whole Foods announced it was closing all their locations, with Anthropologie and Office Depot having also made the same decisions.
These stores joined the growing list of stores that have abandoned the coastal city, including H&M, Marshall's, Gap and Banana Republic.
Whole Foods had opened a new 'flagship' location at Trinity Place in the city's Tenderloin District in March of last year.
Shoplifting has become so bad in San Francisco that some stores are now padlocking shut their freezers and tying metal chains to ensure the doors remain closed overnight
A map reveals the major businesses which have left, or plan to leave, San Francisco in recent months
The company had hoped to revitalize footfall after two years of COVID-19 restrictions severely impacted business in the area.
A year on and the organic food giant declared they would be closing their store 'for the time being' over safety concerns.
A disturbing recent report showed 95 retailers in downtown San Francisco have closed since the start of the COVID pandemic, a decline of more than 50 percent.
Out of 203 retailers open in 2019 in the city's Union Square area, just 107 are still operating, a drop of 47 percent in just a few pandemic-ravaged years.
Even the candy is under lock and key in Walgreens in San Francisco. A DailyMail.com reporter witnessed four thefts in 15 minutes at the store
One worker said that they at least a theft ten thefts a day and that it happens every ten minutes
One Target store in the city has been forced to lock up more of its products to stave off thieves.
An employee at the location recently said it was being robbed as often as 'every ten minutes.'
Video footage of another Target has been shared on social media and shows large quantities of their stock now behind barriers. 
Source: Read Full Article