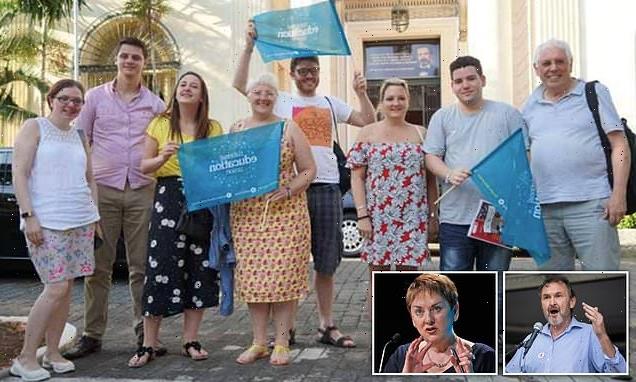 Union behind teacher strikes send members on pricy 'solidarity' trips
January 20, 2023
The union behind the impending teacher strikes sends their members on expensive 'solidarity' trips to territories with poor human rights records like Cuba and Palestine
The National Education Union (NEU) sends dozens of members to areas with poor human rights records
They pays as much as £1,000 per person for members to take part in 'trips of solidarity'
Thousands of teachers in England and Wales will strike in February and March
The teaching union behind impending strikes spends tens of thousands of pounds sending delegates to Cuba and the West Bank, the Daily Mail can reveal.
The National Education Union (NEU) routinely sends dozens of members to territories with poor human rights records on 'solidarity' trips.
They include the West Bank, an Israeli-occupied territory partially administered by Palestinian authorities, and communist Cuba, whose government is accused of human rights abuses against its people.
The union forks out as much as £1,000 per person for members to take part in the 'trips of solidarity', with the NEU's own supporters even questioning the visits and calling for them to stop.
The National Education Union (NEU) routinely sends dozens of members to territories with poor human rights records on 'solidarity' trips
Some of the NEU's senior leaders are hard-Left supporters of former Labour leader Jeremy Corbyn – a man who once referred to Hamas as 'friends'.
Corbynites within its ranks include joint general secretary Kevin Courtney, who promoted a Parliament Square protest to 'Stop Boris' in 2019. Membership and equalities officer Louise Regan was suspended as chairman of her constituency Labour party after allowing a motion in support of Mr Corbyn to be debated. She has pledged to 'win justice for the Palestine people' and is among those to have visited the territory on behalf of the union.
Last night, union leaders Mr Courtney and Mary Bousted faced calls to resign by MPs, who blasted them for trying to live out their 'socialist utopian fantasies'.
Jonathan Gullis, who was briefly schools minister under Liz Truss, said: 'Bolshevik Bousted and Commie Courtney need to do the decent thing for the future of our children – which is pack up their stuff and go.'
Kevin Courtney, General Secretary of the National Union of Teachers (NUT), addressing campaigners against cuts to education funding and their families in Parliament Square 
The NEU has announced plans to strike over seven days in February and March in action expected to impact 23,000 schools.
Tory MP Craig Mackinlay said the revelations 'shine a light' on the union's 'true intent', adding: 'News that members' union dues to the NEU are being used to finance expensive junkets to socialist idylls such as Cuba and Palestine does not surprise me. Corbynism and hardline Leftie views are seemingly alive and well within the NEU, shining a light on the true intent behind the encouragement to strike.'
Teachers from across the country are encouraged to sign up for the excursions, which often take place during term breaks.
In 2017, members of the South West region of the NEU posed with a 'special banner' made for the delegation outside a school in Cuba, which reads 'supporting education in Cuba'.
The NEU was formed in 2017 following the amalgamation of the National Union of Teachers (NUT) and the Association of Teachers and Lecturers (ATL).
According to a motion filed at a union conference, in 2016 and 2017, NUT spent '£32,000 subsidising members on solidarity delegations to Cuba'. It also claims NUT 'paid £3,330 for the organisation of a Cuban salsa night at the NUT annual conference'.
Pictured: Association of Teachers and lecturers Union General Sec, Mary Bousted, speaking to conference delegates
But calls from members asking the union to stop 'spending a penny more on delegations to Cuba' and 'support free speech' have fallen on deaf ears.
Last year, delegates hoping for a spot on the Cuba trip were asked to submit a 200-word statement and 'include experience of international solidarity work, knowledge of the situation in Cuba and pledged activities upon return'.
The cost per delegate was £2,000, of which £1,000 was 'covered by the union's International Solidarity Fund'. As many as 25 members appear to have made the trip in October – costing the union £25,000. Members can travel to the West Bank for the same fee to get a 'first-hand experience of the daily lives of Palestinians, focusing on education and advocacy'.
So strong is the union's support for Palestine that dozens of Jewish teachers reportedly quit in 2019 over its one-sided stance on the conflict with Israel.
Chris McGovern, former headteacher and education policy adviser to Margaret Thatcher, added: 'We need to keep politics out of the classroom.
'Schools should be centres for education and learning, not political battlefields and places to indoctrinate the young.'
An NEU spokesman said: 'The NEU has no political party affiliation and works with whatever government is in power on behalf of our members and for children's education. Our delegations abroad are a matter of public record.
'This year's delegation to Cuba distributed braille machines and other classroom equipment to schools because the US blockade makes these hard to obtain. Members fundraise for this equipment themselves. It is worth noting that the NEU is not unusual in opposing the blockade of Cuba – the UK Government also does so.
'NEU delegations to Palestine do not visit Gaza – the territory controlled by Hamas – but the West Bank, where they visit schools and meet teachers and union reps.'
Source: Read Full Article