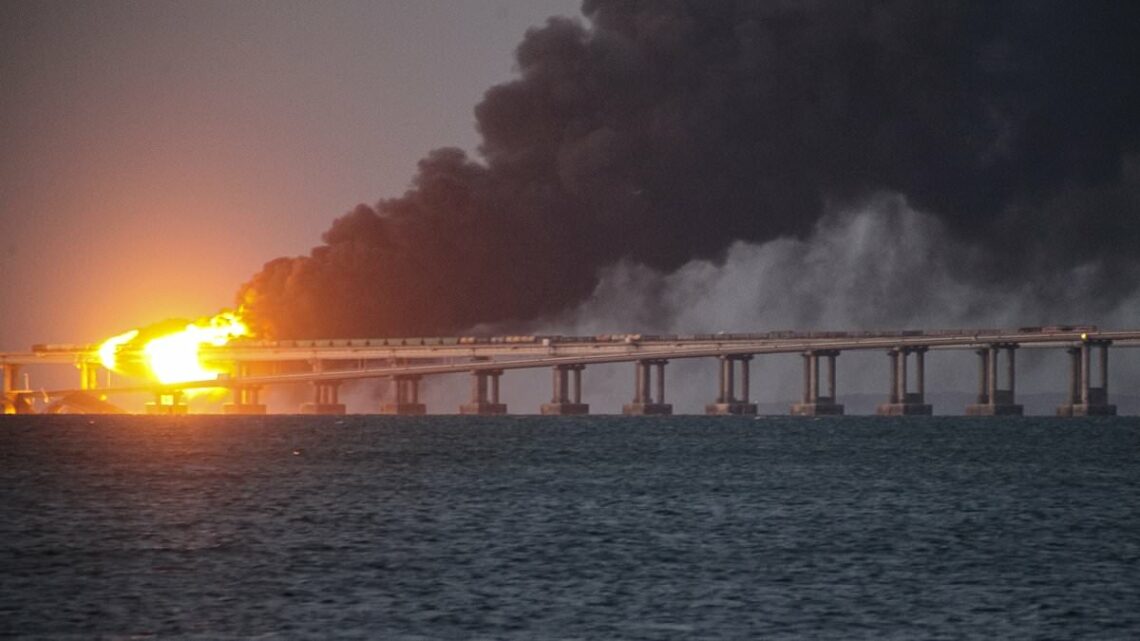 Ukraine launches daring new kamikaze drone attack
September 3, 2023
Ukraine launches daring new kamikaze drone attack in bid to destroy Russia's major £3m bridge to Crimea
The Kerch bridge has come under repeated attack since the Russian invasion
Ukraine has vowed to keep seeking to cause irreparable damage to the crossing
Ukraine launched an audacious new bid overnight to blow up Russia's major £3 million bridge linking to Moscow-annexed Crimea – forcing temporary closure of the pathway for a third time in less than a year.
Three semi-submersible kamikaze marine drones were deployed in Ukraine's latest strike on the bridge, Moscow said, claiming that the missiles were intercepted and destroyed en route to the crossing.
One drone was destroyed late on Friday and two others early on Saturday, according to Russia's Defence Ministry. There was no immediate comment from Ukrainian officials.
The Kerch bridge, a key supply route for Kremlin forces in the war with Ukraine, has come under repeated attack since Russia invaded Ukraine.
An explosion in October, which Russian authorities said was caused by a truck bomb, left three people dead. Another attack in July killed a couple and seriously wounded their daughter, and left a span of the roadway hanging perilously.
Flames rise from the Crimean Bridge connecting the Russian mainland and annexed Crimea, after what Russian authorities said was a bomb caused fire and partial collapse of the bridge, October 8, 2022
A view through a train window shows the section of a road split and sloping to one side following an alleged attack on the Crimea Bridge, July 17
The bridge connecting Crimea and Russia carries heavy significance for Moscow, logistically and psychologically, as a key artery for military and civilian supplies and as an assertion of Kremlin control of the peninsula it annexed in 2014.
Ukraine has vowed to keep seeking to cause irreparable damage to the crossing. 
The unmanned kamikaze marine drones were last night hit by vessels of the Russian Black Sea Fleet, according to the Defence Ministry in Moscow.
The crossing was closed and large traffic jams were seen on either side of the bridge.
One of the drones may have been seeking to target Russian patrol ship Inquisitive, claimed Rybar Telegram channel.
The sea drone 'tried to hide among the ships at anchorage' in the Kerch Strait but was spotted and exploded.
Russia boasted this week to have improved its surveillance of drone activity around Crimea, and to have used this to thwart using naval aviation a Ukrainian bid to land on the peninsula to stage an attack.
'The Black Sea Fleet has set up constant monitoring of the situation in the Black Sea through all types of reconnaissance,' said the Russian defence ministry.
Traffic forms heading to July after a Ukrainian specially developed marine kamikaze drone called Sea Baby loaded with 850 kg of explosives caused structural damage to the crossing
Black smoke billows from a fire on the Kerch bridge that links Crimea to Russia, near Kerch, on October 8, 2022
Moscow branded the latest sea drone attacks as terrorism, while not using the same label to describe its strikes on Ukraine.
In October a bomb concealed in a truck exploded on the bridge, causing major damage.
In July, a specially developed marine kamikaze drone called Sea Baby loaded with 850 kg of explosives caused structural damage to the crossing.
The latest attacks came in a week that has seen record drone strikes on Russia, including a hit that destroyed two Il-76 transport planes and damaged two more in Pskov, close to the country's NATO border with Latvia and Estonia.
Elsewhere, two Ukrainian drones were also intercepted in Russia's Belgorod region bordering Ukraine, the Defence Ministry said.
A woman was wounded on Saturday during shelling of a village in the Kursk region, also bordering Ukraine, regional governor Roman Starovoit said. He blamed Ukraine for the shelling.
Ukrainian authorities, who generally avoid commenting on attacks on Russian soil, did not say whether they launched the attacks. Drone strikes and shelling in border regions are a regular occurrence.
The Ukrainian military said on Saturday that Russia had launched four missile strikes and 39 air strikes over the previous 24 hours, in addition to 42 attacks from multiple rocket launchers.
Cars drive on the Crimean bridge connecting Russia and Crimean peninsula at the Kerch Strait, in Taman Peninsula of Krasnodar region of Russia, October 8, 2022
Workers repair the side of damaged spans of the road section of the Crimean Bridge connecting Russian mainland and Crimean peninsula over the Kerch Strait during restoration works, November 19, 2022
UK military officials said on Saturday that Russia is risking splitting its forces in an attempt to prevent a Ukrainian breakthrough in Ukraine's south.
According to British intelligence, Ukrainian forces continued to take offensive action on the Orikhiv axis in southern Ukraine, with units reaching the first Russian defensive line.
Ukraine's deputy defence minister Hanna Maliar said on Friday that Kyiv's troops were advancing in the Zaporizhzhia region.
Russian President Vladimir Putin will host Turkish leader Recep Tayyip Erdogan for talks next week, the Kremlin announced on Friday, just over six weeks after Moscow broke off a deal brokered by Ankara and the UN that allowed Ukrainian grain to reach world markets safely despite the 18-month war.
Kremlin spokesman Dmitry Peskov said Mr Putin and Mr Erdogan will meet on Monday in Russia's Black Sea resort of Sochi.
Separately, Kyiv claimed to have damaged four Su-30 fighter jets, one MiG-29 fighter jet, two Pantsir-S1 close-range air defence systems and a radar linked to a long-range S-300 surface-to-air missile system in a strike in Kursk with aerial drones made of cardboard.
Ukraine also claimed that on Friday it hit a key Russian plant near Moscow producing electronics for Putin's missiles. This attack was strongly denied by Russia.
Putin is cranking up his own drone production. He vowed to train one million drone operators – but admitted this may not be enough.
'We have a programme until 2030, we must train one million specialists in this field,' he said.
'Even, perhaps, this will not be enough yet, because [the industry] is developing very quickly.'
Source: Read Full Article