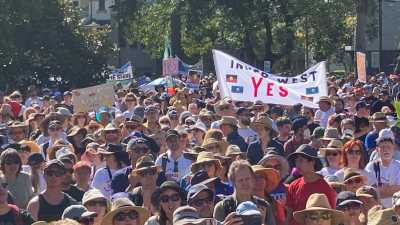 Thousands brave Sydney heat for Yes march on Voice referendum
September 19, 2023
Save articles for later
Add articles to your saved list and come back to them any time.
Supporters of an Indigenous Voice to parliament braved the Sydney heat to turn out in their thousands for the city's first big Yes event since the official referendum campaign started.
The Walk for Yes kicked off with a rally at Redfern Park at 2pm on Sunday, and the crowd marched up Chalmers and Cleveland streets to Victoria Park near Broadway, exuberantly singing John Farnham's You're the Voice.
Supporters of an Indigenous Voice to parliament march in Sydney on Sunday.Credit: Steven Siewert
A NSW Police spokesperson said about 12,000 to 15,000 people attended the event, one of several around Australia.
The crowd included a mix of ages and backgrounds, both Indigenous and non-Indigenous, with many wearing different variations of Yes T-shirts. A stall at Victoria Park did a roaring trade selling Yes merchandise, including T-shirts, caps, badges and corflutes.
Volunteers handed out sunscreen and water to help people beat the heat, which soared past 30 degrees.
Plentiful shade and a cool breeze at Victoria Park brought attendees welcome relief from the heat as they kicked back to watch Dan Sultan and Missy Higgins perform. Volunteers at the first-aid tent said only a few people had been struck down by the heat throughout the day.
The rally included speeches by Yes23 spokesperson Rachel Perkins, who said a Yes vote on October 14 would be "the biggest acknowledgment of Country this nation has ever seen", and other Indigenous leaders including Tribal Warrior chief executive Shane Phillips.
In a display of political unity, four politicians made speeches supporting Yes: Labor federal MP Tanya Plibersek, the environment minister and the local member for Sydney; Greens senator Sarah Hanson-Young; NSW Liberal parliamentarian Jacqui Munro, the youngest Liberal woman ever elected to the NSW upper house; and City of Sydney Lord Mayor Clover Moore.
Plibersek said: "Australians are a fair people. We are an egalitarian people. We love justice, and we love one another. Let's show that love and decency to the world on October 14 and vote Yes."
Munro said Liberal voters should be reassured that the Voice speaks to Liberal values of liberty, individual responsibility, and respect for the Australian Constitution.
"This voice represents the freedom to speak freely, and to be heard justly," she said. "Who am I to say no?"
Gavin Harris, a Meriam man from the Torres Strait, said he believed the Voice would help close the gaps for Indigenous Australians and "make a better Australia for all of us".
"This [turnout] is fantastic because what it shows is that people are actually willing to support this cause," Harris said.
His wife Jade Chou-Harris, from Merrylands, who is not Indigenous, said she had originally been leaning toward No because she was concerned about division.
She had swung to the Yes camp after learning about the history of how various Indigenous consultative bodies had been abolished by the governments of the day because there was no constitutional protection.
"I didn't know, so I got educated, I didn't decide to vote No," Chou-Harris said.
"It's not giving Indigenous people any other legal rights over other Australians, it's just recognising that we can't just shut down the iterations of their representative bodies, there needs to be one for forever and a day.
"We had one with Malcolm Fraser, we had another iteration with Bob Hawke, John Howard kicked that one out, and listening to these people, we can't just keep going backwards, we can't keep shutting them down."
Peter Gracie, wearing a Berowra for Yes T-shirt, said he was "blown away and so thrilled" by the size and diversity of the crowd.
"[The Voice] is an optimistic view toward the future rather than a negative view," Gracie said. "It's actually being proactive and inclusive of our Indigenous community to give them a voice and the ability to have influence on or some say on their future."
Thousands of Australians attended similar Walk for Yes events in Melbourne, Brisbane, Perth, Hobart, Canberra, Newcastle and Darwin on Sunday, and Adelaide on Saturday.
Start the day with a summary of the day's most important and interesting stories, analysis and insights. Sign up for our Morning Edition newsletter.
Most Viewed in National
From our partners
Source: Read Full Article