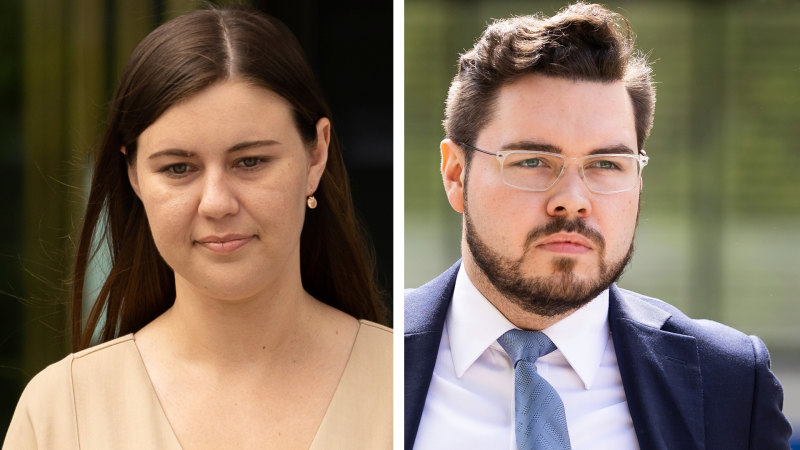 Ten wants to use expert evidence on Brittany Higgins' level of intoxication
August 28, 2023
Save articles for later
Add articles to your saved list and come back to them any time.
Network Ten is seeking to rely on expert evidence in Bruce Lehrmann's defamation case about sexual assault victims' typical behaviour and Brittany Higgins' level of intoxication on the night she alleges she was raped by Lehrmann in Parliament House.
The Federal Court trial against the broadcaster is slated to start in Sydney on November 22. Barrister Tim Senior, acting for Ten, told the court at a preliminary hearing on Monday that the network would call 28 witnesses, including Higgins and journalist Lisa Wilkinson.
Bruce Lehrmann was accused of raping Brittany Higgins in Parliament House. Lehrmann has always maintained his innocence.Credit: Alex Ellinghausen
Senior said Ten also wanted to tender two expert reports, on "the reactions and responses of victims of sexual assault … and how things like memory may be affected", and a toxicology expert's opinion about Higgins' level of intoxication on the night in question.
Matthew Richardson, SC, acting for Lehrmann, said the first report, written by a clinical psychologist, offered not only an opinion about "the typical behaviour of victims of sexual assault" but "also posits opinions that, for instance, false complaints are rare".
"There certainly will be objection to that evidence, starting from … whether or not there is a recognised field of expertise and so on, but also the conclusions and the opinions that are expressed, we would say, have no sufficient factual foundation," Richardson said.
"It really appears to be an analysis of academic papers. As to whether we will object to the toxicology report, we just haven't come to a view yet."
Justice Michael Lee said questions about the admissibility of the first report would be determined before the trial.
Lehrmann filed Federal Court defamation proceedings against Ten in February over an interview Wilkinson conducted with his former colleague Higgins on The Project, broadcast on February 15, 2021. Separate proceedings against News Corp, filed at the same time, have since settled.
He alleges the interview conveyed a series of defamatory meanings, including that he raped Higgins in then-defence industry minister Linda Reynolds' office on March 23, 2019.
Lehrmann was not named in the broadcast, but his lawyers say he was identified via other means.
If the court finds Lehrmann was identified, Ten and Wilkinson admit they conveyed the defamatory claims alleged, including the central claim of rape, and will seek to rely chiefly on defences of truth and qualified privilege – a defence relating to publications of public interest which requires an outlet to have acted reasonably.
Lehrmann is also suing the ABC for defamation for broadcasting a National Press Club address last year by Grace Tame and Higgins. Lee said on Monday that the ABC proceedings, which raise narrower legal issues, would be heard at the same time as the Ten case. The broadcaster proposes to call five witnesses.
Lehrmann was named in the media in August 2021, six months after the Ten interview, when he was charged with sexual intercourse without consent.
He pleaded not guilty to the charge. His trial was aborted in October last year due to juror misconduct. The charge was later dropped altogether amid concerns about Higgins' mental health. Lehrmann has always maintained his innocence.
The Morning Edition newsletter is our guide to the day's most important and interesting stories, analysis and insights. Sign up here.
Most Viewed in National
From our partners
Source: Read Full Article