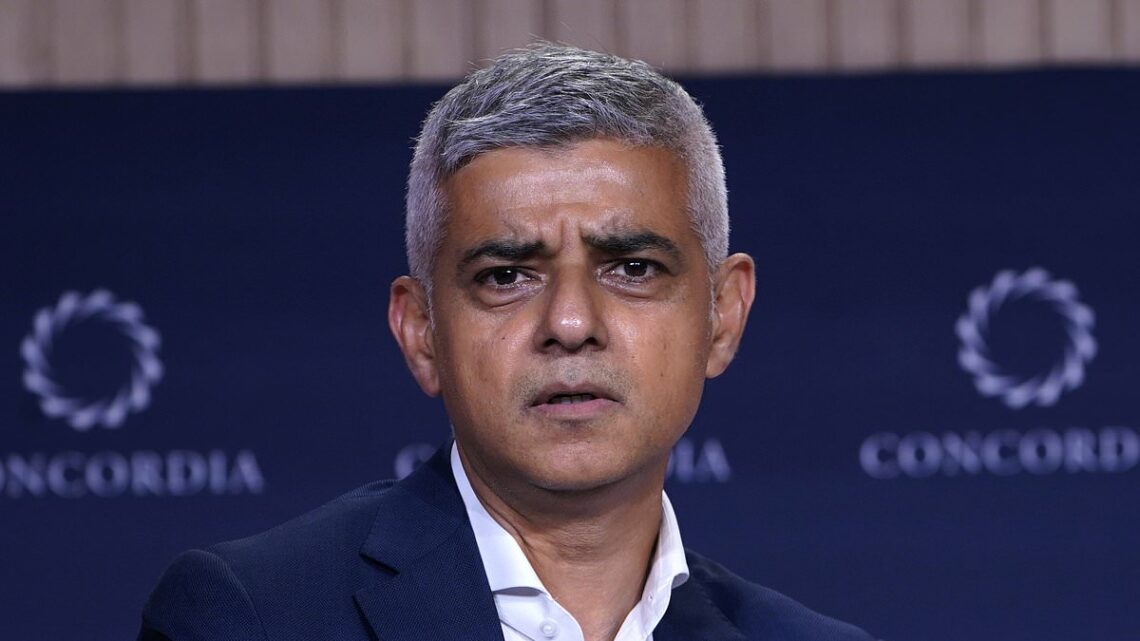 Sadiq Khan tells New York conference Ulez is a 'two-for-one offer'
September 20, 2023
MPs hit back at Sadiq Khan as he tells New York conference Ulez is a 'two-for-one offer' which tackles air pollution and climate change – after study warned carbon emissions could INCREASE in some London boroughs
Sadiq Khan's comments about Ulez have been challenged by his opponents 
READ MORE: Expanding ULEZ won't cut lung cancer rates, review says
Furious MPs have hit back at Sadiq Khan after he described Ulez as the 'best ever two-for-one offer' as it tackles both air pollution and climate change – after a study warned carbon emissions would increase in some London boroughs. 
The London mayor's comments were challenged by his Conservative and Liberal Democrat opponents, who claimed the recent expansion of Ulez to outer London is predicted to have a 'negligible' impact on emissions. 
This is because many drivers are switching from diesel to petrol cars, which emit more carbon dioxide. 
It comes as a City Hall study of the inner and central Ulez claims 'around 293,000 tonnes of CO2 have ben saved – equating to a 4 per cent reduction'. 
Mr Khan told the Concordia business summit in New York that his clear-air zone was 'the classic best ever two-for-one offer you will ever receive'. 
Sadiq Khan (pictured) told an event in New York that Ulez is the 'best ever two-for-one offer' as it tackles both air pollution and climate change
The London mayor's comments have been challenged by his Conservative and Liberal Democrat opponents. Pictured: Mr Khan in New York 
'The same things that cause climate change, cause air pollution,' he said. 
'Nitrogen dioxide, nitrogen oxides, particulate matter and carbon emissions. If you deal with one, you deal with the other.'
But Liberal Democrat leader Sir Ed Davey said that Mr Khan's measures are not proving effective. 
'The problem with the mayor's plan is that it does nothing for climate change, and is actually very poor on air pollution, but is costing people a fortune,' he told BBC London. 
Group leader Neil Garratt said: 'I am alarmed to hear the mayor claim that expanding Ulez will cut carbon emissions.
'It won't and he knows it because his own report spells it out. So why is he claiming otherwise at this conference?'
Ulez is designed to reduce levels of nitrogen dioxide (NO2) by targeting diesel vehicles which cause pollution. 
But a 2022 review, carried out by the consultancy firm Jacobs, found the expansion of Ulez would only result in 'a minor reduction (-1.3 per cent) in the average exposure of the population of Greater London to NO2'.
It would also only see 'negligible reductions (-0.1 per cent) in average exposure to PM2.5,' it said.
Mr Khan and Melissa Bradley speak onstage during the 2023 Concordia Annual Summit at Sheraton, New York
READ MORE: 'Hypocrite' Sadiq Khan and his team rack up more than 430,000 air miles since he was elected London Mayor in 2016
Meanwhile the new expansion of the Ulez zone will have a 'negligible beneficial impact' on carbon emissions, according to an independent forecast. 
Carbon emissions are even anticipated to rise slightly in 10 London boroughs due to increased traffic through cars that previously skirted their boundaries. 
The report said: 'Negligible changes in road traffic CO2 emissions, which are again primarily associated with changes in emissions from cars, are estimated to occur in central London (a -0.2% reduction), inner London (a 0.3% increase) and outer London (a -0.8% reduction).' 
Mr Khan's comments on Ulez come after recent analysis showed him, his deputies and officials have racked up more than 430,000 air miles since he was first elected London Mayor in 2016. 
The Labour politician, who has positioned himself as a champion of environmental causes, attracted condemnation as he flew to the US for a climate summit.
He is expected to use the trip to promote his Ultra Low Emission Zone (Ulez), which he claims will reduce deaths caused by air pollution, after expanding the scheme last month.
He flew to New York with five aides to attend the UN General Assembly and take part in the Climate Ambition Summit and is also due to appear alongside Prince William at the Earthshot Prize Innovation Summit.
Mr Khan is flying despite repeatedly saying he wants to clean up the air, and analysis shows his latest trip has sent the number of air miles clocked up by him and his team to 430,000.
Source: Read Full Article