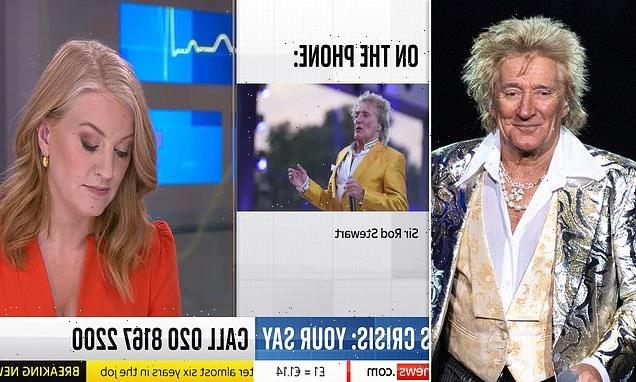 Rod Stewart says Government should 'stand down to give Labour a go'
January 26, 2023
'In all my years of living in this country, I've never seen it so bad': Sir Rod Stewart makes surprise call to TV phone-in as long-time Tory voter calls for Government to 'stand down now' amid 'heartbreaking' NHS crisis as he offers to pay for scans
Sir Rod Stewart makes surprise call to Sky News phone-in show on NHS crisis
Rock and pop icon says Government should 'stand down' and give Labour 'a go'
The 78-year-old even offers to pay for 10 or 20 hospital scans for NHS patients 
Sir Rod Stewart today used a TV phone-in show to reveal he's abandoned his 'long time' support for the Tories and call for Labour to be given 'a go' at running the country.
The rock and pop icon made a surprise call to a Sky News debate on the NHS crisis to condemn the 'heartbreaking' state of the health service as he claimed it was a 'bad time' for Great Britain.
The 78-year-old even offered to pay for 10 or 20 hospital scans for NHS patients after the TV news channel had earlier heard from those experiencing long waits for treatment.
Sir Rod Stewart made a surprise call to Sky News to condemn the 'heartbreaking' current state of the NHS
Sir Rod revealed he was prompted to call in to the programme after attending a private clinic yesterday that was basically 'empty'.
He claimed the situation in the health service was 'ridiculous' and suggested it had persuaded him to change his political support.
'I personally have been a Tory for a long time but I think this Government should stand down now and give the Labour Party a go at it,' Sir Rod said.
'Because this is heartbreaking for the nurses, it really is heartbreaking. In all my years of living in this country, I've never seen it so bad.
'Go on the nurses, I'm on your side!'
He added: 'This is a bad time for us in Great Britain, it really is – change the bloody government!' 
Responding on Sir Rod's comments, Labour deputy leader Angela Rayner said: 'I agree with Sir Rod Stewart.'
Sir Rod had previously hinted at his political leanings on the morning after the 2019 general election when he posted on Twitter: 'Well done Boris.'
Prior to that year's election, Sir Rod had predicted that Boris Johnson would 'sort it out' amid the 'muddle' over Brexit, although he revealed he was 'still a Remainer'. 
Source: Read Full Article