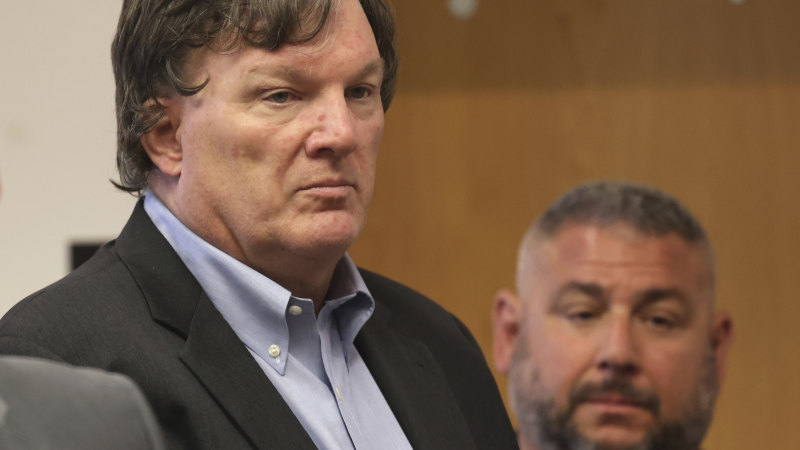 Rex Heuermann, Long Island architect accused of killing women, appears in court
August 1, 2023
Save articles for later
Add articles to your saved list and come back to them any time.
Riverhead, New York: Rex Heuermann, the architect accused of murdering at least three women and leaving their bodies along a remote stretch of coastline near Long Island's Gilgo Beach, appeared in court on Tuesday for the first time since his arraignment.
Heuermann is charged with killing Melissa Barthelemy, Megan Waterman and Amber Lynn Costello, who disappeared in 2009 and 2010. Prosecutors say he's also suspected in the death of a fourth woman, Maureen Brainard-Barnes, who vanished in 2007.
Rex Heuermann, the architect accused of murdering at least three women near Long Island's Gilgo Beach, appears before Judge Timothy P. Mazzei in Suffolk County Court in Riverhead, New York.Credit: AP
All of the women were sex workers whose remains were discovered near each other on a barrier island off Long Island's southern coast.
Investigators spent nearly two weeks combing through Heuermann's home in Massapequa Park, across a bay from where the remains were found.
The search included digging up the yard, dismantling a porch and a greenhouse and removing many contents of the house for testing. Heuermann's wife, Asa Ellerup, told the New York Post that the search left the home in shambles, with belongings piled in heaps, part of her bathtub cut away and furniture broken up.
Rex Heuermann in court.Credit: AP
"My couch was completely shredded. I don't even know if there's any parts to the couch," said Ellerup, who filed for divorce after her husband was arrested. She said her two adult children, who also live in the house, were crying themselves to sleep.
An attorney for the adult children, Vess Mitev, said his clients were considering legal action against police for the "deplorable and roughshod handling of the investigation that turned upside down their lives, their home, their very status in the social hierarchy."
"In the haste and zeal to arrest Mr Heuermann, we believe certain things were done that shouldn't have been done," he added.
Heuermann has pleaded not guilty to the charges. He was ordered jailed without the possibility of bail in his first court appearance in mid-July.
Investigators say they cracked the case with the help of sophisticated cell phone location data analysis, DNA evidence and an old tip about a vehicle seen parked outside the home of one of the victims.
A New Jersey prosecutor the murders of several sex workers on Long Island do not appear to be related to the unsolved killings of four sex workers near Atlantic City in 2006.
Atlantic County Prosecutor William Reynolds said detectives from his office met recently with detectives from Suffolk County, New York and compared information on the two sets of homicides.
Officers from both agencies compared "timelines, dates, methodologies, etc. of both cases," the prosecutor said.
"There does not seem to be a connection between the suspect in the Gilgo Beach case and the Atlantic County homicides from 2006," he said.
Representatives of the Suffolk County Police Department did not immediately respond to a request for comment Tuesday.
AP
Get a note direct from our foreign correspondents on what's making headlines around the world. Sign up for the weekly What in the World newsletter here.
Most Viewed in World
From our partners
Source: Read Full Article