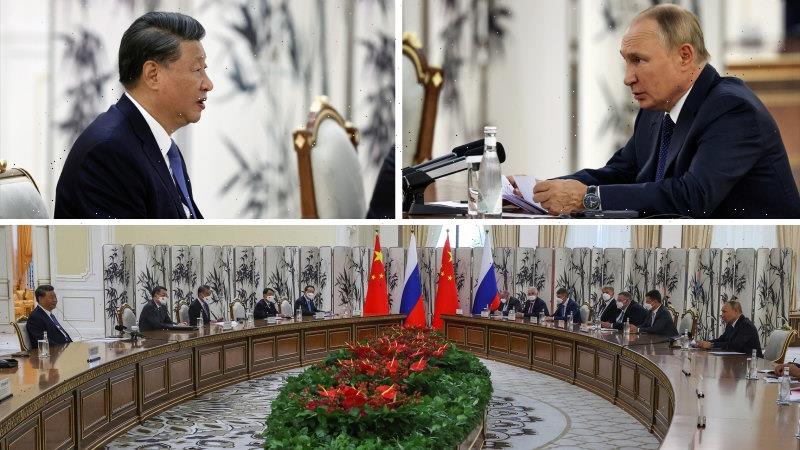 Putin and Xi meet to solidify partnership against 'ugly' West
September 15, 2022
Jeju: Xi Jinping and Vladimir Putin have met in Uzbekistan, solidifying the partnership between Moscow and Beijing as Russia haemorrhages territory in Ukraine.
In his first visit overseas since the COVID-19 pandemic began, the Chinese President used the Shanghai Cooperation Organisation (SCO) forum in Uzbekistan to draw Central Asia closer to China and whittle down support for the US-led world order.
Russian President Vladimir Putin, left, and Chinese President Xi Jinping, right, talk during their meeting in Samarkand, Uzbekistan.Credit:AP
Xi did so as Russia bombarded a dam in the central city of Kryvyi Rih and shelled Zaporizhzhia in the southeast as it pushed back against a week of losses to Ukrainian resistance. China has had to balance its own diplomatic goals with escalating fears about the territorial ambitions of Moscow in Central Asia, where former Soviet Socialist Republics including Uzbekistan and Kazakhstan have long memories of Russian occupation.
In a concession to Beijing's disquiet about the ongoing trajectory of the war, Putin said he understood China's "questions and concerns" before thanking Xi for China's "balanced view" on the "Ukraine topic".
The Russian President said interventions by the West "have taken an absolutely ugly form lately, which the overwhelming majority of nations of the planet find unacceptable".
In his opening remarks Xi urged Russia to "assume the role of great powers and play a guiding role to inject stability and positive energy into a world rocked by social turmoil". He said China was willing to cooperate with Russia to advance both countries' mutual interests.
Putin and Xi last met in Beijing at the Winter Olympics as Russia amassed thousands of troops on the Ukrainian border.Credit:AP
Just before midnight AEST, neither side had released an individual or joint statement after the discussion between the two leaders.
The pair last met in Beijing at the Winter Olympics as Russia amassed thousands of troops on the Ukrainian border. Putin on Thursday offered Russia's support for China's "one China policy" a month after Xi's military encircled Taiwan, the self-governed democratic island that China claims as its own.
In a show of force, China and Russia's naval forces held joint exercises in the Pacific on Thursday, running helicopter, artillery and tactical drills to coincide with the leader's meeting in Samarkand.
Chinese President Xi Jinping arrived in Kazakhstan on Wednesday before travelling to Uzbekistan to meet with Putin.Credit:Xinhua
China has denied sending any military aid to Russia but has provided diplomatic support throughout the campaign. Russian-held areas in eastern Ukraine have been taken back by a Ukrainian offensive over the past week, weakening Moscow's military position and some domestic support for the conflict.
In Jeju, South Korea, just north of Taiwan, foreign leaders called for the de-escalation of a volatile situation in Ukraine and raised fears it could prompt further destabilisation in Asia.
South Korean Prime Minister Han Duck-soo said the "international circumstances are in a severe state".
"Over the past years we have preserved peace, but they have been shaken to the core now," he told the Jeju Peace Forum on Thursday. "Ukraine and Taiwan are complicated challenges, truly unprecedented in their nature. Individual approaches cannot be successful. The international community must come together."
Former UN Secretary-General Ban Ki-moon said international governments could not afford to "keep silent" and took a veiled swipe at China for its ongoing failure to condemn the invasion.
Russian President Vladimir Putin and Chinese President Xi Jinping in Beijing in February.Credit:AP
"This is one of the most dangerous moments for global security in decades," he said."Neutrality in this situation is not an option. We must show our solidarity."
The Uzbekistan meeting followed the most explicit endorsement of Putin's war by Beijing since the invasion began in February.
China's number three, Li Zhanshu, told officials in Moscow last week that China "fully understood" the necessity of all the measures taken by Russia aimed at protecting its key interests.
"We see that the United States and its NATO allies are expanding their presence near the Russian borders, seriously threatening national security and the lives of Russian citizens," he said. "On the Ukrainian issue, we see how they have put Russia in an impossible situation. And in this case, Russia made an important choice and responded firmly."
Li arrived in Seoul on Thursday to meet with South Korean President Yoon Suk-yeol. The pair were expected to discuss plans for Xi to visit the South Korean capital to mark the 30th anniversary of diplomatic ties between the two countries.
Get a note directly from our foreign correspondents on what's making headlines around the world. Sign up for the weekly What in the World newsletter here.
Most Viewed in World
From our partners
Source: Read Full Article