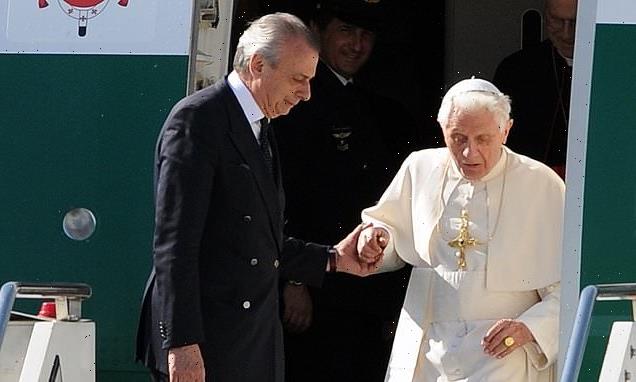 Pope Benedict resigned after being plagued by insomnia, letter reveals
January 27, 2023
Pope Benedict resigned after being plagued by insomnia throughout his eight-year papacy, letter reveals: Bathroom fall that left bloody injury was final straw
Pope Benedict XVI resigned in 2013 after starting the position in 2005
The letter, dated October 28, 2022, was sent to his biographer Peter Seewald
Pope Benedict XVI resigned after being plagued by insomnia throughout his eight-year papacy, according to a letter written a few weeks before his death on New Year's Eve.
It said a bathroom fall that left his handkerchief 'totally drenched in blood' on a papal visit to Mexico and Cuba in March 2012 precipitated his final decision to resign in 2013.
Benedict was plagued by insomnia almost 'constantly' from the start of his time as pope in 2005, according to the letter written a few weeks before his death, obtained by German news magazine Focus.
In the letter to his biographer Peter Seewald, Benedict wrote that 'strong' pills prescribed to him by his doctor meant he was still able to fulfil his duties as head of the Catholic Church.
Pope Benedict XVI walks down the steps of his plane after landing at Rome's Ciampino airport on March 29, 2012. Benedict left Cuba the day before, heading home at the end of his first trip to Spanish-speaking Latin America which also included a visit to Mexico
Pope Benedict XVI is flanked by Vatican secretary of state Cardinal Tarcisio Bertone and Italian Premier Mario Monti as he prepares to board a plane on his way to Mexico and Cuba on March 23, 2012 at Rome's Fiumicino airport. Benedict set off on an arduous journey to Latin America where addressed key issues including the war on drugs in Mexico and the evolution of the communist regime in Cuba
Pictured: Pope Benedict XVI arrives in Revolution Square in Santiago de Cuba on March 26, 2012
Pictured: Pope Benedict XVI in Revolution Square in Santiago de Cuba on March 26, 2012. Discussing the fall on his trip to Mexico and Cuba, Benedict wrote: 'I must have hit something in the bathroom and fallen'
The drugs however 'reached their limits', meaning the ailing German pontiff was less and less available, he said in the letter, dated October 28, 2022.
Discussing the fall on his trip to Mexico and Cuba, Benedict wrote: 'I must have hit something in the bathroom and fallen.'
Following the incident, Benedict's doctor pushed for a 'reduction' in his use of sleeping pills and insisted that he only participate in morning events on future foreign trips.
It was quickly clear to Benedict that the medical restrictions could only be followed 'for a short time', he wrote, leading him to announce he would step down in 2013 before the next major trip to Brazil.
Benedict shocked the world with his announcement, making him the first pope in nearly six hundred years to step down.
He struggled to contain numerous scandals in the Church during his papacy, not least the worldwide scourge of clerical sex abuse and decades of cover-ups.
Following his resignation on February 11, 2013, he took the title of Pope Emeritus and continued to live in the Vatican, alongside his successor Francis.
Benedict's health had declined further before he died, and he had almost entirely withdrawn from public view.
Benedict died on December 31, 2022 aged 95.
Benedict's remains were on public display in St. Peter's Basilica for the faithful to pay their final respects.
Benedict stunned the world in 2013 when he announced that he no longer had the strength to run the 1.2 billion-strong Catholic Church that he had steered for eight years through scandal and indifference. 
His dramatic decision paved the way for the conclave that elected Pope Francis as his successor and resulted in an unprecedented arrangement that saw two popes living side by side in the Vatican gardens.
Gaenswein was a constant presence at Benedict's side, and during his final years living in a monastery in the Vatican grounds, his gatekeeper (pictured together in 2011)
Pope Emeritus Benedict XVI at Munich airport before his departure to Rome in 2020
Pope Benedict XVI greets the crowd from the central balcony of St. Peter's Basilica at the Vatican on April 19, 2005, soon after his election
The former Cardinal Joseph Ratzinger had never wanted to be pope, planning at age 78 to spend his final years writing in the 'peace and quiet' of his native Bavaria.
Instead, he was forced to follow the footsteps of the beloved St. John Paul II and run the church through the fallout of the clerical sex abuse scandal and then a second scandal that erupted when his own butler stole his personal papers and gave them to a journalist.
Being elected pope, he once said, felt like a 'guillotine' had come down on him.
Nevertheless, he conducted his papacy with a single-minded vision to rekindle the faith in a world that, he frequently lamented, seemed to think it could do without God.
'In vast areas of the world today, there is a strange forgetfulness of God,' he told one million young people gathered on a vast field for his first foreign trip as pope, to World Youth Day in Cologne, Germany, in 2005. 
'It seems as if everything would be just the same even without him.'
Pope Francis (right) hold hands with Pope Emeritus Benedict XVI as he pays him a visit at the Vatican in November 2020
Benedict was born Joseph Aloisius Ratzinger on April 16, 1927, at his family home in the southern German village of Marktl, close to Austria.
His father, Joseph Sr., was a police officer and his great uncle a prominent Catholic politician in Germany.  
He was forcibly enrolled in the Hitler Youth during World War Two when he was 14 and membership was compulsory. He deserted the German army in April 1945, the waning days of the war. 
Benedict was ordained, along with his brother, Georg, in 1951 and gained attention as a liberal theological adviser at the Second Vatican Council, which opened in 1962 and led to a profound reform of the Church.
However, the Marxism and atheism of the 1968 student protests across Europe prompted him to become more conservative to defend the faith against growing secularism.
After stints as a theology professor he was made a cardinal and appointed the Archbishop of Munich in 1977, before being elevated to head the Congregation for the Doctrine of the Faith (CDF), the successor office to the Inquisition, in 1981.
He and Pope John Paul agreed that traditional doctrine had to be restored in the Church after a period of experimentation.
Benedict first turned his attention to the 'liberation theology' popular in Latin America, ordering the one-year silencing in 1985 of Brazilian friar Leonardo Boff, whose writings were attacked for using Marxist ideas.
And in the 1990s, Benedict brought pressure against theologians, mostly in Asia, who saw non-Christian religions as part of God's plan for humanity.
Cardinal Joseph Ratzinger presents a book with the documents issued by the Congregation for the Doctrine of the Faith during a press conference at the Vatican on Dec. 12, 1985. Ratzinger went on to become Pope Benedict XVI
Bavarian State Governor Franz Joseph Strauss, right, gives a crucifix as a farewell gift to Cardinal Joseph Ratzinger, who will leave to head the Congregation for the Doctrine of the Faith at the Vatican, during his official farewell visit at the State Chancellery in Munich, Germany, on Feb. 12, 1982
German Cardinal Joseph Ratzinger, left, head of the Vatican's watchdog body on doctrine, looks on while the head of the Armenian-Orthodox Church, Vasken I Baldyan, adjusts his hood, in Munich, Germany, in 1981
Key moments in the life of Joseph Ratzinger, the former pope Benedict XVI 
April 16, 1927: Born in Marktl am Inn, a small town in Bavaria in southern Germany, and named Joseph Ratzinger.
1941: Forced to join the Hitler Youth.
1951: Ordained a priest.
1977: Named archbishop of Munich and becomes a cardinal.
1981: Heads the Vatican's doctrinal congregation, once known as the Holy Office of the Inquisition. The post gives him ultimate responsibility to investigate abuse cases.
April 19, 2005: Elected pope, succeeding John Paul II, and takes the name Benedict XVI.
January 2006: Publishes his first encyclical 'God is love', followed by 'Saved by hope' in November 2007 and 'Charity in truth' in July 2009.
September 2006: Angers the Muslim world with speech in which he appears to endorse the view that Islam is inherently violent. He apologises afterwards.
February 11, 2013: Announces his resignation, which takes effect on February 28. He is the first pope to resign since the Middle Ages. Becomes pope emeritus.
January 20, 2022: Begs forgiveness, but issues a strong denial, after a report for the Munich church authorities says he failed to stop paedophilia by priests while he was archbishop between 1977 and 1982.
December 31, 2022: Dies in the Vatican aged 95. 
Benedict inherited the seemingly impossible task of following in the footsteps of John Paul when he was elected the 265th leader of the Church on April 19, 2005. 
He was the oldest pope elected in 275 years and the first German in nearly 1,000 years.
With some decisive, often controversial moves, he tried to remind Europe of its Christian heritage and set the Catholic Church on a conservative, tradition-minded path that often alienated progressives. 
He relaxed the restrictions on celebrating the old Latin Mass and launched a crackdown on American nuns, insisting that the church stay true to its doctrine and traditions in the face of a changing world.
Benedict's style couldn't have been more different from that of John Paul or Francis. No globe-trotting media darling or populist, Benedict was a teacher, theologian and academic to the core.
When he was elected pope, he had his entire study moved from his apartment just outside the Vatican walls into the Apostolic Palace. The books followed him to his retirement home.
'In them are all my advisers,' he said of his books in the 2010 book-length interview 'Light of the World.' 
'I know every nook and cranny, and everything has its history.'
It was Benedict's devotion to history and tradition that endeared him to members of the traditionalist wing of the Catholic Church. For them, Benedict remained even in retirement a beacon of nostalgia for the orthodoxy and Latin Mass of their youth – and the pope they much preferred over Francis.
But like his predecessor John Paul, Benedict made reaching out to Jews a hallmark of his papacy. His first official act as pope was a letter to Rome's Jewish community and he became the second pope in history, after John Paul, to enter a synagogue.
In his 2011 book, 'Jesus of Nazareth,' Benedict made a sweeping exoneration of the Jewish people for the death of Christ, explaining biblically and theologically why there was no basis in Scripture for the argument that the Jewish people as a whole were responsible for Jesus' death.
Yet Benedict also offended some Jews who were incensed at his constant defence of and promotion toward sainthood of Pope Pius XII, the World War II-era pope accused by some of having failed to sufficiently denounce the Holocaust.
Benedict's relations with the Muslim world were also a mixed bag. He riled Muslims with a speech in September 2006 – five years after the September 11 attacks in the United States – in which he quoted a Byzantine emperor who characterised some of the teachings of the Prophet Muhammad as 'evil and inhuman,' particularly his command to spread the faith 'by the sword.'
German Cardinal Joseph Ratzinger (L) greeting Pope John Paul II (R), during a meeting with the Curia in Vatican, 19 April 2005
Pope Benedict XVI blesses the faithful at the end of the Way of the Cross on Good Friday in front of the Colosseum in Rome, Italy, 06 April 2012
The Vatican under Benedict suffered notorious PR gaffes, and sometimes Benedict himself was to blame. He enraged the United Nations and several European governments in 2009 when, en route to Africa, he told reporters that the AIDS problem couldn't be resolved by distributing condoms.
But Benedict's legacy was irreversibly coloured by the global eruption in 2010 of the Catholic church sex abuse scandal, even though as a cardinal he was responsible for turning the Vatican around on the issue.
Documents revealed that the Vatican knew very well of the problem yet turned a blind eye for decades, at times rebuffing bishops who tried to do the right thing.
Benedict had firsthand knowledge of the scope of the problem, since his old office – the Congregation for the Doctrine of the Faith, which he had headed since 1982 – was responsible for dealing with abuse cases.
Once he became pope, Benedict took action against the 20th century's most notorious paedophile priest, the Rev. Marcial Maciel. 
Benedict took over Maciel's Legionaries of Christ, a conservative religious order held up as a model of orthodoxy by the former pope John Paul, after it was revealed that Maciel sexually abused seminarians and fathered at least three children.
But as soon as the abuse scandal calmed down for Benedict, another one erupted.
FILE – Pope Benedict XVI is greeted by United Nations Secretary General Ban Ki-moon at the U.N. headquarters on April 18, 2008, during a visit to New York. Pope Emeritus Benedict XVI, the German theologian who will be remembered as the first pope in 600 years to resign, has died, the Vatican announced Saturday. He was 95. (AP Photo/Craig Ruttle, File)
FILE – President Bush walks with Pope Benedict XVI to the Lourdes Grotto at the Vatican on June 13, 2008. Pope Emeritus Benedict XVI, the German theologian who will be remembered as the first pope in 600 years to resign, has died, the Vatican announced Saturday. He was 95. (AP Photo/Evan Vucci, File)
In October 2012, Benedict's former butler, Paolo Gabriele, was convicted of aggravated theft after Vatican police found a huge stash of papal documents in his apartment. 
Gabriele told Vatican investigators he gave the documents to Italian journalist Gianluigi Nuzzi because he thought the pope wasn't being informed of the 'evil and corruption' in the Vatican and that exposing it publicly would put the church on the right track.
Once the 'Vatileaks' scandal was resolved, including with a papal pardon of Gabriele, Benedict felt free to take the extraordinary decision that he had hinted at previously: He announced that he would resign rather than die in office as all his predecessors had done for almost six centuries.
'After having repeatedly examined my conscience before God, I have come to the certainty that my strengths due to an advanced age are no longer suited' to the demands of being the pope, he told cardinals.
Former pope Benedict, 95, looks on as he receives the winners of the 'Premio Ratzinger' at the Vatican, December 1, 2022
A portrait of Pope Emeritus Benedict XVI is seen near the altar at the Cathedral of Regensburg, southern Germany on December 29, 2022, during a church service
He made his last public appearances in February 2013 and then boarded a helicopter to the papal summer retreat at Castel Gandolfo, to sit out the conclave in private.
Benedict then largely kept to his word that he would live a life of prayer in retirement, emerging only occasionally from his converted monastery for special events and writing occasional book prefaces and messages.
Usually they were innocuous, but one 2020 book – in which Benedict defended the celibate priesthood at a time when Francis was considering an exception – sparked demands for future 'popes emeritus' to keep quiet.
His brother Georg was a frequent visitor to the papal summer residence at Castel Gandolfo until he died in 2020. 
His 'papal family' consisted of Monsignor Georg Gaenswein, his longtime private secretary who was always by his side, another secretary and consecrated women who tended to the papal apartment. 
Officials prepare the casket of the late Pope Emeritus Benedict XVI at St Peter's Basilica in the Vatican on January 5, 2023
Pictured: Crowds gather outside St Peter's Basilica to mourn the late pope
Pictured: Mourners weep in St Peter's Square as they attend Pope Francis's Sunday Angelus blessing
Pictured: A man holds the Vatican newspaper L'Osservatore Romano reporting the news of the death of Pope Emeritus Benedict XVI
On December 28, Pope Francis revealed that his 95-year-old predecessor was 'very ill' and went to see him in his home in the Vatican Gardens. 
Francis called for people to pray for Benedict, before going to visit him at the Mater Ecclesiae monastery in the Vatican grounds where he lives.
The Vatican on December 30 confirmed the ex-pope's health had worsened 'due to advancing age', while a Vatican source told AFP on December 28 that it began deteriorating 'about three days ago'.
'It is his vital functions that are failing, including his heart,' the source said, adding that no hospitalisation was planned, as he has the 'necessary medical equipment' at home.
A statement from Vatican spokesman Matteo Bruni on the morning of December 31 said: 'With pain I inform that Pope Emeritus Benedict XVI died today at 9:34 in the Mater Ecclesia Monastery in the Vatican.' 
Source: Read Full Article