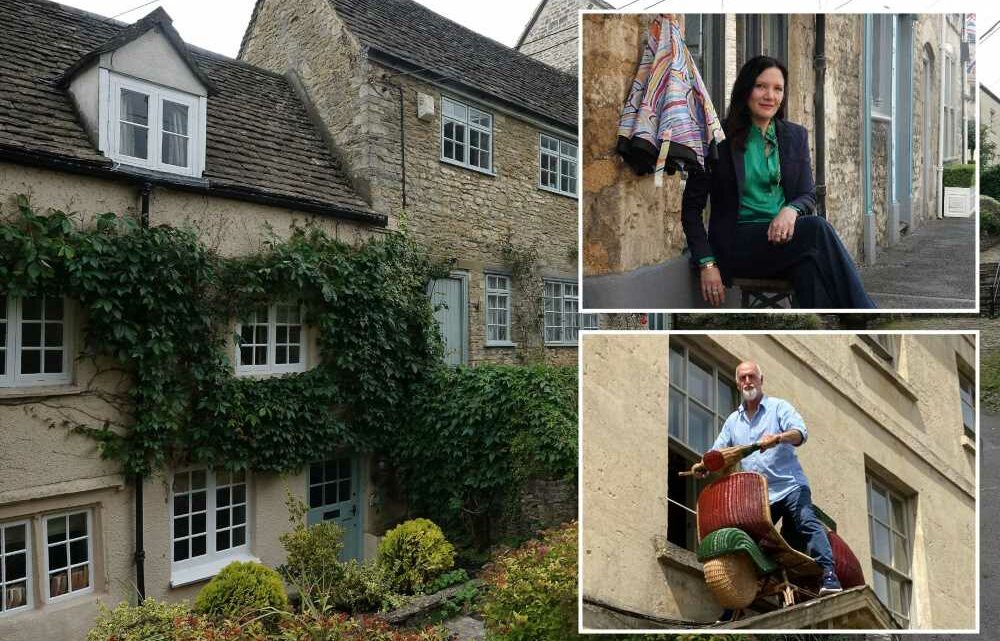 Our picturesque town is being ruined by hundreds of Instagrammers… we're terrified it will end in disaster | The Sun
August 9, 2023
A PICTURESQUE town has been ruined by tourists constantly posing for Instagram pictures.
Locals are fed up of visitors to their quaint village of Tetbury in the Cotswolds, Gloucestershire, taking photos without spending any money.
Hordes of tourists flock to the Cotswolds town to take photos and shoot videos of quirky objects, including a pair of silver disco balls outside an art gallery.
The historic town boasts King Charles, Princess Anne and Mike and Zara Tindall as locals.
It's seen its popularity soar further after actors David Tennant, Danny Dyer and Aidan Turner turned up to film a forthcoming TV version of the Jilly Cooper romp novel Rivals.
But it is the centuries-old buildings and unusual features set in beautiful countryside that have made the town such a draw with selfie-seekers.
Read More On Instagram
Bianca Gascoigne gives fans first look at her huge new mansion with boyfriend
Charlotte Dawson tells fans she can't stop crying days after giving birth
The Bay Gallery Home's disco balls have become so popular on social media overseas visitors are desperate to snap themselves stood in front of them.
Owner Alexandra O'Brien said she often opens her door to be greeted by the sight of Instagrammers posing up in front of her disco balls.
She said: "They best time for them to take a shot is mid afternoon when the sun hits the balls and the mirrors scatter light across the ancient market hall."
A couple of hundred metres away, in the town's Long Street, the object of other Instagrammers' fascination is a full size rattan copy of a Vespa motor scooter – perched on the porch above the entrance to Josephine Ryan's antique store.
Most read in The Sun
We left restaurant without paying – people hate us but we have a good reason
Amir Khan's wife told rival 'I'll slit your throat' & 'I hope you get cancer'
Millionaire pop star spotted on budget airline after shunning private jet
Terrifying moment young girl is swept into sea while playing with friends
Ms Ryan, 61, bought the item in the south of France several months ago and fixed it to the front of her magnificent 1740-built stone property.
She said: "It's rather marvellous up there, isn't it?
"Trouble is, it's attracting so many people with their camera phones that I'm worried someone his going to get run over.
"They stand in the middle of the road with their cameras pointing at the vespa and don't even seem to notice the cars trying to drive through.
"Some days, there will literally be 20 people at a time taking photos for their Instagram. It's insane."
But her main complaint is the Instagrammers have no interest in buying her antiques.
She said: "They are constantly taking photos, but very few of them come inside to browse and buy.
"It's rather annoying, I must admit.
"The ones who do come in seem to think I'm running some kind of museum because they just want to look, not buy.
"The other day, I had a Japanese woman in with her four young children and they all had cameras in their hands and were taking photos of everything in the shop.
"But they had no intention of buying anything, so I politely informed the mother that they were in an antique shop, not a museum.
"Needless to say, they didn't stay much longer after that."
Another antique dealer, 54-year-old Arthur Smith, who works opposite, said he sometimes can't get in or out of his shop because of the number of Instagrammers thronging outside his front door to snap the rattan Vespa.
He said: "They stand right outside my front door to get the best angle for their photos. It drives me nuts.
"They're out there every day looking for the snap they need."
Llamas Cafe owner Alison Figueiredo, 47, provided a food and drink stop for the cast and crew working on Rivals in April when they were working in Tetbury.
She said the spectacle of dozens of Instagrammers pointing their mobile phones at her cafe was "pretty cool".
She added: "They were all trying to get a shot of the stars as they had a break.
Read More on The Sun
Horror at famous UK beach as baby dolphin dies surrounded by tourists
New Haven holiday park in popular UK seaside town has indoor pool & £49 stays
"The town was turned into a 1980s vibe for filming and it looked fantastic. No wonder they wanted to get some photos. The Co op in particular looked stunning as they turned it into an old-fashioned store for the day, complete with the old cigarette adverts outside."
It comes as a homeowner has to pay out thousands in repairs as influencers take selfies by his front door.

Source: Read Full Article