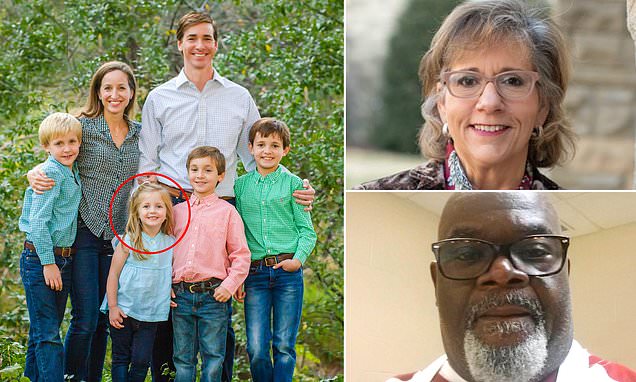 Nashville school shooting victims are identified
March 28, 2023
PICTURED: Girl, 9, killed alongside two schoolmates by transgender shooter at Nashville Christian school, as head of school, 60, custodian and woman, both 61, are named as remaining victims
Three nine year old children – Evelyn Dieckhaus, Hallie Scruggs, and William Kinney – were shot and killed in their Nashville school on Monday
Three adults – Cynthia Peak and Mike Hill, both 61, and school head Katherine Koonce, 60 – were also killed 
A local woman, 28-year-old Audrey Hale, who had attended the school, has been named as the attacker: she was shot dead by police within 15 minutes of arriving
The three children and three staff members shot and killed by a transgender female attacker at a Nashville school have been named by police, who confirmed that the assailant previously attended the Christian school.
The nine-year-old victims were named as Evelyn Dieckhaus, Hallie Scruggs, and William Kinney.
Scruggs was the daughter of Chad Scruffs, the pastor at the affiliated presbyterian church. 
Three adults also died: substitute teacher Cynthia Peak and custodian Mike Hill, both 61, and school head Katherine Koonce, 60.
The attacker – who was shot dead by police – has been named as 28-year-old Audrey Hale.
Cops said Hale was transgender, although they haven't specified further details. She was born female, but a LinkedIn profile believed to be hers uses he/him pronouns, suggesting Hale was living as a man.  
She had been a pupil at The Covenant School, a private Christian establishment.
Hallie Scruggs is seen with her father Chad Scruggs, the pastor at the presbyterian church affiliated with the school
Hallie Scruggs is pictured with her parents Chad and Jada and her three brothers
Katherine Koonce, head of school (left), and Mike Hill, a custodian (right) were among those shot dead by Audrey Hale
A police officer walks by an entrance to The Covenant School after a shooting in Nashville 
A terrified child presses her hand against the glass of a school bus window after being evacuated from The Covenant School 
Tributes were pouring in to the six victims.
Tim Dunavant, a pastor at Harstville First United Methodist Church, said he hired Hill to work at the school over a decade ago.
'He was the last employee that I hired when I ran the kitchen at the Covenant church and school,' said Dunavant. 
'That was over 13 years ago. He was still working there today when he was shot and killed. 
'I don't know the details yet. But I have a feeling, when it all comes out, Mike's sacrifice saved lives. 
'I have nothing factual to base that upon. I just know what kind of guy he was. And I know he's the kind of guy that would do that.'
He added: 'Goodbye Mike, I'm going to miss those encouraging texts out of the blue from you.'
The Scruggs family is pictured together. The youngest member, nine-year-old Hallie, was among the six victims
Hallie Scruggs is seen with her three brothers and her parents, Chad and Jada
The Scruggs family on vacation. Chad Scruggs and his sons were keen hunters, and his social media shows the family out hunting for wild turkey
Police are still working on a motive. 
'At one point she was a student at that school,' said John Drake, Metropolitan Nashville Police Chief. 
'But unsure what year … but that's what I've been told so far.' 
Drake confirmed Hale was transgender. 
He said she was identified by the car she had left at the school.
'There was a vehicle that was nearby that gave us clues as to who she was,' Drake said. 
Hale had detailed, hand drawn maps of the school, and had been surveilling it, according to police.
The small school is run by a church and does not employ a school resource officer.
Shortly before 10:13am, Hale entered the school through a side door and began opening fire on the second floor.
It's unclear how she gained access to the building. Police say all of the doors were locked.
Police arrived at the scene and heard the gunshots coming from the 2nd floor.
By 10:27am, she had been shot dead. 
She was armed with two assault-style rifles and a handgun.
Resident Spencer Herndon told the DailyMail.com: 'I was here before the parents and then you see the parents start showing up. 
'I saw the parents running from down the hill in hysterics. 
'One lady in particular was running so hard up the hill and she finally gets to the intersection and she all of a sudden let out a wail and it was so hard to see.'
He also saw a man run up the hill and break down in hysterics before running back.
Children hold hands as they leave The Covenant School in Nashville, Tennessee, on Monday after a female shooter opened fire, killing three kids and three staff members 
Children from The Covenant School run past an ambulance on Monday after a female shooter opened fire, killing three staff members and three students, before being shot by police 
A father carries his son out of The Covenant School in Nashville after a shooter killed three students and two staff members before being shot dead
Terrified children peer out the windows of their school bus as they wait to be driven away from the school after the shooting 
The Nashville shooting is the 129th mass shooting this year.
The country surpassed the milestone of 100 mass shootings on March 5 – with the rate rising faster than in the past ten years.
Last year, the U.S. hit 100 mass shootings on March 19, almost two weeks after this year's date.
The previous year, 2021, was March 20, while in 2020 it was May 3 and 2018 and 2019 also saw late May dates for the grim mark.
So far this year, there have been 13 school shootings, with six children killed in total and four adults or employees losing their lives.
Nashville is the deadliest school shooting of 2023 and is one of just five in history which had a female gunman.
Source: Read Full Article