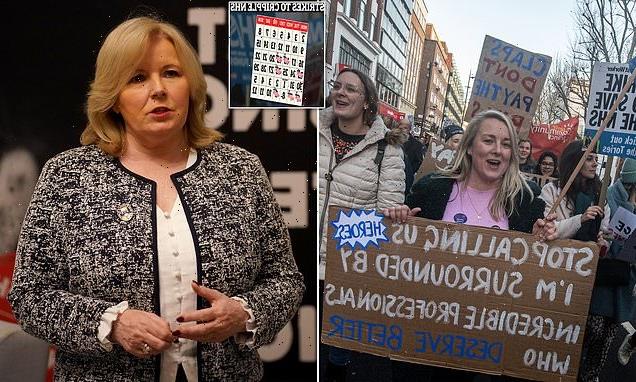 Misery for NHS patients as nurses stage two-day strike across England
January 18, 2023
More misery for NHS patients as thousands of nurses stage two-day strike across England: Health chiefs warn of 'widespread disruption' to services as staff from around one in four trusts walkout amid bitter dispute over pay
One in four hospitals affected in second 48-hour strike since before Christmas
Tens of thousands of NHS nurses walking out in England over pay and conditions
Many hospitals only offering emergency care between 8am and 8pm until Friday
One NHS Trust was yesterday offering nurses £40 an hour to cover for strikes
Tens of thousands of NHS nurses are on strike again today and Thursday with patients in England warned to expect disruption.
One in four hospitals will be affected by the industrial action called by the Royal College of Nursing after a similar walkout just before Christmas.
Emergency care will be covered between 8am and 8pm for the next 48 hours, with the RCN claiming A&E and intensive care will be unaffected and chemotherapy, kidney dialysis and intensive care also provided.
Royal College of Nursing (RCN) chief executive Pat Cullen said today: 'People aren't dying because nurses are striking. Today's record number of unfilled nurse jobs cannot be left to get worse. Pay nursing staff fairly to turn this around and give the public the care they deserve.'
At Dorset County Hospital bosses have asked families to support patients including helping them at mealtimes so staff can concentrate on clinical work. One NHS Trust was yesterday offering nurses £40 an hour to cover for strikes.
Striking nurses and their supporters march from UCLH to Downing street on December 20. They have started a new 48-hour walkout today, returning to work on Friday
The NHS is being hit with industrial action throughout January and into February
GP services are not being hit because nurses in NHS practices are not involved in the strike.  
Hospital is accused of risking patients' health by asking their FAMILIES to help on wards during strikes
A hospital has been accused of putting lives at risk by asking patients' friends and family to help out on strike days.
Nurses at 55 NHS trusts in England are walking out today and tomorrow in pursuit of an inflation-busting 19.2 per cent pay rise.
Dorset County Hospital issued a plea for 'additional support' and lifted its usual restrictions on visiting times.
The Royal College of Nursing (RCN) also announced strikes next month over 73 trusts.
A message on the Dorset County Hospital website says: 'Relatives and friends of patients in hospital will be able to visit general inpatient wards at any time between 10am and 8pm during Wednesday 18 January and Thursday 19 January, rather than being restricted to the usual ward visiting hours.
'While all our wards will be safely staffed during the industrial action, additional support from families and friends would be welcomed during this time so that our nursing staff can focus on clinical care – for example, to assist with mealtimes.'
Healthcare workers are walking out in a bitter pay dispute with the Government continues but the Health Secretary has warned 'unaffordable' wage rises 'will mean cutting patient care'.
Nursing staff from more than 55 NHS trusts will take part in industrial action on Wednesday and Thursday following two days of action in December.
The Royal College of Nursing (RCN) has announced that two further, bigger strikes will be held next month, while the GMB union is expected to announce further ambulance worker strike dates on Wednesday afternoon.
Health and Social Care Secretary Steve Barclay said while he recognises the cost of living pressures on NHS staff, 'unaffordable pay rises' will stoke inflation.
Writing in the Independent, he said: 'If we provide unaffordable pay rises to NHS staff, we will take billions of pounds away from where we need it most. Unaffordable pay hikes will mean cutting patient care and stoking the inflation that would make us all poorer.'
He insisted there is 'much common ground' between both sides of the dispute, stating that ministers 'want to work with union leaders to improve the NHS and deliver better care' and that a 'fair way' to a resolution can be found.
Mr Barclay added that he wants to continue the 'constructive dialogue' with unions and to agree minimum staffing levels during industrial action 'to ensure patients are always protected'.
He said: 'We will keep talking to find common ground and seek to put these disruptive strikes behind us.'
The NHS is reminding patients to attend all their usual appointments unless they have been contacted, and to seek urgent care if needed during the strikes.
NHS England said patients should use services 'wisely' by going to NHS 111 online but continuing to call 999 in a life-threatening emergency.
Deputy chief nursing officer Charlotte McArdle said: 'The NHS has tried and tested methods in place to manage any disruption and has been working hard to minimise the impact for patients.'
Thousands of operations and appointments are expected to be cancelled during the two consecutive days of strike action. Almost 30,000 needed to be rescheduled following December's nurse strikes.
The health service is likely to run a bank holiday-style service in many areas.
The RCN has agreed to staff chemotherapy, emergency cancer services, dialysis, critical care units, neonatal and paediatric intensive care.
Royal College of Nursing (RCN) chief executive Pat Cullen has said: 'People aren't dying because nurses are striking. Nurses are striking because people are dying'
Some areas of mental health and learning disability and autism services are also exempt from the strike, while trusts will be told they can request staffing for specific clinical needs.
It's Walkout Wednesday! February 1 will see worst strikes chaos yet as teachers, train drivers, airport staff and civil servants ALL walk out at the same time 
February 1 could see the worst strikes chaos yet as several unions have co-ordinated walk outs for the same day (Mick Whelan, Aslef general secretary, pictured)
Britain will be forced to grind to a halt next month as co-ordinated strike action will see hundreds of thousands of train drivers, teachers, airport staff and civil servants walk out of their jobs.
On February 1, travel chaos and pandemic-style remote learning for students will return due to the major industrial action over pay from a number of unions. 
The date has been dubbed as a national 'protect the right to strike' day by unions, in response to the government's planned law on minimum service levels.
On Monday, MPs voted for a bill that could see workers fired if they refuse to work during a strike.
The Trade Union Congress, which represents a number of unions and 5.5million members, has labelled February 1 as a national 'protect the right to strike' day.
While leaders of the National Education Union (NEU), the country's largest teaching union, confirmed they will launch industrial action starting next month after balloting its 300,000 members.
Up to 23,400 schools are expected to be affected and Education Secretary Gillian Keegan admitted she can't promise schools will stay open.
When it comes to adult A&E and urgent care, nurses will work Christmas Day-style rotas.
RCN chief executive, Pat Cullen, said: 'Today's strike action by nursing staff is a modest escalation before a sharp increase in under three weeks from now.
'If a week is a long time for Rishi Sunak, three weeks is the time he needs to get this resolved.
'People aren't dying because nurses are striking. Nurses are striking because people are dying.
'That is how severe things are in the NHS and it is time the Prime Minister led a fight for its future'.
Mr Barclay has signalled that pay negotiations will look ahead to next year rather than reflecting on the 2022/23 pay award, which unions have said must be reviewed.
He said: 'Patients will understandably be worried by the prospect of further strike action by nurses – the previous two days of nurse strikes saw around 30,000 elective procedures and outpatient appointments cancelled.
'It is inevitable industrial action will have an impact on patients.
'I have had constructive talks with the Royal College of Nursing and other unions about the 2023/24 pay process and look forward to continuing that dialogue.'
It comes after Matthew Taylor, chief executive of the NHS Confederation, urged ministers to renew pay talks with unions in a bid to halt further industrial action.
He suggested waiting lists are likely to remain stubbornly high unless the Government gives the 'NHS a fighting chance'.
In comments shared exclusively with the PA news agency, Mr Taylor said the NHS is trapped in a vicious cycle brought about by extreme pressures in emergency care, ongoing high levels of flu, Covid and respiratory infections, plus industrial action.
He said: 'We're now in the sixth week since strike action began and appear no closer to a solution.
'At the same time, the NHS continues to grapple with extreme pressure on its emergency care services and it is having to reschedule operations and outpatient appointments due to the strikes.
'We've been saying for weeks that the strike action couldn't have come at a more difficult time for the NHS, but we hoped a compromise would be reached by now to bring an end to the impasse.
'All the while this continues, the NHS won't be able to break out of the vicious cycle it's in.'
Warnings children will be plunged back into lockdown-style online lessons as teachers strike over pay
He said if 'there is no realistic prospect of a solution, then we're facing the prolonged war of attrition between the Government and the unions that we've been fearing'.
While the NHS 'has coped admirably on strike days', he said the Government and unions need to find common ground quickly 'for the benefit of patients'.
He added: 'Ahead of the next round of strikes, our message to the Government is to give the NHS a fighting chance and do all you can to bring an end to this damaging dispute.
'The Prime Minister must not allow the stand-off in the wider public sector to hold back a deal being reached in the NHS.'
According to the NHS Confederation, which represents NHS organisations, health leaders fear there will be a 'cumulative impact' of each additional strike day, with more operations and outpatient appointments having to be rescheduled.
Calculations by the organisation suggest that if this week's nursing strikes match the same level as December, then more than 4,500 operations will be cancelled alongside 25,000 outpatient appointments.
This would take the total to about 10,000 cancelled operations and more than 50,000 cancelled outpatient appointments.
The RCN has been calling for a pay rise at 5% above inflation, though it has said it will accept a lower offer.
Inflation was running at 7.5% when it submitted the 5% figure to the independent pay review body last March.
But inflation has since soared, with RPI standing at 14% in November.
Meanwhile, Education Secretary Gillian Keegan is due to meet teaching union leaders on Wednesday in a bid to avert walkouts in February and March, which the NEU has said could affect more than 23,000 schools.
February 1 looks set to be the toughest day yet amid the wave of industrial action which has seen stoppages across a number of sectors in recent months.
On that day, schools, the rail network and Whitehall will all be hit by strike action, with Downing Street condemning the 'significant disruption' the widespread walkouts will cause.
Source: Read Full Article