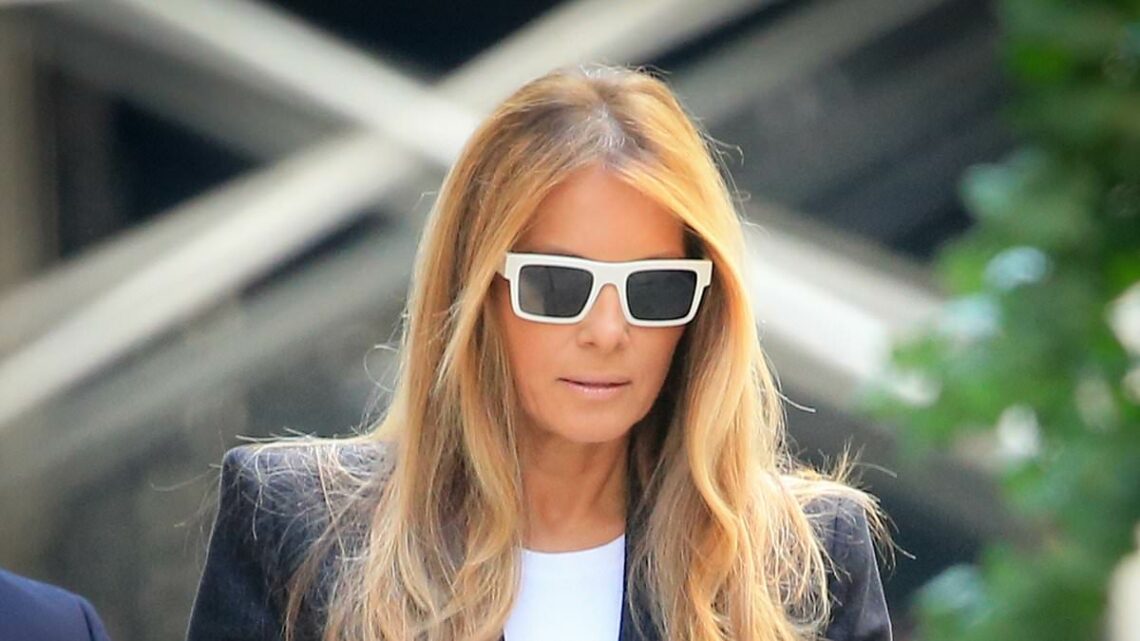 Melania Trump is focusing on Barron and not Trump's mug shot
August 29, 2023
Melania is focusing on son Barron and avoiding giving attention to Trump's viral mugshot as she navigates his legal turmoil and stays out of spotlight
Melania has not commented on Donald Trump's mug shot – not even to friends 
She is focused on helping her son Barron, 17, in his college search 
She is not expected to join Donald Trump on the campaign trail or be by his side in any of his four court hearings 
Melania Trump is focusing on her son Barron and is not expected to join husband Donald Trump on the campaign trail or in the courtroom, as she continues to stay out of the spotlight.
And her silence includes staying mum on Trump's mug shot, which went viral.
'Melania is good at taking care of business at hand which includes her own life, the life of her son, and the lives of her close family members,' a source told People magazine. 
'She would not stand in a circle of people she knows and openly comment on the lawsuits or the mug shot. She will have her way of dealing with this and anything else publicly when she feels like it.' 
The former first lady, 53, was last seen in public three weeks ago, running errands in New York as Donald Trump hosted LIV golf stars at his Bedminster, New Jersey, club.
Former first lady Melania Trump was seen out and about in Manhattan on August 9
Her hair was lighter – with soft blonde highlights – and her handbag was expensive: a $6,400 Chanel shiny lambskin handbag.
But it's more notable where she has not been: She was not at Donald Trump's side during any of his court appearances in New York, Florida, Washington D.C. or Georgia. 
She was not present at Mar-a-Lago, the night he defended himself after his first arraignment. She was not with Trump at Bedminster, when he rallied against the federal charges against him in the classified documents case. 
And she has had reason to keep out of the spotlight: Barron, 17, has faced death threats.
Last week, police arrested former social studies teacher Tracy Marie Fiorenza on a charge of transmitting threats to kill or injure – months after she traveled to Florida to allegedly stalk the former president's youngest son.
Police in Palm Beach questioned the teacher outside the Oxbridge Academy – where Barron attends high school – in March, as reported by the Chicago Tribune.
In May, Fiorenza allegedly emailed the school's headmaster, writing: 'I will state that I will shoot Donald Trump Sr. AND Baron Trump (sic) straight in the face at any opportunity that I get!'
Barron is rarely seen in public. He was last spotted with his mother in New York in late June, leaving Trump Tower in New York with carts full of Louis Vuitton luggage. 
Melania is helping her son, who is a rising senior, with his college search, The New York Times reported. He is beginning to look at colleges in New York. 
'Remember Melania is a mom with a not-yet-adult son to protect,' a source told People. 'A mug shot that everyone is talking about is just one more issue to wade through.'
Melania Trump has not commented on Donald Trump's mug shot – not even to friends 
Melania Trump and her son Barron leave Trump Tower in New York in June
Barron Trump, 17, wore a suit and tie, when leaving Trump Tower earlier this summer
First lady Melania Trump is captured wearing her infamous jacket that said, 'I Really Don't Care. Do U?' after a trip to Texas to see migrant children who were separated from their families after crossing the border in June 2018 
Melania Trump (above in New York this summer) is not expected to join Donald Trump on the campaign trail or at any of his four court trials
The former first lady has always valued her privacy, even in the fishbowl of the White House. 
Since the Trumps' exit from 1600 Pennsylvania Avenue, Melania has stayed mainly behind the closed doors of her three homes: the lavish New York City apartment in Trump tower, the Mar-a-Lago estate in Palm Beach, and the private home on the grounds of Trump Bedminster Golf Course. 
But she does share Trump's view that most of these legal issues are 'election interference by his political rivals,' a source told People.
Trump, who is facing multiple indictments in four court cases, has claimed he is the victim of a witch hunt and a weaponized government.
He faces criminal cases in Florida, Georgia, New York and Washington, DC. He was indicted in New York on charges related to the alleged hush-money payments made to porn star Stormy Daniels.
Earlier this month, a Georgia grand jury indicted Trump and 18 others for their alleged roles in trying to overturn the 2020 election in the state.  His Florida case is on federal charges related to the handling of classified documents. He was also indicted in DC by special prosecutor Jack Smith for allegations of election interference. 
In the Georgia case – unlike the others – Trump had to be photographed for a mug shot, which was released publicly. The former president used it to raise millions for his presidential campaign and to rally his supporters.  
'Melania hates all of the legal problems but understands how her husband uses adversity to his advantage,' the source said. 'She knows the mug shot is sending both a f*** you message to his enemies as well as a kiss to his flock.'
But that doesn't mean she'll be publicly supporting Trump – either in the court room or on the campaign trail. 
'Melania does her best to duck the media and stay out of the issues surrounding this case and the others,' a Trump family source told the magazine. 'It's just one more issue to get beyond.'
Melania Trump was at Donald Trump's side when he announced a second White House bid in November – and hasn't been on the campaign trail since
Melania Trump joined Donald Trump for Easter brunch at Mar-a-Lago, a rare glimpse of the two of them together
Melania Trump's last appearance on the campaign trail – in December 2020 with Donald Trump to support candidates in Georgia's special Senate election
She was last seen with her husband in April, when they had Easter Brunch together at Mar-a-Lago, their Palm Beach home. 
She hasn't appeared at one of Donald Trump's campaign events since he announced his 2024 bid at Mar-a-Lago on November 15th, 2022. 
Her absence and her silence could backfire, causing people to think she 'really doesn't care' – a reference to the now-infamous jacket Melania wore in June 2018 on a trip to the border to visit with children separated from their families. The back read 'I really don't care, do you?' 
She did release a statement in early May, announcing her support for Donald Trump's election bid: 'He has my support, and we look forward to restoring hope for the future and leading America with love and strength.'
It's one of a handful of statements she's made since the Trumps left the White House in January 2021. 
But Donald Trump has said Melania stands by him. The couple have been married 20 years.
He told Fox News in June that Melania thinks he has been 'very badly mistreated' and is '100%' with him even though the former first lady hasn't been seen at his side as he fights off two indictments.
In an interview with Fox News' Bret Baier, Trump was asked how his first lady was 'handling all of this.'
'The people love Melania,' Trump said. 'She's a very confident person. She feels I'm being very badly mistreated. And she says, "You go ahead and you do whatever you want to do because I'm with you 100%."'
Trump, who called his wife a 'woman of great dignity and beauty and style,' told Fox News that both Melania and their son Barron are doing 'great. 
Source: Read Full Article