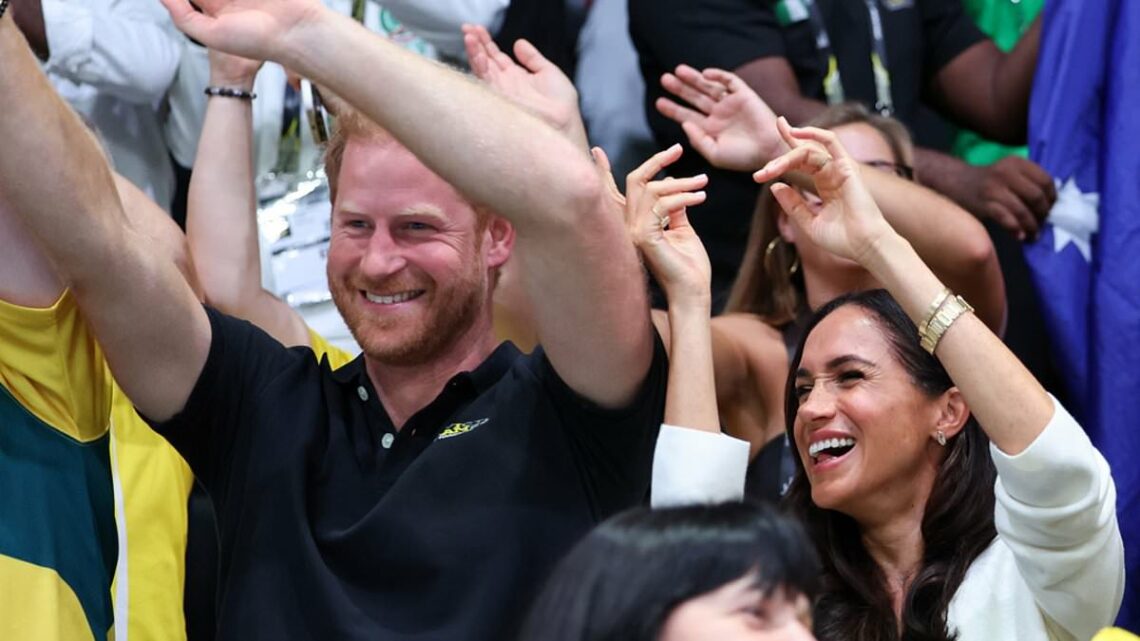 Meghan Markle attends first Invictus Games event with Prince Harry
September 13, 2023
Meghan's pop star welcome! Beaming Duchess hugs Australian Invictus sports stars before she and Prince Harry take their seats as crowds leap to their feet and cheer for the royal couple in Dusseldorf
Meghan Markle was given a rock star welcome at the Invictus Games in Dusseldorf today as she made her first appearance at a sports event with Prince Harry.
Crowds leapt to their feet to cheer and applaud the Duchess of Sussex who seemed taken aback by the rapturous welcome and took her seat in the Merkur Spiel-Arena. 
Dressed casually in J Crew sweater and Staud shorts and Chanel flat pumps, the 42-year-old mother-of-two beamed with delight and waved to the crowd and punched her hands on the air, hugging supporters of the Australian team seated in her row.
Harry, who has been happily posing for dozens of selfies with fans, took a back seat today as most people in the crowd wanted to be photographed with Meghan.
Following her impromptu speech at a party for 1,600 people where she apologised for her late arrival at the competition, a buzz of excitement had gone round the games that she would be making her debut appearance.
More than 2,000 schoolchildren were invited to the fourth day of the games and were heard talking excitedly about Meghan. The Sussexes watched a match between Australia and Ukraine.
Organisers said Harry was hoping to pop across to a neighbouring court where Team UK were playing Canada. Harry and Meghan have a packed schedule and will be watching a swimming event and wheelchair rugby later in the day.
More to follow 
The Duke and Duchess of Sussex arrive at the Merkur Spiel-Arena in Dusseldorf this morning
The Duke and Duchess of Sussex arrive at the Merkur Spiel-Arena in Dusseldorf this morning
The Duke and Duchess of Sussex arrive at the Merkur Spiel-Arena in Dusseldorf this morning
The Duke and Duchess of Sussex arrive at the Merkur Spiel-Arena in Dusseldorf this morning
The Duke and Duchess of Sussex arrive at the Merkur Spiel-Arena in Dusseldorf this morning
The Duke and Duchess of Sussex arrive at the Merkur Spiel-Arena in Dusseldorf this morning
The Duke and Duchess of Sussex arrive at the Merkur Spiel-Arena in Dusseldorf this morning
Source: Read Full Article