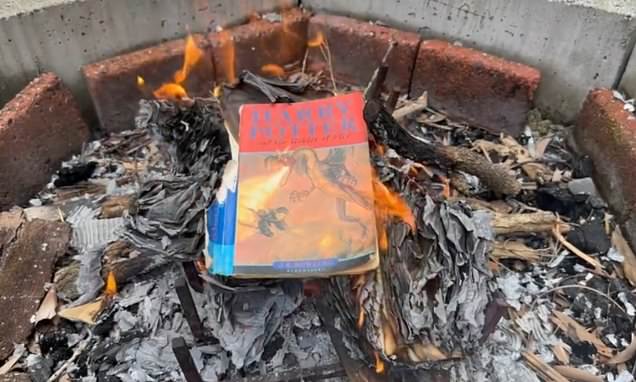 JK Rowling ridicules Australian campaigner over Harry Potter book burn
March 27, 2023
Now trans activists burn Harry Potter books: JK Rowling ridicules Australian campaigner over video showing copy of the 'Goblet of Fire' being torched – as Brit women's right's protester Kellie Jay-Keen leaves Down Under after violent clashes
The video showed Harry Potter and the Goblet of Fire being torched in a fire pit
JK Rowling mocked footage, which came after Australia and New Zealand riots 
JK Rowling has ridiculed a trans rights activist who posted video of a Harry Potter book being burned, mocking the firestarter's copyright mark as 'Just in case people try and submit to the Academy Awards without your approval'.
The disturbing footage from Tess Hall was put on a public Twitter feed and showed a fire pit before the novel was added in.
It came in the wake of violent scenes as women's rights campaigner Kellie-Jay Keen -also known by campaign name Posie Parker – was attacked in New Zealand. 
Over video of the fourth book in the series Harry Potter and the Goblet of Fire being torched, without a hint of irony Hall bemoaned 'hate we've been seeing of late'.
But it drew the attention of the best-selling author behind the magical character, who shared it with her 14 million followers.
Ms Rowling told Hall: 'I love that you added "all rights reserved", just in case people try and submit to the Academy Awards without your approval.'
The footage from Tess Hall was put on a public Twitter feed and showed a fire and the book
As the book burned, without a hint of irony Hall bemoaned the 'hate we've been seeing of late'
Ms Rowling ridiculed the video and showed her 14 million Twitter followers the footage
The two minute 20 second video features both the firepit and a monologue from the filmer.
Hall declares: 'It's a barmy Sunday and I have just been reflecting on some of this hate we've been seeing of late
'If we're going to return to this sort of time where hate is involved, people marching the street against the existence of others.
'I think if we are going to be in the business of book burning lets make sure we are burning the right books.
'Of course book burning is something of an inflamatory gesture 
'This dangerous tome authoured by an obsessed bigot who needs a new hobby is in homes all over the world, but the burning question is "won't somebody think of the children?".'
Ms Rowling has become a target for trans activists who believe she is against their movement.
Ms Rowling left little doubt of what she thought about the video showing the book burning
Posie Parker, pictured with tomato sauce on her head, was targeted by pro-trans activists at a rally in Auckland, New Zealand
In fact the author has been campaigning for women's rights and female-only spaces amid safety fears predatory men could poses as trans women to use them. 
It came hours after Ms Rowling slammed an ex-SNP councillor for 'having a right old laugh' after another campaigner was pelted with tomato sauce.
It happened during a confrontation with pro-trans activists before Kellie-Jay Keen was due to speak at her rally. Ms Keen has since been forced to leave after the chaos.
Ms Rowling accused former Glasgow City councillor Austin Sheridan of being 'open' about not taking 'male violence against women' seriously after he tweeted a photo of a bowl of tomato soup.
Mr Sheridan responded, 'I have never ever condoned violence against women', to which Ms Rowling sarcastically responded that it was 'entirely about your desire for tomato soup'. 
Ms Keen was covered in sauce at a rally in Auckland, New Zealand, on Saturday by activists against her gender critical views. She was escorted away by police before having the chance to speak.
A video taken by New Zealand Herald columnist Shaneel Lal, who praised the fact she wasn't allowed to deliver a speech, showed counter-protesters taking over the area where the rally was taking place.
JK Rowling has previously worn this t-shirt designed by Parker. It reads 'Nicola Sturgeon, destroyer of women's rights'
Rowling, who has come under fire from trans activists for her views on gender, hit out at the actions of the group, calling them a 'mob' and 'repellent'.
On Sunday, Mr Sheridan tweeted a photo of tomato soup, with the caption, 'seems that you can't have a nice wee bit of tomato soup without transphobes getting all worked up about it' and the thinking face and crying with laughter emojis.
This sparked Ms Rowling, who is campaigner against male on women violence and has previously spoken out about being a victim of domestic violence, to respond.
Referencing Mr Sheridan's support for Humza Yousaf in the SNP leadership campaign, she wrote: 'We've all met "progressive" men who think male violence against women they don't agree with is a right old laugh. What's new is seeing them being this open about it. Maybe Humza will let you write his gags if you manage to get him elected.'
Mr Sheridan responded by tweeting: 'I have never ever condoned violence against women or anyone for that matter. No matter what views people hold I expect everyone to observe the law and anyone who doesn't observe the law should be punished in the appropriate manner. 
'I was saying it's ridiculous that people can no longer post what they are having for dinner or tea without transphobes jumping on it saying some of the most awful things. Not only is some of the stuff being said by GC people abhorrent, it's just down right peculiar. Anyway. Happy Sunday JKR.'
However, Ms Rowling hit back again, sarcastically saying: 'The laughing emoji, the sly smirk emoji and the mention of '"transphobes", a mere forty-eight hours after a highly publicised mass attack on women, at which at least one was punched, absolutely confirm that this was entirely about your desire for tomato soup, Austin.'
She added: 'However, you could always tweet again, denouncing the trans activists who punched and assaulted the women speaking up for their rights and point out that their violence is one of the reasons women fear their presence in our single sex spaces.'
JK Rowling hit out at ex-SNP councillor Austin Sheridan after he tweeted a photo of tomato soup days after a women's rights campaigner was covered in it by pro-trans activists
Kellie-Jay Keen-Minshull, who goes by Posie Parker, had been on a trip to Australia and New Zealand for her Let Women Speak tour.
Ms Keen-Minshull, who calls herself a 'women's right activist but not a feminist', believes it's impossible to change gender and campaigns to exclude trans women from female-only spaces.
The mother-of-four from Wiltshire's views on gender have sparked chaos Down Under, and her talks have seen demonstrations from local trans activists in both countries.
One Australian Green MP called her 'a c***', while neo-Nazis have also taken the chance to take part in a bid to stir up trouble.
Speaking to MailOnline, she said she feels like 'public enemy No 1' and admits she fears for her safety after becoming 'a hate figure'.
She said: 'I didn't realise how much women are hated by some parts of society before I came here.
'I feel like there are some great powers somewhere who don't want women talking.
'I can take being called a transphobe, but calling someone a Nazi? One of the politicians here called me a c***. They used rhyming slang of "dropkick and punt".
'The war on women in these countries is absolutely frightening.
'I have got to have a team of seven security guards out here with me. I genuinely do feel my life could be in danger sometimes.'
Her rally in Auckland, New Zealand, on Saturday was over before it even really began, after a trans activist poured tomato sauce on her and some 2,000 demonstrators refused to allow her to speak. 
Parker was covered with tomato sauce at her rally in Auckland, New Zealand
The 48-year-old has become a controversial figure for her views on gender. In 2018 she raised £700 for this poster to be put up in Liverpool
More than 2,000 counter-protesters demonstrated against her rally in Auckland, New Zealand
Protesters held up signs saying 'Trans women are women' to protest her appearance in Auckland
A statement released by Speak Up For Women said a planned Wellington speaking event had been cancelled after being 'overrun by a violent mob'.
'Speak Up for Women thanks Mrs Keen-Minshull for having the courage to come to New Zealand and showing up in Albert Park today, despite receiving multiple death threats and threats of violence in the last week,' the statement read.
'In the coming weeks Speak Up For Women will be gathering witness statements and laying a formal complaint with the Independent Police Conduct Authority about the lack of police action to prevent violence in what was clearly an increasingly volatile situation.'
On the same day in London, pro-trans activists gathered outside an event held by The Lesbian Project in its first workshop which aims to put 'lesbians back in focus'. 
Following the incident Ms Rowling tweeted: 'After the repellent scenes from New Zealand, in which a mob assaulted women speaking up for their rights, #TheLesbianProject is being intimidated and threatened in the UK, right now.'
Source: Read Full Article