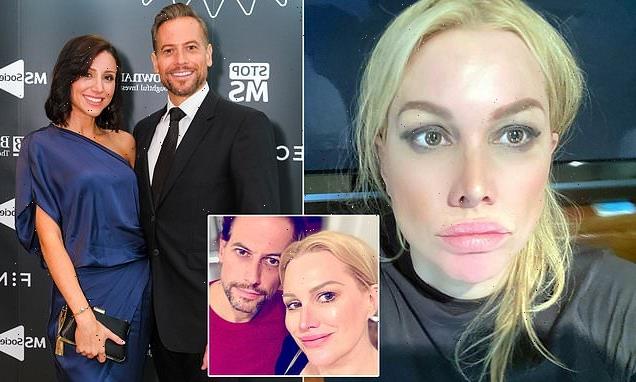 Ioan Gruffudd soon-to-be ex Alice Evans no-show in court, faces arrest
January 26, 2023
EXCLUSIVE: Ioan Gruffudd's soon-to-be ex Alice Evans now faces ARREST after she failed to show up to Los Angeles court hearing to answer two charges of violating Fantastic Four star's restraining order
An arrest warrant referral was issued by a Los Angeles court Thursday after Alice Evans failed to show up for her arraignment for two restraining order violations 
DailyMail.com can reveal the actress was a no show and neither she nor her attorney contacted the court to explain her absence 
Evans, 54, who is in the midst of a bitter divorce battle with estranged husband Ioan Gruffudd, was banned from mentioning him on social media last February  
The bitter divorce battle between Ioan Gruffudd and Alice Evans has taken an ugly new turn, with the Fantastic Four actor's estranged wife now facing arrest after she failed to show up to court to answer two charges of violating his restraining order against her.
Not only did Evans, 54, not appear at the Airport Courthouse in Los Angeles for a scheduled arraignment at 8:30am Thursday, neither she nor her attorney called or contacted the court to explain her absence. 
So when there was still no word from her two and a half hours later, LA Superior Court Commissioner James Cooper issued a referral for an arrest warrant. 
DailyMail.com can reveal Alice Evans now faces arrest after she failed to show up to the Airport Courthouse in Los Angeles for her arraignment on two restraining order violations
Gruffudd, 49 was granted a restraining order against his estranged wife ()right) last February. He is now dating Bianca Wallace
Because court commissioners do not have the power to authorize warrants, a referral was sent to a judge to issue one for Evans. 
Details of Evans's alleged breach were not revealed. He had filed the restraining order in February last year.
It's not yet known which judge the referral will go to but once the warrant is signed, Evans can be arrested. However, she may avoid going into custody by posting bail until the next hearing is scheduled, Cooper told DailyMail.com. 
Gruffudd, 49, filed for divorce in March 2021 – two months after Evans sensationally claimed on social media that her husband of 14 years was walking out on her and their two daughters, Ella, now 13 and Elsie, 9.
She continued blasting her estranged husband online, prompting Gruffudd to seek a restraining order preventing Evans from sharing their private messages or publishing 'false public allegations' about him.
Gruffudd's request for the order was granted last February following Evans's online rants against him and his new girlfriend Bianca Wallace and banned her from mentioning him on social media for three years.
In a court filing, Gruffudd also claimed that Evans had been 'verbally abusive' and allegedly 'undermined' him in front of their two daughters 
In December, the Welsh actor filed for custody and visitation rights to see his children, Elsie, now 9, and Ella, 13. He is pictured with his estranged wife, Alice Evans, and daughters in 2018
The Welsh actor later filed for joint custody of their two daughters last July after Alice requested sole custody amid their acrimonious divorce. 
As well as requesting visitation rights, he claimed in the filing that Evans had been purposely trying to cut communication between Gruffudd and the girls.
He also petitioned that the girls attend in-person therapy and reunification therapy via Zoom with him pending court-ordered mediation about custody.
Gruffudd in his filing also reiterated allegations that his estranged wife had verbally abused him during their 14-year marriage, and undermined him in front of the girls 'throughout their lives'.
'Alice made fun of my appearance often, making hair-loss comments and telling me I had 'saggy-vagina eyes,' ' court papers read.
He went on to claim that Evans 'has inflicted serious emotional harm on Ella and Elsie by her statements and by interfering in my relationship with them.'
In a video before the former couple's separation in January 2021, which Gruffudd presented as evidence in the filing, Evans allegedly told Ella she would be 'getting a new daddy.'
'In a FaceTime I had with the girls on March 3, Ella said Alice falsely told her that I wanted Alice to commit suicide, and that Ella probably would not have a mummy anymore,' Gruffudd wrote in the petition.
The divorce has been anything but amicable. Evans has repeatedly taken to social media to speak out about the split, and one post (pictured) accused Gruffudd of using money that should have been spent on their daughters' wellbeing on his legal case
Last August, the mother-of-two risked breaching her restraining order in a post in which she claimed she was being gaslit and being called 'fat' and 'horrible' compared to 'B' – taken to mean Ioan's new girlfriend Bianca Wallace
'Ella told me, "Daddy, this is making me very sad," and, "if I don't agree with her, apparently I am a bad daughter." '
Since then, Alice has risked violating her restraining order after taking to social media to post about their separation.
In an Instagram post last August she wrote: 'I'm working out to try to calm myself down because I am being GASLIT. Freaking GASLIT.
'With my kids, with the places I usually go to. Everything. I can't leave the house without being photographed and told that I am fat and horrible whereas 'B' is so slim….
She signed off: '… I cannot deal for much longer.'
A source said of the recent restrictions: 'Ioan had no choice but to up his legal fight over Alice.
Ioan now dates Bianca Wallace. He was married to Alice for 14 years before their messy split; they're now involved in a lengthy court case
Gruffudd starred as Mr. Fantastic in the 2005 film Fantastic Four. He claims he's had trouble getting work recently leaving him unable to afford a $745,000 mortgage on the marital home where he hasn't lived for nearly two years
'She had become increasingly volatile and seemingly intent on destroying his career with her character assassination. He hopes this will put an end to it.'
Then, in court documents, Ioan claimed that since the restraining order was put in place, Alice 'has used her social media accounts to continue to harass, threaten, and disturb the peace of both me and my girlfriend, Bianca Wallace.'
He demanded Alice should not make any posts on any social media account, 'including but not limited to Instagram and Twitter accounts, disparaging or harassing [Ioan] or the other protected person' (Wallace).
Plus, he requested Alice not to post his text messages or any other communications to the parties' children, or the children's text messages or any other communications to Gruffudd, on any social media account.
He also asked that Alice be ordered not to contact his employers or make disparaging statements about him to his employers.
Meanwhile, it seems the exes have managed to reach a deal to put their $2 million marital home in Los Angeles on the market after Ioan begged a court to enforce the sale before it's repossessed (pictured)
Meanwhile, it seems that the exes have managed to reach a deal to put their $2 million marital home in Los Angeles on the market after Ioan begged a court to enforce the sale before it's repossessed. 
According to court documents obtained Thursday by RadarOnline.com, the former couple will be listing the home that Alice currently lives in with their children.
Following the close of escrow, both will receive $110k with the remaining money being held. 
Source: Read Full Article