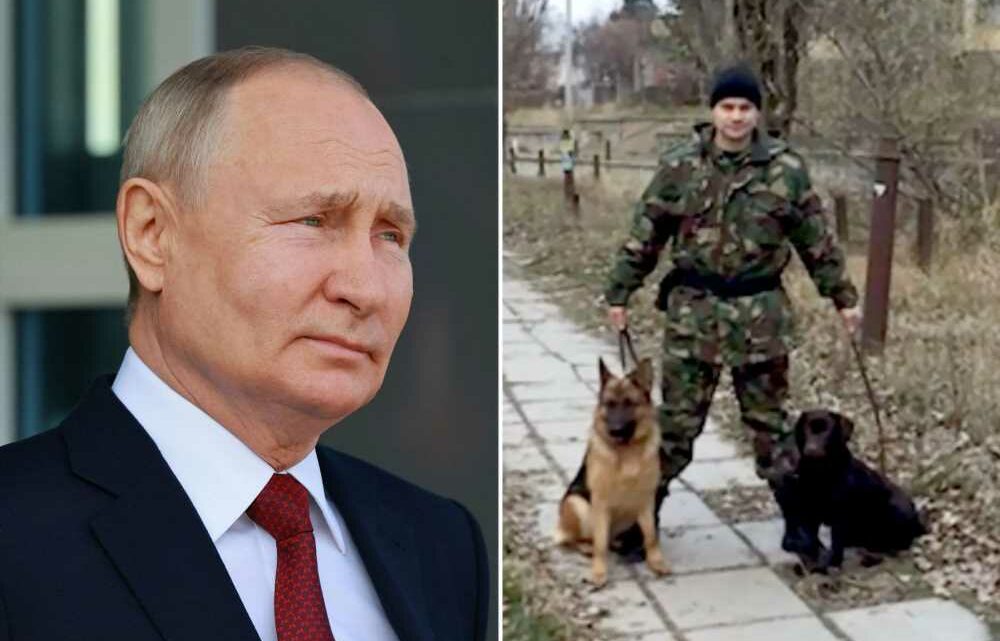 I'm Putin's former security officer – he's so paranoid of assassins he has a bodyguard just for his washing machine | The Sun
September 13, 2023
PARANOID Putin has a bodyguard just for his washing machine, the tyrant's former security officer revealed.
Vitaly Brizhatiy is said to be a former member of the Russian leader's security team at a previously undisclosed residence used by Vlad in Crimea.
He spoke to one of the few independent Russian TV stations as he offered an insight into the increasingly paranoid Vlad.
The former guard – reported to have been in charge of the dogs on Vlad's Olivye estate – fled Russia and now resides in Ecuador.
Brizhaty revealed that Putin barely trusts his own security team – and the paranoid leader even uses armed divers to search for assassins at his private beaches.
He also has a security guard stationed at his washing machine.
Read more on Putin
Putin's sub & warship blasted by 'Storm Shadow missiles' in massive Crimea blitz
Chilling details of Vlad & Kim's talks as tyrants hail 'sacred war on West'
"This is how much he fears for his life," he told TV Rain.
"Even the position of washing machine operator had to be staffed by an officer."
Brizhatyclaimed Putin would regularly give false information to his own security team on his arrival in Crimea – and where he was staying.
"People were told 'he's resting at the dacha' and everybody is running around guarding him but he could be in another place altogether," Brizhaty said.
Most read in The Sun
'IN A BAD WAY'
Liam Payne rushed to hospital for emergency care after being left in agony
POND TRAGEDY
Toddler, 2, found floating in pond is named as woman arrested
DOUBLE TRAGEDY
Woman & man found dead at home in quiet village as cops launch urgent probe
LISA'S HEARTACHE
Ant McPartlin's ex breaks her silence after £5m mansion goes up in flames
The former security officer described Olivye, Putin's palace in Crimea, as a luxury "mini-city".
"It's a fantasy place. There are fitness halls, fountains, beautiful parks, tea house barbecue zones and beaches," Brizhaty said.
But security was the top priority for Putin at the palace.
Brizhaty explained that security has been ramped up since the start of the war in Ukraine – with the number of guard dogs tripling to six.
Civilian contractors are mostly banned from the property and staff must hand over their phones when they arrive.
Another FSO officer who fled Russia claimed Putin would send decoy motorcades from his house near Sochi to trick people into thinking he was leaving to go back to Moscow.
Putin annexed the Crimean peninsula from Ukraine back in 2014 – and reclaiming the region is a major war goal for Kyiv.
Satellite photos dated from 2018 show a series of villas in the area he describes – including properties with pools and a helipad.
The houses also appear to have tennis courts and private jetties.
Brizhatiy describes the properties as "holiday mansions" used by Putin, along with his pals – warmongering ex-PM Dmitry Medvedev and FSB boss Alexander Bortnikov.
The lavish homes have been hidden from ordinary Russians – yet it is unlikely they are now used by Putin and his cronies as they are within range of Ukrainian drones and missiles. 
The dictator is now believed to favour his bunker-equipped palaces deeper inside Russia.
His Crimean bolthole is in Olyva – south of Sevastopol, which is regularly attacked by Ukraine –  along a coastline favoured by the Russian imperial tsars. 
Putin is widely reported to have become increasingly paranoid and fearful for his life as his war continues to fail in Ukraine.
He is claimed to have survived six assassination attempts since being in office.
And his public appearances are becoming increasingly rare and stage-managed.
Vlad's biggest fear is widely reported to be being killed like Colonel Muammar Gaddafi – who suffered public torture, brutalisation and execution by a mob.
It is an event which is said to have instilled in Putin a deep-seated fear of rebellion and paranoia about his own fate.
Vlad is believed to have seen it as a direct warning shot to his own regime.
Putin enemy Yuri Felshtinsky previously told The Sun that Putin is terrified that if he was ever to loosen the grip, then a similar bitter end awaits him.
"He's bright enough to know that under normal rules, his system of government cannot exist. He's not an idealist," he said.
READ MORE SUN STORIES
Woman shot dead at manor that featured on BBC show as man arrested
Helen Flanagan branded 'embarrassing' by mum-shamers as she poses on lunch date
Source: Read Full Article