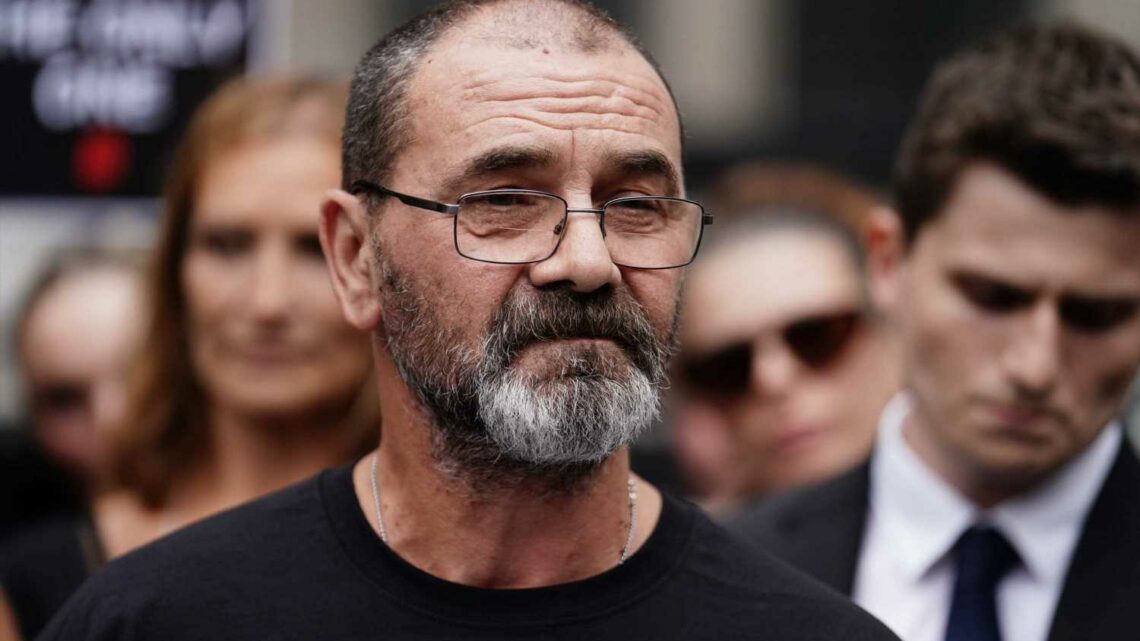 I was wrongly jailed for rape – I'll have to wait for years for paltry compensation, Andrew Malkinson says | The Sun
August 7, 2023
A MAN wrongly jailed for 17 years for rape fears he will have to battle for years for any compensation.
Andrew Malkinson says police and the justice system have wrecked his life, after he was finally freed and cleared following his wrongful conviction.
But he now faces a lengthy wait for any damages – despite winning a government U-turn over potentially having to pay thousands of pounds himself for his "bed and board" while behind bars.
Mr Malkinson, 57, was found guilty of raping a woman in Salford, Greater Manchester, in 2003 and the following year was jailed for life with a minimum seven-year term.
He served 10 more years because he maintained his innocence throughout.
He was finally cleared on July 25 after senior judges at the Court of Appeal in London quashed his conviction.
Read More On Courts
My son, 10, was killed by 8st dog – sentences given to owners are insulting
I dated Ian Watkins – I can't believe it has taken lags this long to knife him
DNA linking another man had come to light.
Mr Malkinson previously described as "sickening" the prospect of having money deducted from future damages to pay for his bed and board during 17 years wrongly jailed.
Prime minister Rishi Sunak then intervened and the Ministry of Justice has since promised an end to wrongfully-convicted ex-inmates having "saved living costs" taken away from their compensation.
Justice secretary Alex Chalk said on Sunday: "This common-sense change will ensure victims do not face paying twice for crimes they did not commit."
Most read in The Sun
Coronation Street and Doctors star dies aged 75 after breast cancer battle
Real reason paedo Ian Watkins was taken hostage and stabbed in prison
Strictly's Amanda Abbington deletes Twitter over fears of trans backlash
EastEnders legend in talks to join Dancing On Ice after leaving Albert Square
Yet Mr Malkinson fears a lengthy struggle for any compensation.
He has told of just about surviving on benefits, unable to find a job since being freed after being falsely labelled a sex offender.
The maximum amount available under the miscarriage of justice compensation scheme is £1million for ten or more years in prison.
That amounts to to just under £59,000 for each of the 17 years Mr Malkinson served.
He told Sky News: "It sounds, perhaps, to the average layperson like a lot of money – but that represents nearly two decades of living hell and lost opportunities, and lost love, and everything else that makes life precious."
And Mr Malkinson is braced for a long wait, saying after his release last month: "In England, somehow it's become the norm to fight tooth and nail after you've already fought tooth and nail to clear your name – it's a whole new battle.
"They don't like paying compensation and there's resistance every step of the way."
He now says he hopes for a sit-down meeting with Mr Chalk, following the minister's announcement on scrapping the "bed and board" charges.
He told the Daily Mail in a new interview today: "It says a lot about our justice system that this perverse rule was introduced in the first place.
"I hope the minister will now meet with me to discuss the many other reforms needed to stop others having to fight for 20 years to get justice."
Yet he has rejected an offer to meet Greater Manchester Police's assistant chief constable Sarah Jackson who apologised for their handling of the case after he was finally cleared.
Mr Malkinson said: "I do not want to be in the room with anyone from that police force, of whatever rank. 
"I do not want to see their faces. Those people are not my friends.
"Your friends do not kidnap you, gag you, hold you hostage in a tiny concrete box that makes you feel you are suffocating – they don't imprison you for the best part of two decades.
"To suddenly show contrition now, at the 11th hour, seems very hollow. I do not believe them, and I do not think they care about me, or about the truth."
The MoJ says miscarriage of justice compensation is calculated on a case-by-case basis, with any damages determined by an independent assessor.
Home Office minister Sarah Dines told BBC Radio 4's Today programme this morning: "We want to speed up any compensation claims.
"Nobody wants to see people standing and waiting through a long process so I'm pleased we are speeding things up.
"It's only right there is a process – it should be prompt, it should be fast and it should be proper."
Mr Malkinson's convictions for two counts of rape and one of choking or strangling with intent to commit rape were officially overturned last month at London's Court of Appeal.
Lord Justice Holroyde said he could "leave the court free and no longer be subject to the conditions of licence".
At the time of Mr Malkinson's trial, there was no DNA evidence linking him to the crime and the prosecution case against him was based only on identification evidence.
But a DNA sample, held by the forensic archive, was tested and found last October to link to another man, who has since been arrested.
A decision on whether he will be charged is awaited.
The Crown Prosecution Service and GMP said in May they would not contest Mr Malkinson's appeal.
His lawyer Edward Henry criticised what he called "deplorable disclosure failures, which mostly lay at the door of the Greater Manchester Police".
They include police photographs of the victim's left hand, which supported her evidence that she broke a nail scratching the face of her attacker.
Read More on The Sun
Inside Paris Fury's relatable life – from days out with her 6 kids to B&M trips
EastEnders legend unrecognisable 25 years after shock soap exit
There was also the fact the two witnesses who identified Mr Malkinson had convictions for dishonesty offences and one was a heroin addict.
None of this was available to Mr Malkinson's defence team at his trial.

Source: Read Full Article