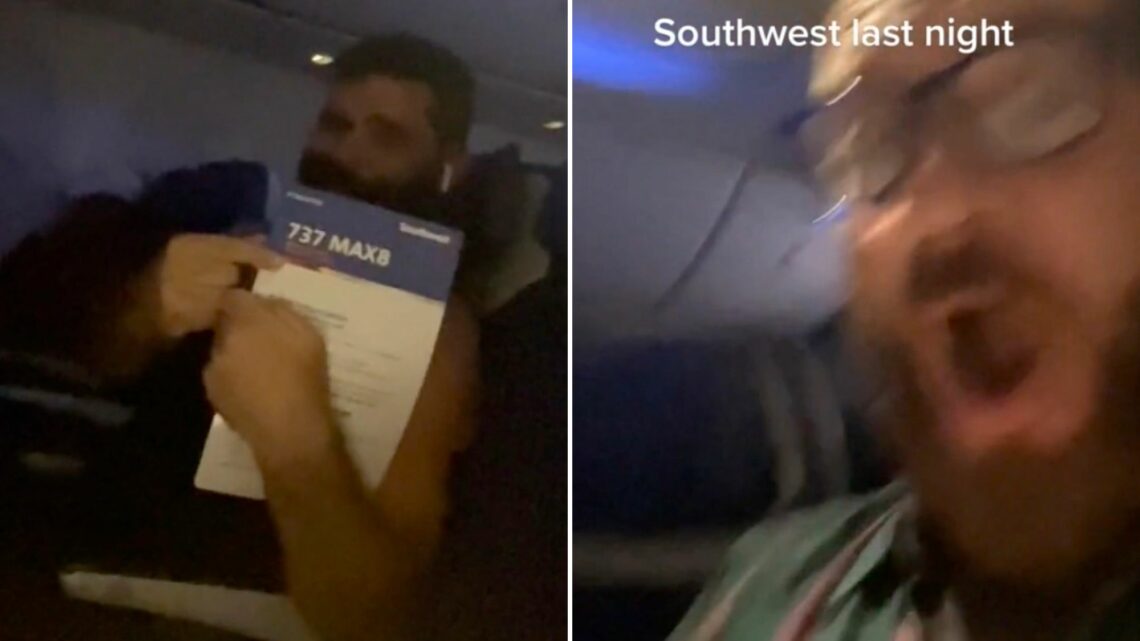 I filmed horror 'rollercoaster flight' out of Hawaii – passengers' screams were chilling and I could hear plane creaking | The Sun
March 17, 2023
THIS is the terrifying moment a passenger filmed his flight hitting extreme turbulence as others onboard screamed in terror.
John Criscitello was on a Southwest flight from Honolulu to Sacramento on Sunday when the plane hit severe turbulence.
He shared the scary incident to TikTok, captioned "Free rollercoaster ride on Southwest last night" and racked up 1million views.
The Boeing 737 Max shook violently and seemed to bounce up and down as those onboard screamed.
As John filmed, the aircraft could be heard squeaking as the plane flew through the bumpy patch.
One man in the video is seen clutching onto a flight safety manual and uttering "oh s***".
READ MORE IN WORLD NEWS
I'm a pilot – here's what happens in the cockpit when severe turbulence strikes
Chaos on BA flight as plane drops 200ft – leaving woman with broken pelvis
John said: "We hit several different patches of turbulence. Some were just the usual bumps.
"But a couple times we hit hard bumps and big drops that's when the passengers started screaming.
"I was trying to stay calm but when you start to hear the plane creaking and cracking, it feels really scary."
Viewers of the video were quick to share their thoughts on the turbulent experience.
Most read in The Sun
Jonnie Irwin gives heartbreaking update on his terminal cancer battle
New Great British Bake Off host revealed as C4 finds Matt Lucas replacement
Unrecognisable X Factor hunk soaks up the sun in Barbados 14yrs after show
Cheltenham punter's £1million dream from bet of just a FIVER ends in agony
One said: "I hate when people scream bro that literally makes it worse!"
Another piped in: "Lmfao seeing that 737 Max card would've made me start praying."
The 737 Max model by Boeing has had two fatal crashes in the past, killing 346 people.
The tragic crashes were due to a software malfunction, and the model has been deemed safe to fly.
A British Airways flight left one woman with a broken pelvis after dropping 200ft in a bout of turbulence.
There was no warning onboard before chaotic scenes struck, as the aircraft lost altitude at 25,000ft.
The crew member who suffered a broken pelvis required medical attention.
She has only just been able to return to the UK and is being supported by BA bosses.
A veteran pilot has revealed the scary truth about flying in turbulence: and it's not good news for nervous fliers.
Pilot Eser Aksan said when severe turbulence hits, pilots aren't in control of the plane.
She explained: "That doesn't mean it's going to flip upside down or anything, it's just not in our control at that moment, but it's still flying.
"It obviously ends at a certain time and then we're in control again, and we need to gain or lose the altitude or, whatever state the plane's in, we have to correct that."
Read More on The Sun
I'm a mum-of-one – Universal Credit change in Budget is 'game-changer' for me
I'm live in a shed in my parents' garden – I love my life & don't pay rent
Meanwhile, this pilot used jelly to explain why turbulence isn't that scary.
Southwest Airlines have not responded to a request for comment.

Source: Read Full Article