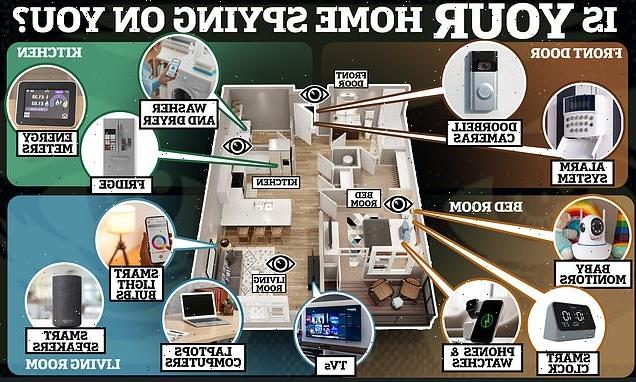 How home devices could get data amid fears China could monitor Brits
January 24, 2023
The spies in YOUR home: How devices from TVs to coffee machines, fridges and even light-switches can be 'weaponsied' to collect data amid warnings China could monitor millions of Brits in new Cold War
China can spy on anyone in the UK through smart appliances, report warns 
Cyber security expert Dan Card explains how smart household devices pose risk 
Everyday devices including TVs, coffee machines and light switches could be used to collect data, experts have warned, after a report raised fears millions of Britons could be spied on by China through smart appliances in the home.
Microchips embedded in cars and domestic appliances such as fridges and light bulbs pose a 'wide-ranging' threat to national security because China could 'weaponise' them to spy on millions of Britons, the report said. 
The modules are also found in laptops, voice-controlled speakers, smart watches, smart energy meters, doorbell cameras, police body cams, cashpoints, cars and even hot tubs. They collect data and can be handed to the Chinese government if ordered to.
A report published by the Washington-based consultancy, Observe, Orientate, Decide, Act (OODA), written by a former diplomat in BeijingCharles Parton, it warned: 'It's time to wake up – free and open countries should ban Chinese-manufactured modules from their supply chains as soon as possible.'
Following the publication of the report, MailOnline has talked to Dan Card, a cyber security expert with BCS, The Chartered Institute for IT, about how everyday household items could be used to spy on you. 
Cybercriminals continue to target devices found in the home in order to steal data – and advances in technology means the number of items at risk has increased. 
China can spy on anyone in the UK through smart fridges, light bulbs and other appliances controlled through an app, a report has warned
The danger surrounding these devices comes when they are connected to your internet network, Mr Card has said.  
'You plug these devices into your house and these devices connect to your Wi-Fi network.
'That's going to send data and statistics to the servers. 
'Heating systems have mobile apps for data collection and software updates by normal usage. 
'But the devices themselves could be vulnerable, the apps on phones could be vulnerable to exploitation.'
He warned the risk is whether a criminal or nation state could hack or use this data.
Smart speakers and devices 
'Anything with a microphone in it means abusing existing functionality is easier than putting covert listening devices in,' Mr Card says. 
He said the risk is where the information goes to if the supply chain been compromised. 
TVs, Laptops, computers, printers
Mr Card said there is a lot of focus of exploitation of computer systems. 
These are one of the most well known ways people's data can become compromised. 
He said the most common way people are at risk is if they go to download or stream something and gets hit by malware. 
Phones and watches
People are most at risk of malware on phones and smart watches by downloading apps which may appear legitimate, but are not, Mr Card explains. 
Criminals also pay for adverts which send people to malicious apps and sites, he says.
Their target is often account access for example emails. 
Doorbell cameras/CCTV 
Smart cameras and two-way video doorbells mean that you can view your home and communicate with visitors even when you're not home. 
They already have the hardware and functions geared up for collecting data, Mr Card says. 
'This is prime location to collect data, it does it by nature. People are going to assume trust, they assume they are being looked after and secure.'
But the risk is the data being compromised.
Other experts have warned that unencrypted systems – especially DIY security devices that connect to your home's Wi-Fi network – act as a vulnerable access point for criminals to steal passwords, view camera footage, see personal information, and even disable your system altogether. 
Baby monitors
Baby monitors already have audio and video functionality. 
The threat is if this functionality is abused for other purposes, Mr Card says. 
Again baby monitors are usually connected to an app on a phone, which poses a risk to data on the phone as well. 
Cars
With smart cars that allow you to plug your phone in, they tend to download your contacts into the car.
Mr Card says rental cars are especially a risk for this reason.
He said lots of cars have Wi-Fi hotspots which can pose risk but also there is a lot of data in vehicle entertainment systems.  
Hot tubs
Some hot tubs are Wi-Fi controlled and you can alter temperature through an app for example. This could potentially pose privacy issues. 
Attackers can exploit seemingly insignificant devices to get a route in. 
Game consoles
Mr Card says game consoles are actually the most protected home kit. 
'The amount of money spent to secure them is significant,' he said.  
Alarm system/ smart alarm clock
The risk with these is not the device itself but what this can provide access to, Mr Card explains. 
These gadgets are usually internet connected – if a hacker is able to connect to one device in a network, this could lead to access to another device using the same network, the expert says. 
Fridge, coffee machine, washer and dryer
Similarly with kitchen appliances, it's not about the fridge, but perhaps about getting access to a computer using the same network as the smart appliance, Mr Card said. 
'Even if you can't abuse the device you gain access to, you might be able to use it to gain access to something else.' 
Microchips embedded in cars and domestic appliances pose a 'wide-ranging' threat to national security because China could 'weaponise' them to spy on millions of Britons
Another expert has warned about the dangers of IoT devices, devices which can transmit data over the internet or other networks.
Daniel O'Neill, Director of MDR Security Operations at Bitdefender, told MailOnline: 'IoT devices have gained wider popularity in the past few years and the trend is set to continue with the number of devices expected to double in the next seven years and reach 29 million. With such popularity comes a threat: cybercriminals continue to target them to steal data and make easy money.
'Among the most common IoT challenges that call for collaboration between the cybersecurity community and the IoT device sector include faulty authentication, unencrypted data transmission, and cloud misconfiguration, further pushing privacy concerns.'
He said leading smart home device manufacturers have begun to take steps to protect devices and improve security. 
'However, everyone involved in manufacturing and developing IoT devices, as well as consumers, need to play their part in keeping the devices and data secure.'
Source: Read Full Article