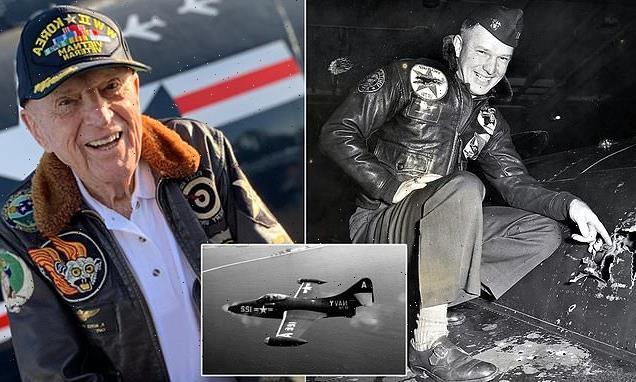 Hero pilot who shot down 4 Russian Migs to receive Navy Cross
January 18, 2023
Hero pilot who shot down at least FOUR Russian Migs in classified dogfight in 1952 to receive the Navy Cross: Captain took on seven jets alone and was shot 263 times – but was ordered not to tell anyone for fear of sparking war
Capt. Royce Williams was sworn to secrecy for more than 50 years over fears that his battle against seven Soviet fighters could spark war with Russia
Now the 97-year-old is free to tell his tale and is due to receive the Navy's second highest award for combat valor on Friday at the San Diego Air & Space Museum
In a ferocious dogfight, Williams downed at least four Migs despite his jet being so badly wounded he considered bailing out into almost certain death
A hero pilot who shot down at least four Russian Migs in a classified dogfight at the height of the Cold War which saw his jet shot 263 times is to receive the Navy Cross.
Retired Navy Captain Royce Williams was sworn to secrecy for more than 50 years over fears that his battle against seven Soviet fighters could spark war with Russia.
Now the 97-year-old is free to tell his tale and is due to receive the Navy's second highest award for combat valor on Friday at the San Diego Air & Space Museum.
In a ferocious dogfight lasting half an hour, Williams downed at least four Migs despite his aircraft being so badly wounded he considered ejecting over hostile territory – an almost certain death sentence – as he limped back to the USS Oriskany aircraft carrier.
Cpt Royce Williams poses for a picture next to a bullet hole ripped into the fuselage of his Panther that was struck 263 times during his heroic dogfight against Russian Migs during the Korean War in 1952 
In San Diego Harbor on the USS Midway in February 2019, now a museum ship, Capt. Royce Williams, stands next to an F9F Panther with the shape of four Migs painted under the cockpit. The aircraft and its markings pay tribute to them who downed at least four Russian Migs
A Grumman F9F Panther fighter jet fires its guns during an attack on the North Korean port of Hungnam
'The heroism and valor he demonstrated for 35 harrowing minutes 70 years ago in the skies over the North Pacific and the coast of North Korea saved the lives of his fellow pilots, shipmates, and crew,' U.S. Rep. Darrell Issa said in a statement last Friday announcing the ceremony. 'His story is one for the ages, but is now being fully told.'
Issa has spearheaded an effort launched more than a decade ago to get the Pentagon to acknowledge Williams' bravery and upgrade his Silver Star.
On November 18, 1952, during the Korean War, Williams along with three other pilots were on a bombing run in 'Mig Alley' – the infamous dogfighting zone over the Yalu River on the China-Korea border.
Named after the fearsome Soviet Migs that tormented US pilots, the jets were superior to Williams' Panther in almost every way – speed, maneuverability, climb rate, and weapons range.
But Panthers were known for their durability – and Williams was about to become living proof.
Capt. Royce Williams. Throughout the rest of his 23-year career, including more than 100 missions in Vietnam, the only official record was a single confirmed kill and a Silver Star.
'We started to rendezvous with each other as we climbed out of the clouds,' Williams told Task and Purpose. 'And that's when we heard from the combat information center (CIC) that there were inbound bogeys from the north.'
Rising above the clouds at 12,000 feet, Williams spotted seven vapor trails streaking high above.
Intelligence suggested the Soviet jets were out for revenge after a massive airstrike earlier that day – which Williams had been part of – on an industrial complex in northeastern Korea.
Williams shot a quick burst to check his guns, but as he did his flight leader was hit by fuel warning and headed back to the fleet.
It was now two Panthers against seven Migs.
Williams continued to climb and radioed the Oriskany that he had spotted a three-plane and a four-plane group.
CIC told him not to engage when the enemy suddenly opened fire with their 23mm and 37mm cannons.
'We are already engaged!' Williams shouted back over the radio.
The four-plane group of Migs barreled towards Williams and his wingman from the right flank and opened fire.
Williams managed to peel off and come behind an enemy aircraft, firing rounds into its rear fuselage.
Williams with "Battle of the Bulge" veteran Vincent J. Speranza (left) and MOH recipient U.S. Navy SEAL Master Chief Edward C. Byers, Jr. in 2021
Williams stands beside a Panther inscribed with a tribute to him on the USS Midway Museum ship in San Diego harbor
Williams stands proudly beside a Panther aboard the USS Midway
The Mig started plummeting from the sky, leaving a trail of smoke. Williams' wingman gave chase – leaving him alone against the remaining six Soviet fighters.
'In the moment I was a fighter pilot doing my job,' said Williams. 'I was only shooting what I had.'
The jets took turns diving down on Williams, peppering his aircraft with machine gun fire.
The young lieutenant squeezed every ounce of nimbleness from the Panther, darting in and out of the Soviet hail of fire.
The American planes had less ammunition than the Migs meaning Williams took a defensive strategy, choosing his shots.
'I was engaged mentally at the time,' Williams told the San Diego Union Tribune in an interview last year.
'A lot of it was awareness of where they were and how I had to maneuver to avoid them. They were taking turns.
'I decided if I concentrated on shooting them down, I'd become an easy target. So, my initial goal was to look for defensive opportunities when they made mistakes'.
Williams fired on every Mig that passed within range – but even when he appeared to make hits – he could not follow up for the kill as he had to avoid getting locked on from behind.
Eventually, however, the Mig formations became separated and Williams was able to isolate three of the fighters.
'I turned into them and fired at the leader. He turned away, and the wingman rolled down on me, and we went past belly-to-belly as I raked him with a long burst. He caught fire and went down,' he explained.
The squadron leader then tilted towards Williams who turned towards him, firing at point-blank range, and he also went down.
The last of the three Migs came around for more – Williams fired again – seeing parts fall of the aircraft as he flew away.
But the battle was far from over for Williams whose hydraulics had been shot to pieces. He was also out of amination.
Williams began heading back to the Oriskany, diving low into the cloud cover.
A Soviet Union MiG-15 climbing out after take-off with mountains behind. The fearsome 'Mig Alley' was named after the jets which tormented US pilots during the Korean War
As he limped on, his wounded Panther buffeted by turbulence, he considered bailing out.
'I knew in that weather I wouldn't have survived in the time it took to find me,' he told Task and Purpose.
Then as he caught sight of the fleet, destroyers opening fire, mistaking his jet for enemy aircraft.
He informed command he could not slow his plane down below 195mph – making the approach dangerous as the Panthers usual landing speed was 120mph.
Aboard the Oriskany, ground crews prepared for a crash landing.
But he managed to land the jet safely after the ship turned away from the wind.
Aboard the ship 263 holes were counted in the Panther which he never saw again – it was reportedly shoved off deck into the sea while the gun camera was taken off to intelligence.
The national security peril soon dawned on Navy command who discovered Williams had engaged the Soviet Air Force.
Migs flying in the Chinese and Korean air forces were known to be flown by Soviet volunteers but this was an escalation with potential to turn the Cold War hot.
A Mikoyan-Gurevich MiG-15 fighter jet is seen in the boneyard at the Aerospace Maintenance and Regeneration Group on Davis-Monthan Air Force Base in Tucson, Arizona
Williams was ordered by Navy Adm. Robert Briscoe, commander of Naval Forces Far East, that although it was confirmed he shot down three and possibly four Migs – he was never to discuss the dogfight.
Throughout the rest of his 23-year career, including more than 100 missions in Vietnam, the only official record was a single confirmed kill and a Silver Star.
In the early 2000s, US records from the Korean War were finally declassified and Williams' story became well-known in military circles. 
Williams' heroism was further detailed in a 2014 book by Russian historian Igor Seidov, 'Red Devils Over the Yalu: A Chronicle of Soviet Aerial Operations in the Korean War.'
According to that book, seven Migs left a base in Vladivostok that morning, and just one returned. It confirms that four Migs were brought down by a single American aircraft, one was shot and crashed while returning, and a sixth was never located.
Now after a long campaign, dubbed 'Operation Just Reward', Williams will receive the Navy Cross – bestowed by Navy Secretary Carlos Del Toro who approved the upgrade from the Silver Star last month.
'Having reviewed the findings of now numerous investigations related to the case of Capt. Royce Williams, I have determined this case to be special and extraordinary,' Del Toro said in a statement. 'His actions clearly distinguished himself during a high-risk mission and deserve proper recognition.'
Source: Read Full Article