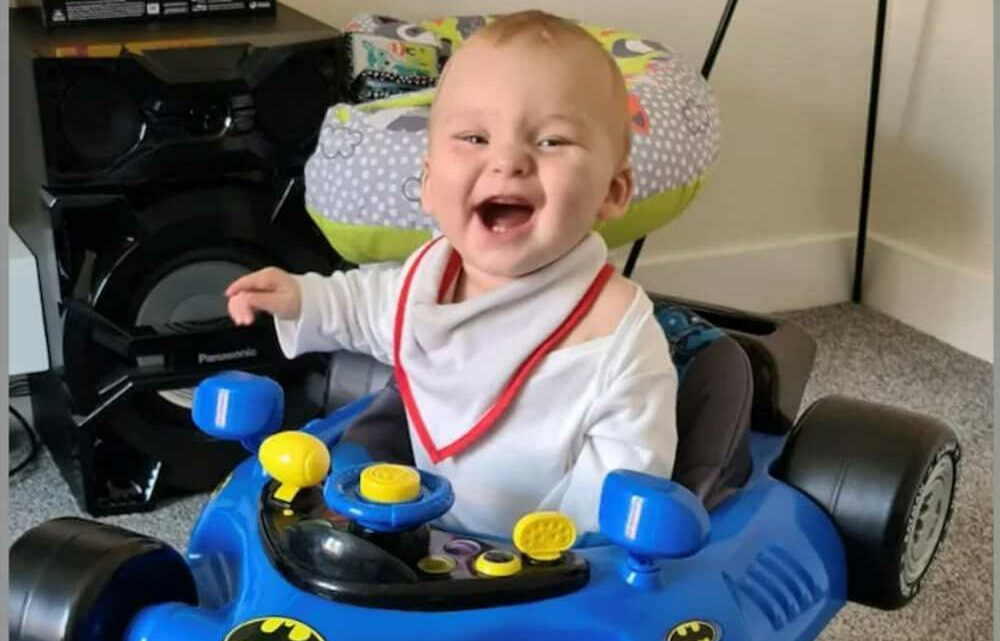 Heartbreaking video shows baby smiling months before mum & killer stepdad forced him to eat vomit – as vile pair jailed | The Sun
August 4, 2023
HEARTBREAKING video shows a baby smiling just months before he was forced to eat vomit by his mum and killer stepdad as the pair were jailed today.
Gemma Barton and Craig Crouch subjected ten-month-old Jacob Crouch to a "culture of cruelty" before his brutal death.
The tragic tot suffered at least 39 rib fractures after he was kicked or stamped on so severely it caused a tear in his stomach and bowel.
Little Jacob died "in his cot alone" at home in Linton, Derbyshire, after developing an infection in his organs.
Tragically, had his mum and stepdad called 999 immediately he would have survived.
Barton, 32, wept as she was today jailed for ten years after being convicted of causing Jacob's death and child cruelty.
Read more news
Woman in 70s stabbed to death as man in 50s arrested on suspicion of murder
Inside diary of UK's youngest female murderer who boasted 'I was born to kill'
The mum, who was cleared of murder, will only serve half her sentence in custody due to time spent on remand.
Crouch, who was named as Jacob's dad on his birth certificate, was jailed for life with a minimum of 28 years for murder and three counts of child cruelty.
It comes as heartbreaking footage was released showing the tot smiling and laughing just months before he was killed.
In a victim impact statement, Jacob's biological father said he could not understand "how or why" Crouch could injure his son.
Most read in The Sun
Stacey Dooley devastated as star of her Sleeps Over series dies at just 29
British comedy legend rushed to hospital after freak accident 'almost kills him'
Harry & Meghan SNUBBED from royal gathering to mark 1 year since Queen's death
Mum dies from 'water poisoning' after drinking four bottles in 20 minutes
The dad added: "I never got to meet him. All I have is a photo to remember him by.
"I will never be able to hug him and celebrate his achievements.
"I will never be able to buy him his first pint when he turns 18.
"You have taken Jacob and all the memories we would have shared.
"The pain will be with me for a lifetime. It will never go away."
Sentencing, Mr Justice Kerr said Jacob "smiled and laughed in defiance of his tormentors".
He added: "You, Mr Crouch, struck the blow that fractured Jacob 's ribs, which tore the lining of his stomach and ripped his bowel, causing his death.
"You, Miss Barton, did nothing to protect him. Neither of you sought medical attention."
Derbyshire Crown Court heard how Jacob's short life was filled with misery and pain after his mum met Crouch while she was four months pregnant.
Crouch was "domineering, aggressive, boastful and arrogant" but Barton tolerated his behaviour due to "misplaced affection".
In chilling text messages, the pair referred to the baby as "the devil" as they waged a cruel campaign of abuse against him.
Barton also branded her son a "little s**t", while Crouch told her to "smack his hand" if he started crying.
The killer added: "You need to be harder on him with this and not let this take over us. This will only get worse if not addressed now.
"Whether we like it or not if this continues our frustration and emotions will build and we will change towards one another."
In one message, Crouch asked Barton whether she had "put back what Jacob threw back down him" – referring to vomit – with the mum confirming she had.
The evil stepdad also threatened to leave Barton if the tot's behaviour did not improve and told the mum when she was bathing Jacob: "3 foot deep, just hot water and some bleach xxxx".
Crouch cruelly labelled this "banter" when later asked by police what he meant.
Emergency crews were scrambled to the home on December 30, 2020, where Jacob was found dead in his cot.
Paramedics estimated he had been dead for much longer than Barton and Crouch had claimed, with the baby displaying 19 visible bruises.
There were also 15 "separate incidents of bruising" alongside those medics saw on his face and chest.
A post mortem revealed he had suffered a "severe and significant blunt force trauma" to his abdomen that was likened to a high-speed car crash.
When she was arrested, Barton could be seen crying fake tears as she was hauled away by police.
The mum whined: "I didn't do anything, I've not done anything".
She can still be heard downstairs shrieking as officers go to arrest Crouch, who appears much calmer.
The stepdad tells police "you won't need them, I'll come with you" while being handcuffed before the video cuts out.
Barton and Crouch both denied murder, causing or allowing the death of a child, causing a child to suffer serious physical harm and three counts of child cruelty.
Det Insp Paul Bullock, of the East Midlands Special Operations Regional Policing Unit, said: "Jacob Crouch was born into a culture of cruelty where both of the people he should have been able to trust above any other allowed him to be subjected to assault after assault.
"Heartbreakingly, for much of Jacob's short life he would have been in significant pain as a result of the serious and repeated assaults.
"It is clear from the evidence found on Gemma Barton and Craig Crouch's phones, through text messages, videos and audio recordings, that they were equally responsible for the culture of cruelty inflicted on baby Jacob.
Read More on The Sun
Asda makes a major change to stores with new shopping range
I was a single mum on benefits – I now own a giant home & earn £100k
"As a father I cannot comprehend what happened behind closed doors and my thought remain with Jacob's wider family who have been left devastated by his death.
"I hope today's verdict brings with it a degree of closure for them and begins the process of them being able to grieve for Jacob and remember the happier times with a much-loved child."

Source: Read Full Article