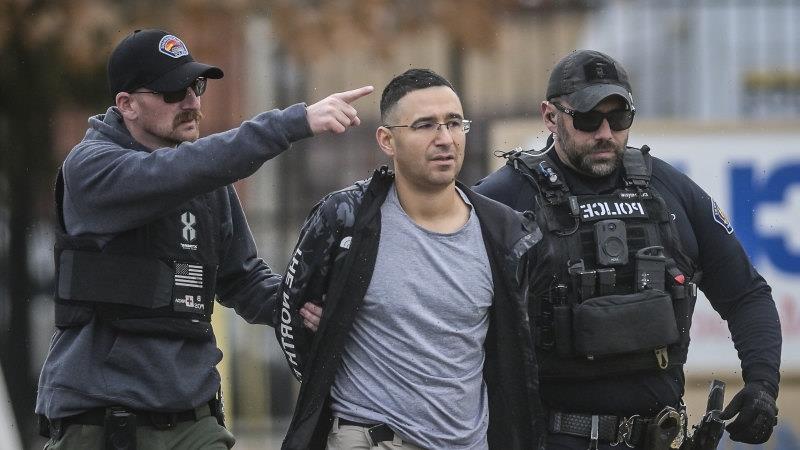 Former Republican candidate arrested for orchestrating shootings at Democrat homes
January 17, 2023
Albuquerque: A failed Republican candidate paid $US500 ($715) to four men to shoot at the homes of Democratic politicians, but was so unsatisfied with the shooters' work that he went along for the final drive-by, his gun jamming as bullets ripped into the bedroom of a sleeping 10-year-old girl, police said.
The criminal complaint against Solomon Pena, a 39-year-old felon and self-proclaimed "MAGA king," describes how anger over his landslide defeat in November led to attacks at the homes of four Democratic legislators in New Mexico's largest city. A SWAT team arrested him Monday evening (local time), police said.
Solomon Pena, a former Republican candidate for New Mexico House District 14, is taken into custody by Albuquerque police officers,Credit:AP
Pena spent nine years behind bars after his arrest in April 2007 for stealing electronics and other goods from several retail stores as part of what authorities described as a burglary crew. He was released from prison in March 2016, and had his voting rights restored after completing five years probation in April 2021, corrections officials said.
He ran unsuccessfully in November against incumbent state representative Miguel P. Garcia, the longtime Democrat representing House District 14 in the South Valley. Pena got 26 per cent of the vote.
Pena, whose criminal past had come up during his losing campaign, repeatedly made baseless claims that the election was "rigged" against him.
"I dissent. I am the MAGA king," he posted the day after the election.
On November 15, he posted an image of himself in a "Make America Great Again" hoodie, saying "Trump just announced for 2024. I stand with him. I never conceded my HD 14 race. Now researching my options."
Pena has an initial court appearance Wednesday on charges including multiple counts of shooting at a home and shooting from a motor vehicle, aggravated battery with a deadly weapon, conspiracy and being a felon in possession of a firearm.
No one was wounded in the drive-by shootings, which come amid rising threats nationwide against members of Congress, school board members, election officials and other government workers. In Kansas, a trial began this week for a man who prosecutors say threatened to kill a congressman.
The New Mexico Republican Party said that: "If Pena is found guilty, he must be prosecuted to the full extent of the law."
Solomon Pena was allegedly motivated by his anger at his landslide defeat at the November elections.Credit:AP
Police said Pena had previously shown up uninvited at the homes of two elected officials with what he claimed were documents proving that he had won his race. There was no evidence of widespread voter fraud, or any irregularity involving enough votes to change a result, in New Mexico in 2020 or 2022.
The criminal complaint, which includes testimony from a confidential witness who said he had "personal and intimate knowledge of the crimes" and was present at most of the attacks, says Pena hired a father and son with criminal histories of their own as well as two brothers whom authorities have yet to identify. In one of their text messages, Pena complained that officials certifying the election in November "sold us out to the highest bidder."
The shootings began December 4, when eight rounds were fired at the home of Bernalillo County Commissioner Adriann Barboa. Days later, state representative Javier Martinez's home was targeted. On December 11, more than a dozen rounds were fired at the home of Bernalillo County Commissioner Debbie O'Malley, police said.
The final related shooting, targeting state Senator Linda Lopez's home, unfolded in the midnight hour of January 3. Police said more than a dozen shots were fired, including three that Lopez said passed through the bedroom of her sleeping 10-year-old daughter.
The witness said one of the men told the shooters to aim above the windows to avoid striking anyone inside, but that wasn't enough for Pena, who wanted them to shoot lower. He said Pena was there at the Lopez shooting "to ensure better target acquisition."
The witness said Pena's gun jammed and did not fire correctly but one of the other men fired multiple rounds from a Glock pistol into the Lopez home.
Pena's insistence that the men be more aggressive made the other participants uneasy "since they knew that doing so would likely end in death or injury," said the witness, who faces criminal charges and has asked for leniency. Authorities said no such promises have been made.
A lawyer for Pena who could comment on the allegations wasn't listed Tuesday in court records.
The shooting spree was "scary, not just from my personal perspective, but the fact that our democratic processes that we believed so much in — and that our country was founded on — would be targeted in that way," Martinez, the Democratic lawmaker, said at a news conference on his first day as the top-ranked House leader.
"It's long overdue that we lower the temperature. These are the things that can happen when the rhetoric gets out of hand," Martínez said.
in the Democratic-run state have been careful over the years not to infringe on the right to bear arms. In Albuquerque, authorities have been struggling to address escalating gun violence and consecutive years of record homicides.
Detectives identified Pena as their key suspect using a combination of mobile phone and vehicle records, witness interviews and bullet casings collected near the victims' homes.
Technology that can detect the sound of gunfire led an officer to Lopez's neighbourhood shortly after the shots were fired.
The officer found bullet casings matching a handgun found later that morning in a Nissan Maxima registered to Pena. Around 1:30 a.m., about an hour after the shooting at Lopez's home, police stopped the Nissan about 6 kilometres from the lawmaker's neighbourhood.
The driver, identified as Jose Trujillo, was arrested on an outstanding warrant, leading to the discovery of more than 800 fentanyl pills and two firearms in the car.
Authorities said Tuesday the investigation was ongoing and more arrests were expected.
AP
Get a note directly from our foreign correspondents on what's making headlines around the world. Sign up for the weekly What in the World newsletter here.
Most Viewed in World
From our partners
Source: Read Full Article