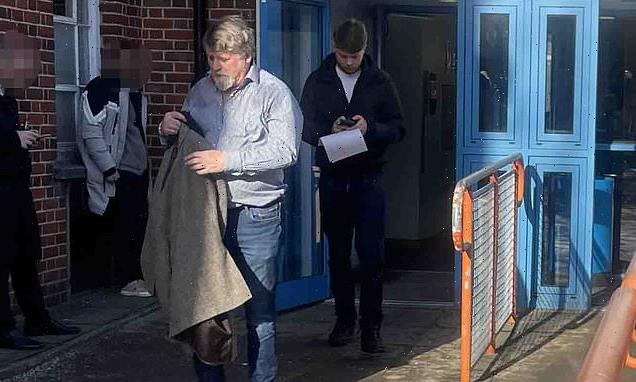 Father and son attacked fellow plane passenger in seat row
January 23, 2023
Father and son, 58 and 22, avoid jail after leaving a fellow plane passenger with 'horrendous injuries' when they attacked him in row over reclining seat on flight to Heathrow
Robert Powell, 58, and son James got into a row with Sreenivasayyr Janakiram
The father and son, 22, were found guilty by magistrates of assault by beating
A father and son who left a fellow plane passenger with 'horrendous injuries' when they attacked him following an argument about a seat being pushed back have avoided jail. 
Robert Powell, 58, and his son James, 22, got into a row with Sreenivasayyr Janakiram on a flight to Heathrow on September 25, 2021, Uxbridge Magistrates Court heard. 
District judge Deborah Wright said the argument was 'to do with the seat going back'.
It was said Robert approached Mr Janakiram as he waited for the terminal shuttle train at Heathrow's Terminal 5 and pushed him. 
James then became involved and rained a number of blows on Mr Janakiram, preventing him from getting away, the court heard.
Robert Powell, 58 (blue shirt and jeans) and James Powell, 22 (black coat) have been given suspended prison sentences for assault by beating
Mr Janakiram was left with cuts and bruises on his face and neck, including a large swelling on his cheek.
Robert, the director of an online counselling company, and his son James were found guilty by magistrates of assault by beating earlier this month.
At their sentencing hearing, a judge said neither had 'shown a bit of remorse' for launching the assault and she handed the pair, from Enfield, north London, suspended prison sentences.
Sentencing them, Ms Wright said: 'Neither of you are getting credit, neither of you are accepting responsibility for your actions, neither of you have shown a bit of remorse.
'You needn't have approached that man. He wasn't presenting any threat to you. 
'James Powell you rained significant injuries upon him. You assisted effectively by preventing him from moving. The behaviour of both of you was appalling.'
James Powell was handed a 26-week prison sentence while his father was given a 16-week sentence – both suspended for 18 months. 
Robert Powell had claimed their victim had threatened to kill him while on the plane – an allegation rejected by the court.
He said: 'Under the laws of this country I'm guilty of assault and I must accept that.' 
In mitigation Robert Powell alleged: 'At the time, I thought I was standing up for myself because someone threatened me and I realise that was wrong and that the courts in this country don't see that as appropriate behaviour.'
Ms Wright replied: 'You clearly targeted him in the hall, he was standing there minding his own business. You could have left it, but you decided not to. He ended up with horrendous injuries. You two acted as a pack.'
As well as the suspended prison sentences, the pair were ordered to pay £998 each – made up of £250 compensation to the victim, £1,620 of prosecution costs and a surcharge of £128. 
Robert Powell was also given an electronically monitored tag for three months while his son was given a tag for six months.
Source: Read Full Article